Elite Race Recap: Kosgei smashes the world record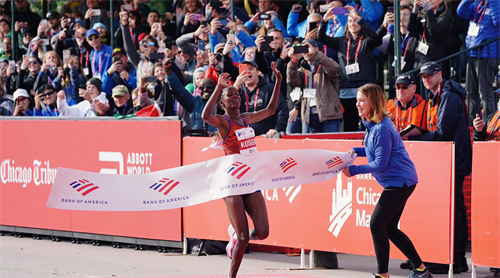 Kenya's Brigid Kosgei smashed Paula Radcliffe's 13-year-old world record with an astonishing run of 2:14:04 at the 2019 Bank of America Chicago Marathon.
The 25-year-old set off with two male pacemakers, signaling her intent to take aim at the Briton's mark set in London in 2003, and was in a race all of her own by the time she reached the 5km mark.
Having run a world best half marathon in the UK in September, the reigning Abbott World Marathon Majors champion was undoubtedly in shape to defend the Chicago crown she won in 2018, and she had set a new personal best with victory at the Virgin Money London Marathon in April.
But that still didn't suggest she would take such a chunk off the previous record.
As the miles ticked by it seemed as though she had possibly spent too much energy in the first half of the race - at one stage her pace was translating to a 2:12:00 finish - but with a 1:07:00 clocking at 13.1 miles, she was well within Radcliffe's pace and was able to maintain that punishing speed for the second stanza of the race.
Two years ago Mary Keitany had aspired to bring Radcliffe's world record reign to an end in London but was unable to maintain a high enough speed on a burning day in the UK.
In the cooler temperatures on the shores of Lake Michigan, the stars aligned for her compatriot to succeed where she could not.
Keitany remains the holder of the women's only record, 2:17:01, but with Kosgei's performance today, one suspects it is a matter of when and not if that also comes into her possession.
Ethiopia's Ababel Yeshaneh was second in a time of 2:20:51, a full six minutes and 47 seconds behind the new world record holder, with Burka Gelete third in 2:20:55.
Kosgei's fellow Kenyan Lawrence Cherono continued his own stellar 2019 with a second sprint finish victory to start his Series XIII campaign with a bang.
The 31-year-old snatched his fifth win in his last six marathons, and appears to have developed a healthy habit of winning by the tightest of margins in Majors.
In April, the man from Baringo in Kenya went stride for stride with Lelisa Desisa on Boylston Street to edge out the Ethiopian for his maiden Boston Marathon crown.
And just a few months later he was locked in battle again with Ethiopian opposition as he turned onto Columbus Drive with Dejene Debela and Asefa Mengstu.
Cherono, by far the smaller of the three, found the kick he needed to leave them in his wake in the final few metres to confirm himself as a racer of the highest pedigree.
A faster-than-expected early pace saw the leaders strung out and it was the veteran and 2015 Chicago champion Dickson Chumba who looked strong. But the 32-year-old was unable to stay with the leading four men as the battle intensified, and at the 35km point he had lost touch.
Debela appeared to have the strongest legs of the remaining quartet, and Kenya's Bedan Karoki was next to throw in the towel. The pace calmed slightly as the final three gathered themselves for the turn onto Roosevelt, and as they then made their last left and the finish came into view, it was Cherono who had judged his effort best, kicking away to take the tape in 2:05:45.
Defending champion Mo Farah endured a torrid morning in the city that fell in love with him 12 months ago, languishing down in eight position after losing touch with the leading pack of men before the 15km mark.
*In the men's race, Minato Oishi finished 13th as top Japanese athlete.
Wheelchair Race Recap: Schär and Romanchuk rule again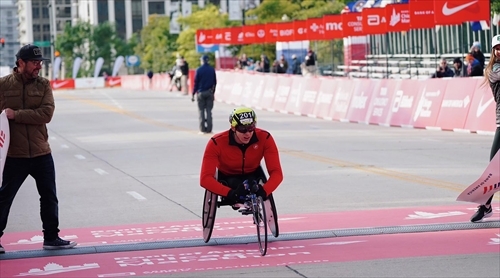 Manuela Schär and Daniel Romanchuk dominated the opening races of Abbott World Marathon Majors Series XIII to begin the defense of their titles.
Both also secured their first bonus points of the series to kick the new series off in emphatic style.
For Romanchuk, Chicago was where his road to glory began 12 months ago when he claimed his first AbbottWMM win. This year he was back as the man to beat, having taken four races on his way to the Series XII silverware.
A first half that saw a huge bunch of athletes glued together was blown open by the 21-year-old soon after the 13.1-mile marker, as he cranked his enormous arms into top gear and sailed away from the pack.
He had time to boil an egg before the contenders for the minor places swung on to Columbus to battle it out for the podium, with David Weir claiming second just ahead of Ernst van Dyk.
For Schär, the margin of victory was even greater. The Swiss enjoyed a gap of four minutes and 14 seconds over Tatyana McFadden, who went wheel to wheel with compatriot Amanda McGrory to edge second place.
Schär played a patient game before choosing her moment to try and leave her rivals in her wake, opting for just after the halfway mark to accelerate up a minor gradient and then relying on her famed downhill speed to do the rest.
From then on, there was little anyone could do to catch the 34-year-old's march to her eighth consecutive AbbottWMM victory.
With their Chicago titles successfully defended, both athletes will now head to the TCS New York City Marathon to try and repeat the trick, where Schär will be gunning for a third consecutive win in the Big Apple.
*In the men's wheelchair race, the following Japanese athletes finished in top 10:
5th - Sho Watanabe, 8th - Kota Hokinoue, 9th - Hiroki Nishida, 10th - Ryota Yoshida
<Related NEWS>
2019 Bank of America Chicago Marathon Race Preview
2019 Bank of America Chicago Marathon Elite Fields
2019 Bank of America Chicago Marathon Elite Wheelchair Fields