We will announce the projects for the Tokyo Marathon 2024 as soon as they are determined.
Sustainable Projects through Tokyo Marathon 2023
 In an effort to achieve the Sustainable Development Goals (SDGs) the international community has set out to pursue, the Tokyo Marathon Foundation has been launching sustainability initiatives as part of the Tokyo Marathon events (sustainable event management) including charity projects and sports volunteering activities in cooperation with official partners.
 In addition, the Tokyo Marathon Foundation Sports Legacy Project works to achieve a diverse and peaceful society. The Tokyo Marathon Foundation will continue to promote sustainability initiatives, diversity and cooperation, and create new lifestyles and a society where we can all coexist together.
Toray's Recycled Fiber Brand &+® (And plus)


 In this marathon, as part of a continued initiative, the Tokyo Marathon Foundation will collaborate with &+® (And plus), a recycled fiber brand, from Toray Industries, Inc. (A Tokyo Marathon 2023 official partner) to recycle the event items in order to help realize a sustainable society. The PET bottles (sports drinks, water) provided to the runners in the tournament will be recycled into material for volunteer uniforms (for the 2025 marathon).
&+® Manufacturing Process

Water recirculating pump for hand wash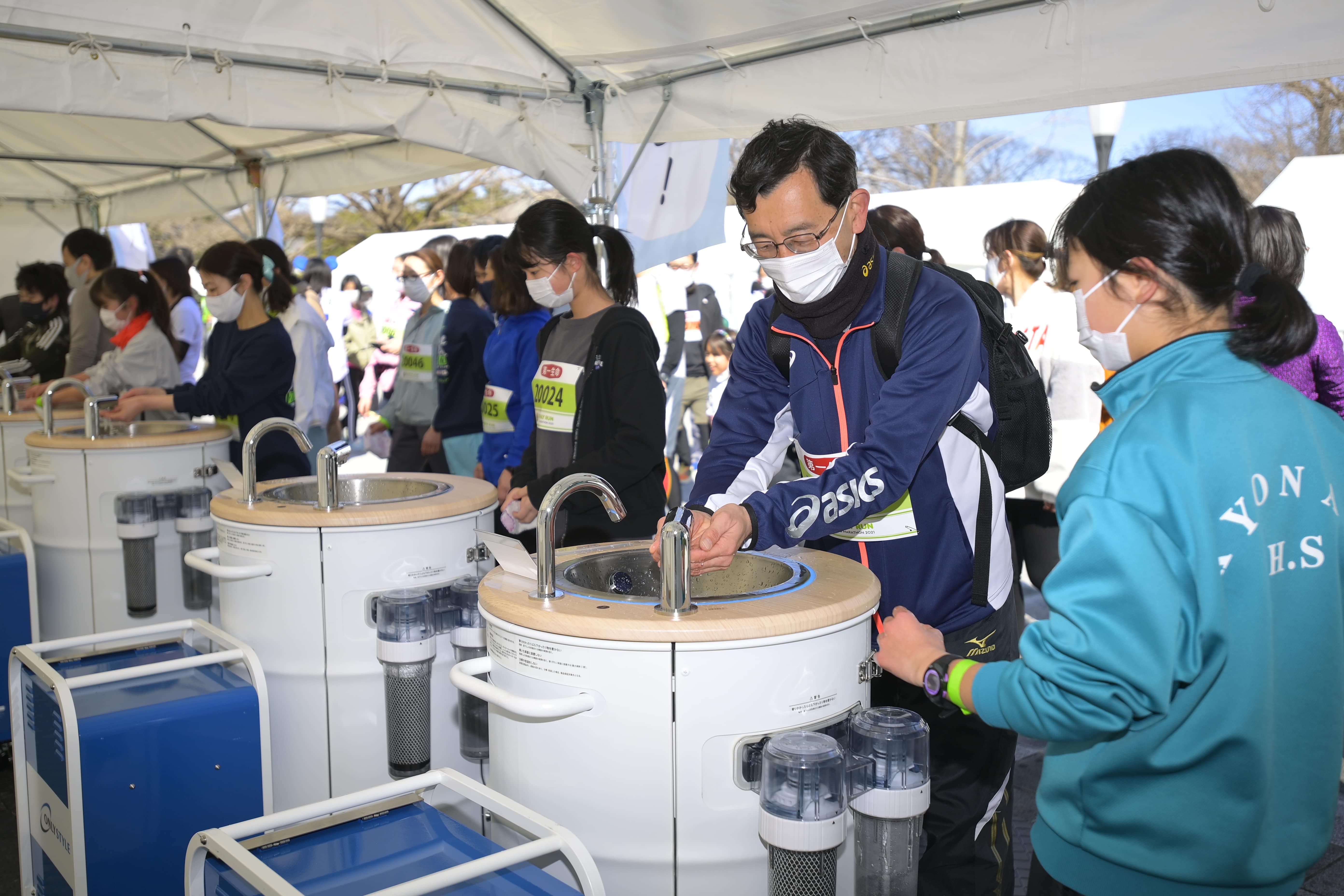 Since 2021, Tokyo Marathon 2023 official partner Kao Corporation has been advising event hygiene measures, and hand-washing stations using recycled water will be installed at the 10.7 km finish line and marathon finish line.
 To reduce water waste, the water recirculating pump will be used allowing recirculation of 98% or more of water.
Diversity Initiatives
New!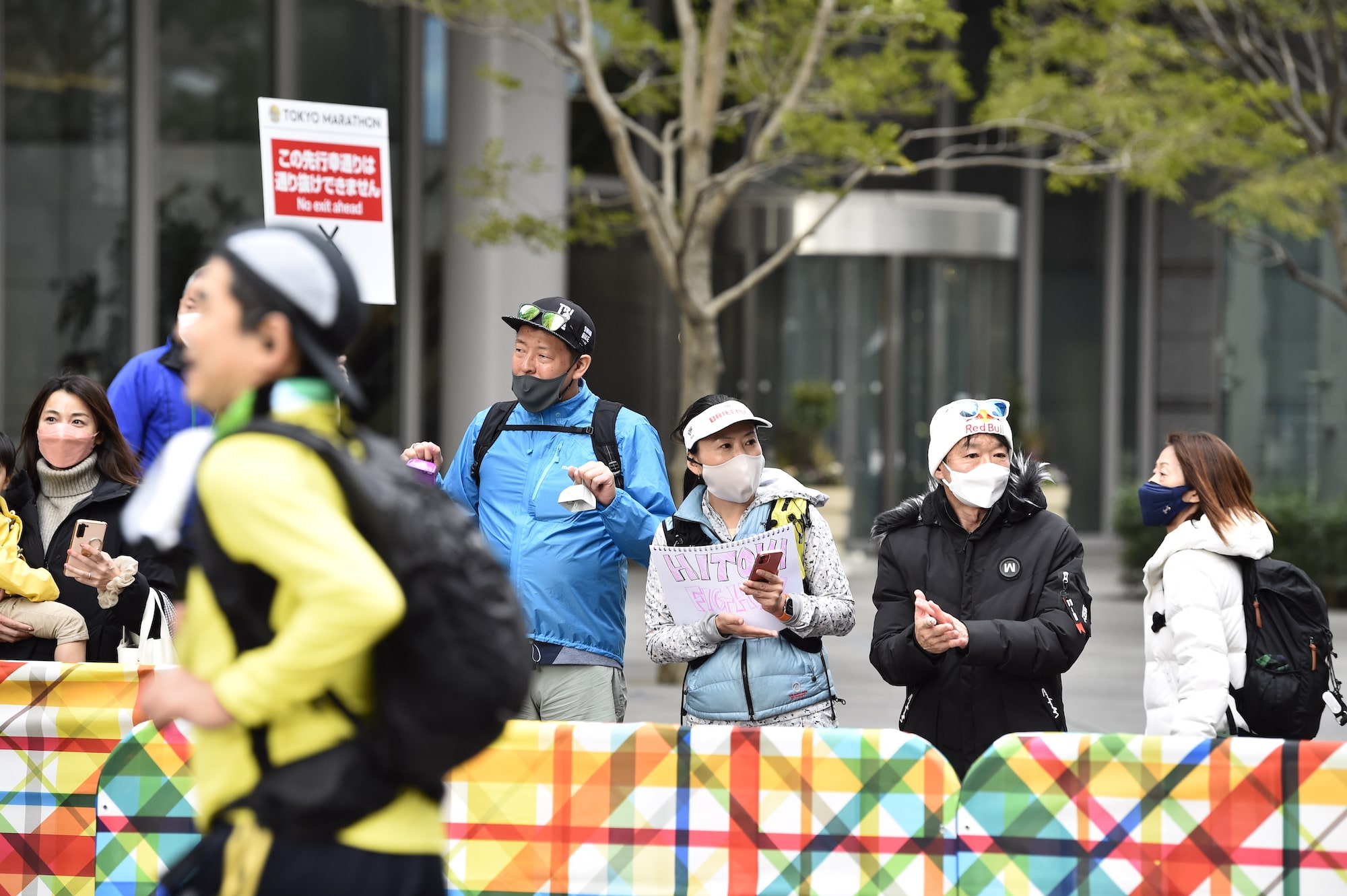 A barrier-free spectating area at the finish area
 We hope for our barrier-free initiatives to support those who play, watch, and cheer on sports to lead to achieving a diverse society where we can all coexist.
*Events are operating with donations from the Tokyo Marathon Foundation Sports Legacy Project.
Report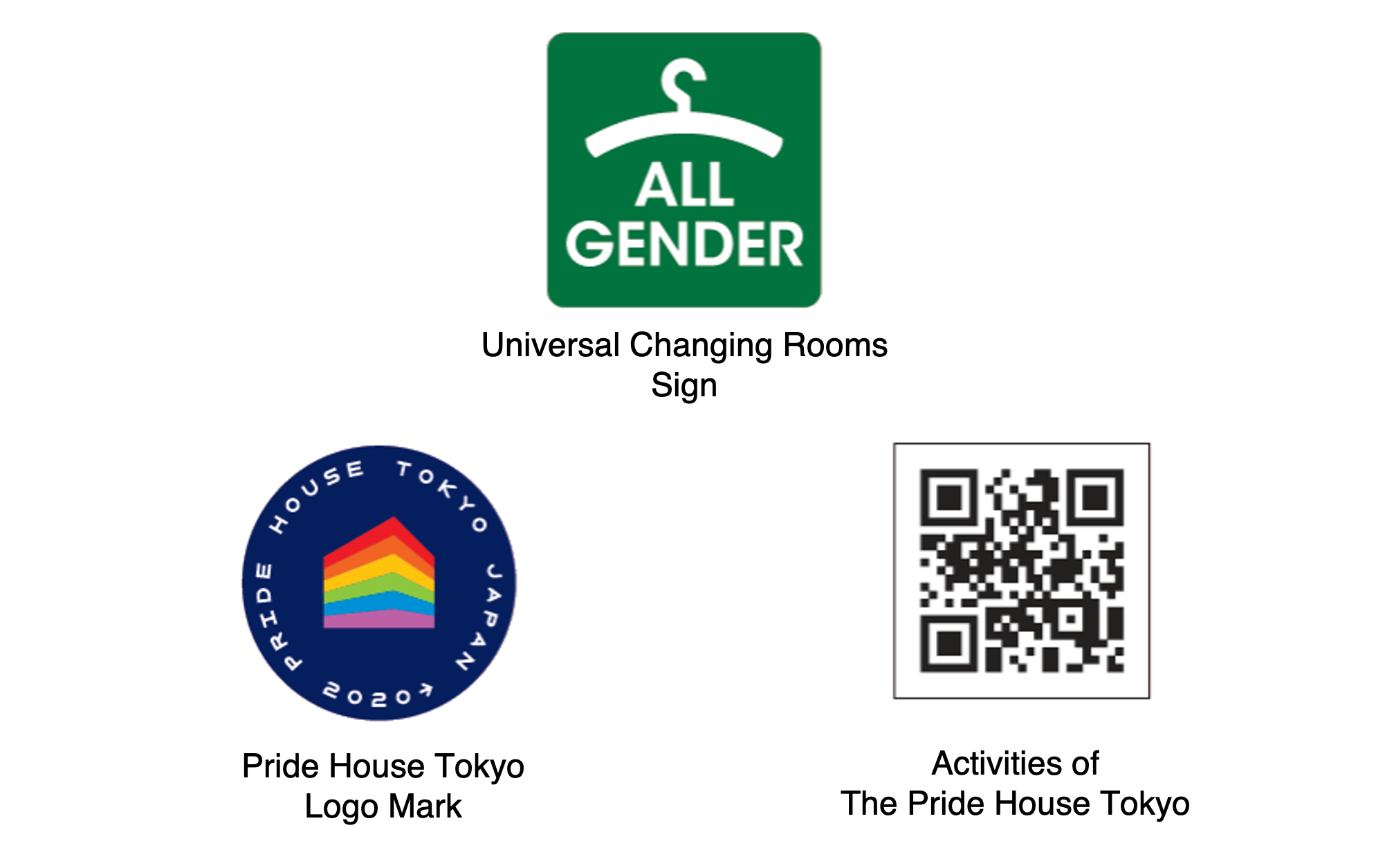 Changing rooms at the start,10.7km finish and finish area
 With advice from Pride House Tokyo on the proper information regarding sexuality, how best to share said information, and how to operate events in a way that accommodates all sexualities, we are working to improve our own operational know-how.
*The foundation has also signed an agreement with Pride House Tokyo to promote diversity in sporting events. (2019)
Volunteer Uniforms/Using Eco-friendly Material without Years Printed to be Reused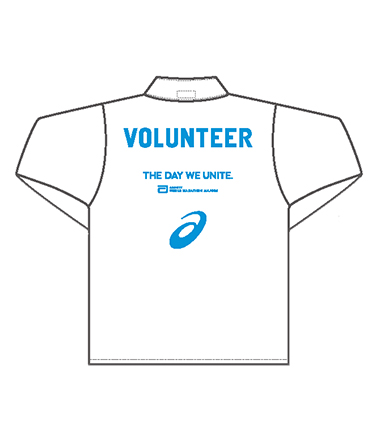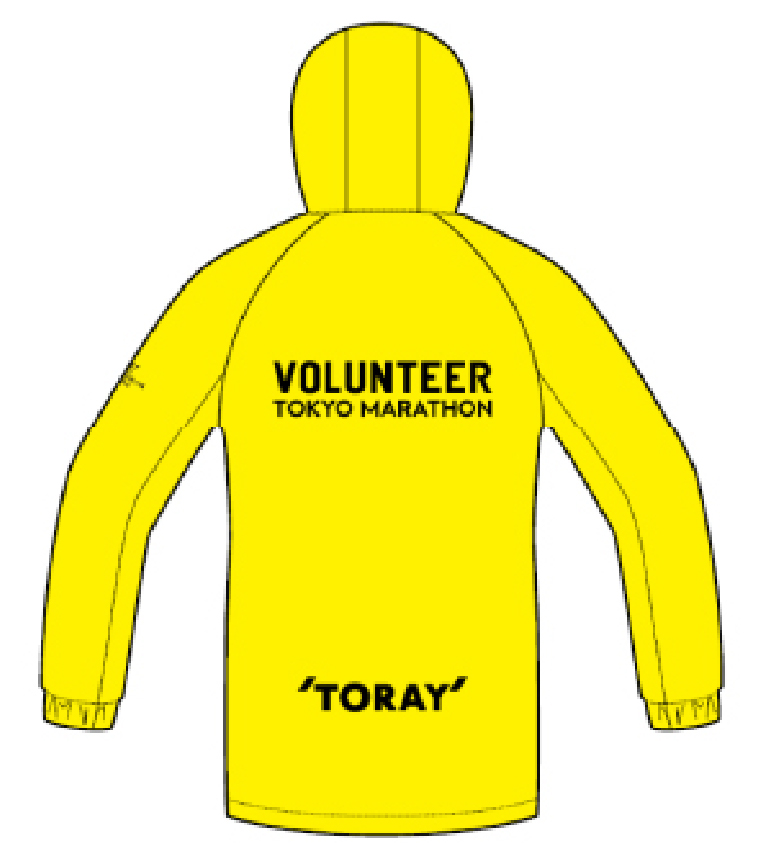 In the past, the volunteer uniforms had the year of the tournament printed on them, but as the new uniform design does not feature a year logo, these new uniforms can be worn regardless of the tournament year. Further, plant-based synthetic fiber "Ecodear®" is used for the volunteer uniforms.
Repurposing the Marathon Flags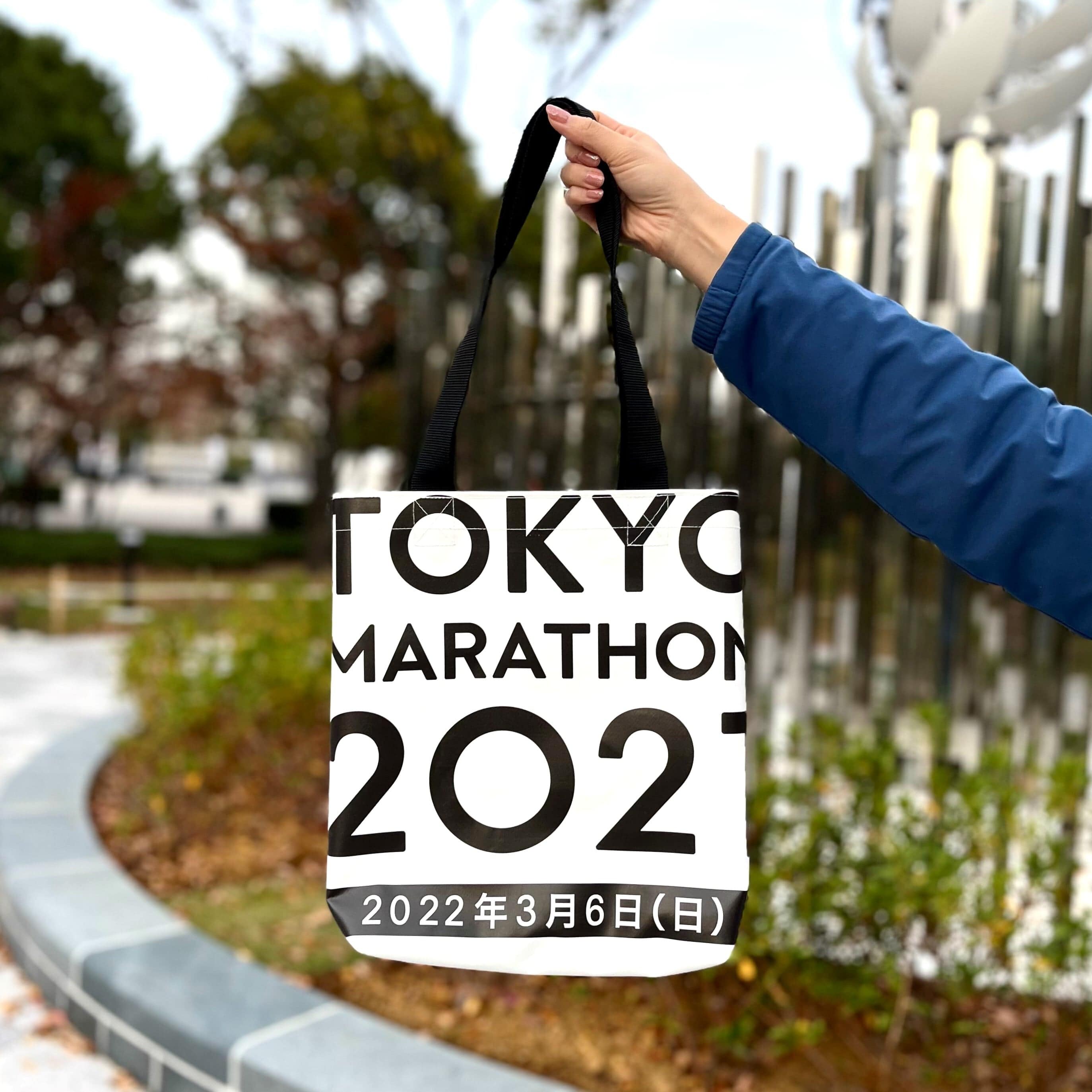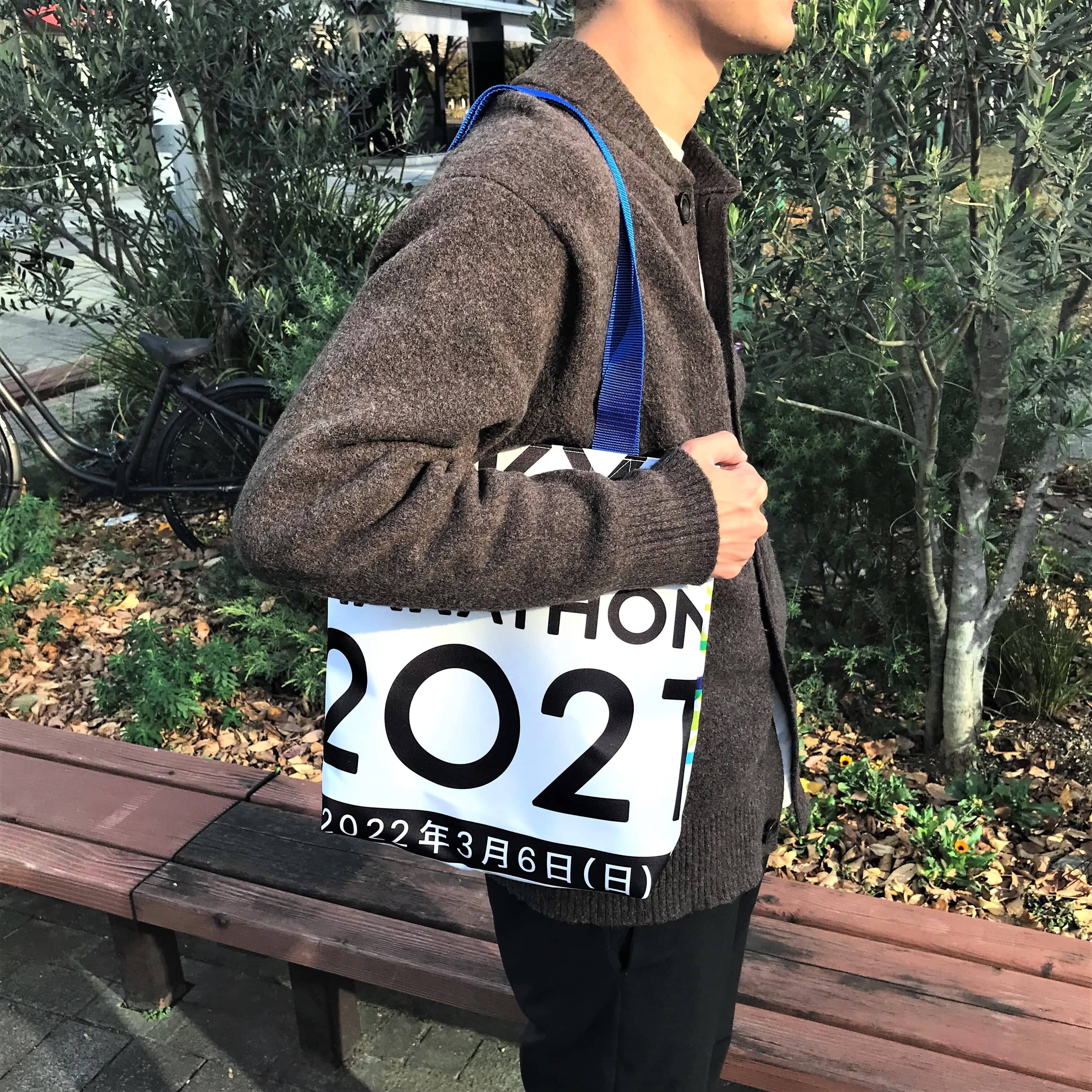 The flags manufactured for the Tokyo Marathon 2023 will be repurposed as bags. The bags will be created at fabric manufacturing company that employs people with disabilities. The bags will be available for purchase, and we will donate a portion of the profits to Tokyo Goodwill Bank.
*Tokyo Marathon 2021
【Total amount of Donations】
 116,550 yen
【Donated to Organization Below】
 The Tokyo Goodwill Bank (Tokyo Council of Social Welfare)
Use of Plant-Based Synthetic Fabric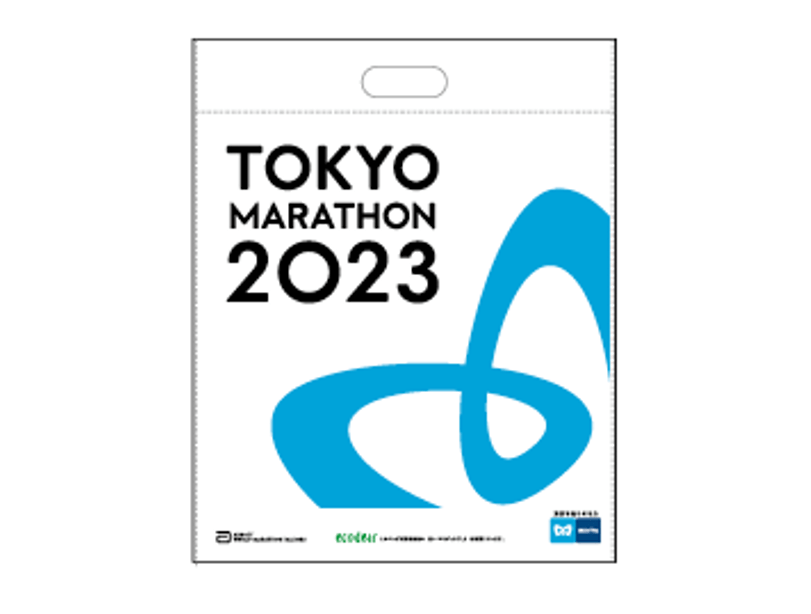 We will use environmentally friendly synthetic fibers (Ecodear®) derived from plants as fabric for EXPO bags.