Berlin ready to stage finale of Series XII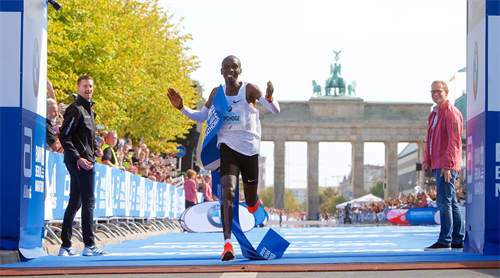 The 2019 BMW BERLIN-MARATHON will provide the setting for the conclusion of a historic Series XII of the Abbott World Marathon Majors.
It began in the German capital in blistering fashion in September 2018 when two world records and a course record all fell on a sun-soaked morning in the city.
Manuela Schär began what would be the most dominant season in Majors history by claiming the women's wheelchair world record in a winning time of 1:36:53, while Gladys Cherono successfully defended her women's crown with a course record of 2:18:11.
But the headlines were grabbed by the great Eliud Kipchoge, who obliterated the men's world record with an eye-watering 2:01:39.
We arrive back in the city to find Schär uncatchable at the top of the women's wheelchair leaderboard after six straight wins with Tatyana McFadden in second place followed by rising Australian star Madison de Rozario.
Kipchoge is still waiting for someone to join him on 50 points at the top of the men's standings, after he added a course record win in London (2:02:37) to that epic Berlin feat. With the Kenyan relinquishing his Berlin crown as he prepares for another attempt at the two-hour barrier, a clutch of Ethiopians headline the men's field.
Reigning Tokyo champion Birhanu Legese is among them and has the chance to tie Kipchoge at the top of the leaderboard, which would force a vote by the race directors to decide this year's men's champion.
On the women's side another Kenyan, Brigid Kosgei, has recorded a maximum 50 points after crushing wins in Chicago and London and will be watching on to see if reigning Berlin champion Gladys Cherono can join her on maximum points.
Even if Cherono - going for a third consecutive triumph in Berlin - does pull alongside her compatriot at the top of the house, Kosgei's win over her in London means she cannot be denied a maiden Series silver salver.
And there is also no stopping Daniel Romanchuk in the men's wheelchair competition, who does not compete this weekend but has the Series title firmly in his hold.
He was barely 20 when won his first AbbottWMM race, fending off the vastly more experienced Marcel Hug and David Weir to raise the American flag in Chicago last October, and was again too strong for his rivals in the hills of Central Park to take his first New York City victory just a couple of weeks later.
Wins in Boston and London last spring and a maximum three bonus point victories have propelled the University of Illinois man into an invincible position as we approach Berlin. Hug finds himself in the unfamiliar role of runner-up but will want to add to his 17 Abbott World Marathon Majors wins on a course that has brought him plenty of success over the years.
There are permutations galore to be worked through to decide who will complete the podium places in this elite men's and women's series', but what's certain is there has never been a year like it since the dawn of the Abbott World Marathon Majors.
Just one more chapter to go.

Table
How they stand
Asterisk denotes racing Berlin
Men's top 5 (top two finishes count)


Women's top 5 (top two finishes count)


Men's wheelchair top 5 (Best four finishes count, maximum three bonus point wins permitted)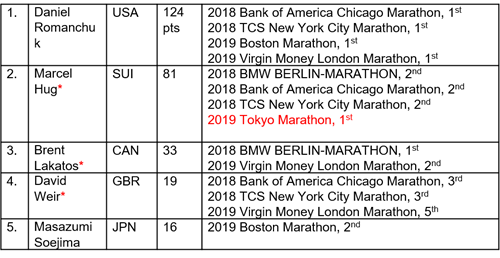 Women's wheelchair top 5 (Best four finishes count, maximum three bonus point wins permitted)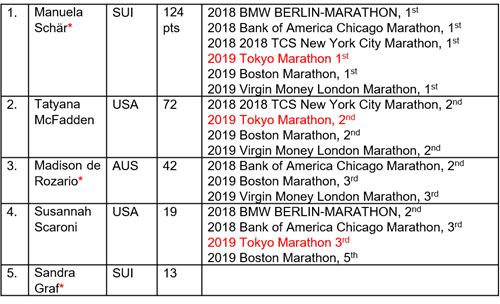 .