Schär & Romanchuk to defend Chicago crowns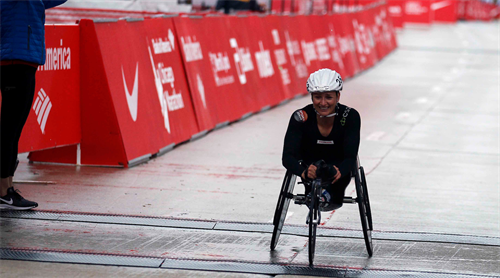 The Bank of America Chicago Marathon today welcomed back its defending wheelchair champions for the 2019 race.
Manuela Schär and Daniel Romanchuk swept to victory in 2018 and both are on course to win Series XII of the Abbott World Marathon Majors.
Schär has gone through the card in this series, winning all six races to date and setting a new world record of 1:36:53 in Berlin on the opening day.
She returns to the German capital in September to round out Series XII, and the Windy City will mark the start of Series XIII just two weeks later.
Romanchuk's 2018 victory in Chicago was his first as a Majors racer and paved the way for a dominant year from the 20-year-old. He followed it with a win at the TCS New York City Marathon and plundered two more victories in Boston and London to establish an unassailable lead at the top of the men's leaderboard.
Schär will be up against the familiar trio of University of Illinois athletes; Tatyana McFadden, Amanda McGrory and Susannah Scaroni as they attempt to break the two-year stranglehold the 34-year-old Swiss star has had on the women's series.
Romanchuk will have experienced opposition to contend with in the shape of South Africa's Ernst van Dyk, Canadian Josh Cassidy and Britain's David Weir as well as his compatriots Josh George and Aaron Pike.