Legese wins in Tokyo again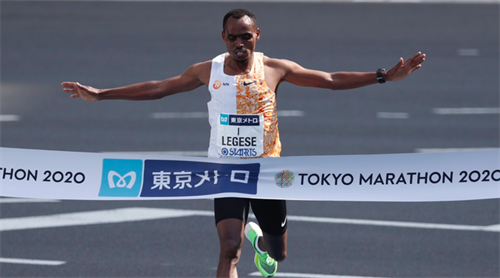 Biranhu Legese claimed his second consecutive Tokyo Marathon title to move into a share of the lead at the top of the Abbott World Marathon Majors table.
The Ethiopian clocked 2:04:15 to take the tape 34 seconds ahead of Belgium's Bashir Abdi, who outmuscled Sisay Lemma by just two seconds.
Legese's victory adds another layer to the reputation he has built over the last 12 months. His first win in Tokyo in 2019 was followed by a huge personal best in Berlin where he came second behind a sensational performance from Kenenisa Bekele. His time there of 2:02:48 puts him fourth on the all-time list of the fastest marathons in history.
And while he was not to be denied a second Tokyo title, there was also joy for home-grown athlete Suguru Osako who finished fourth in a new Japanese record of 2:05:29 to put himself in pole position for the final place in Japan's men's Olympic marathon team.
In the women's race, Israel's Lona Chemtai Salpeter won in 2:17:45, beating Ethiopia's Birhane Dibaba by 50 seconds. Sutume Asefa Kebede of Ethiopia was third in 2:20:30.
In wheelchair fields affected by the withdrawal of a number of the leading athletes, Tomoki Suzuki won the men's race in a new course record of 1:21:52, while Tsubasa Kina was crowned women's champion for 2020 in 1:40:00.
<Related NEWS>
・Legese wins men's and Salpeter wins women's division (Tokyo Marathon 2020 Marathon Race Report)
・Suzuki wins men's and Kina wins women's, both setting new course record! (Tokyo Marathon 2020 Wheelchair Marathon Race Report)
・Tokyo Marathon 2020 Race Preview