Legese tipped for sub 2:03 in Tokyo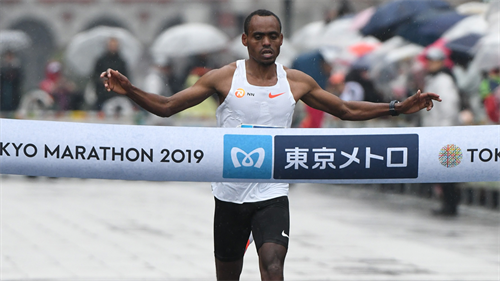 Ethiopian star Birhanu Legese has been backed to run the first sub 2:03:00 marathon ever clocked in Japan when he returns to defend his Tokyo Marathon title.
The 25-year-old won last year's race in 2:04:48 and followed that with a huge new PB at the BMW BERLIN-MARATHON in September when he ran 2:02:48.
That made him the third fastest man in history, and the owner of the fastest time not to win a race. Legese was overtaken late on in Berlin by the brilliant Kenenisa Bekele - who was on his way to a 2:01:41 finish.
Legese's 30-35km split of 14:09 in Berlin had placed him on track for a 1:59:24 marathon, for which he paid the price in the following 5km. It showed him, however, that he is capable of a faster time than his finish in Germany with a more evenly-paced effort.
That's what Tokyo race director Tad Hayano is banking on when Legese returns to the Japanese capital's roads in a few weeks' time.
"Last year, it was tough for the athletes with a drastic temperature drop from midway, but despite [that], Birhanu Legese kept the speed, finishing strong under 2:05," said Hayano.
"He missed the win at Berlin in September, but he finished with [an] incredible time of 2:02:48. He rewrote his personal best, and will be returning to Tokyo much stronger. I believe Legese will lead the race to bring [the] record time under 2:03, marking the fastest record achieved within Japan."
Hayano will deploy a sub 2:03 pace group to aid Legese's efforts. He will be up against four other men with sub 2:05 personal bests.
Among them, winner of the last year's Dubai Marathon Getaneh Molla of Ethiopia and his compatriot Sisay Lemma, who came third behind Legese in Berlin with a new PB of 2:03:36. Dickson Chumba of Kenya, twice winner in Tokyo, also features, as does Asefa Mengstu, who boasts a PB of 2:04:06 from Dubai in 2018.
2019 World Championships bronze medallist Amos Kipruto will be another athlete to watch.
In the women's field, defending champion Ruti Aga will be joined by her fellow Ethiopian Birhane Dibaba, who has two Tokyo titles (2014 and 2018) to her name. Three other female athletes boast personal bests under the 2:19 barrier.
The strongest Kenyan challenge is expected to come from Valary Aiyabei, who won the 2019 Frankfurt Marathon and has also topped the podium in Barcelona, Valencia, Prague and Beijing.
HOME-GROWN CONTEST FOR FINAL OLYMPIC PLACE
There is a battle brewing among the homegrown athletes in Tokyo that could be every bit as thrilling as the race for first place. The final slot for the Japanese Olympic men's marathon team is up for grabs.
To secure the last ticket for Tokyo 2020, someone has to beat the time of 2:05:49 set by the Japan Association of Athletics Federation. If no one clears the time, the slot will go to Suguru Osako, who finished third in Japan's Marathon Grand Championship race last September.
Osako, who's national record stands just one second slower than that target, is not leaving his fate in the hands of others however, and will toe the start line alongside fierce rival Yuta Shitara who came second in Tokyo in 2018 to set a new national record. His reign was short lived when Osako beat his 2:06:11 in Chicago later that year, where he ran 2:05:50.
"Osako could have chosen not to enter the race and waited for the days to pass by. But instead, he chose to enter the battle," said Hayano. "His willpower is something like no other, and perhaps, his pride as the national record holder is what fuels him.
"For Shitara, Tokyo is a familiar course, maybe with a positive image still lingering from the national record he achieved. He seems carefree, but definitely has strong feeling towards Osako, who he has been competing against since college. We can expect him race [at] fast pace from early on, with the mindset of breaking the current national record."
In other words, don't blink. This year's Tokyo Marathon is going to be a barn burner.