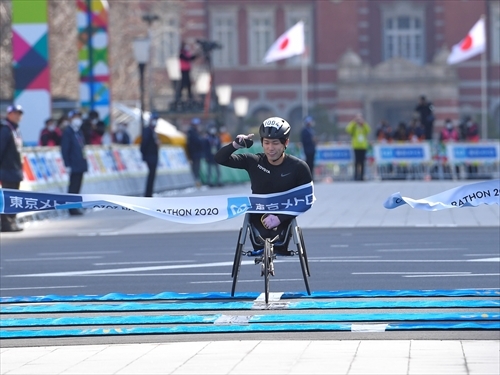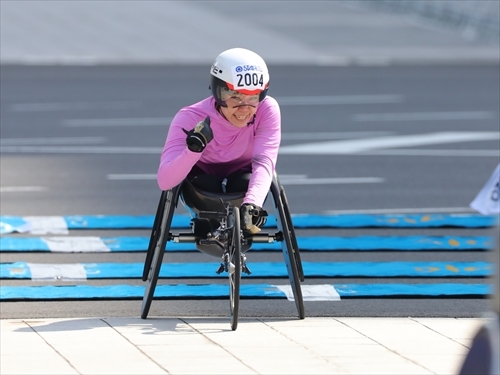 The men's race started with the three leads, Tomoki Suzuki, Hiroki Nishida and Sho Watanabe forming a group, but once Suzuki pulled away around 8 km, he was the sole leader until the end. He sped through the final stone pavement, and crossed the finish line with his fist high. Finishing with a time of 1:21:52, he finished 8 minutes and 8 seconds ahead of the second finisher.
He seemed happy with his first win at the Abbott World Marathon Majors race and commented, "I'm truly happy. The weather was good, and the wind didn't bother me." At the same time, he seemed somewhat disappointed that he was unable to compete against more and perhaps it was not the ideal game for him. "I was not necessarily looking to break the record, but I raced at my own pace, and the results came naturally." Part of the course overlaps with the Tokyo 2020 Paralympics course and it is a prelude to the Paralympic Game.
Unfortunately, top contenders such as Marcel Hug (SUI), the gold winner at the Rio 2016, were unable to participate due to the situation with the coronavirus and he commented, "To be honest, I can't really say that it helped with my confidence because there weren't many international contenders". Suzuki didn't seem completely satisfied with the status quo, expressing his desire to aim higher.
There were only 3 athletes in the women's field. Kina pulled away from the beginning, and kept till the end. Maintaining her pace, she finished with a course record of 1:40:00. She reflected on her performance with a smile, "The weather conditions were suitable for racing, and I enjoyed the race. I was able to maintain my own pace." Determined to qualify for the Paralympics 5 months ahead she expressed, "I was able to finish within my target time. It helped boost my confidence somewhat, and I hope to enhance my performance."