Marathon Race Recap: Linden leaves them trailing in the rain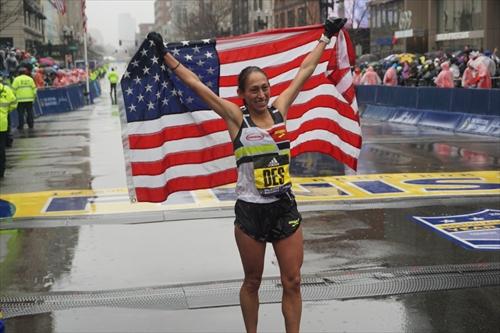 Desiree Linden became the first American woman to win the Boston Marathon in 33 years on Monday.
The Michigan native trudged through the driving rain to deliver a major upset at the 122ndrunning of the world's oldest continuous 26.2-mile race and jump to joint fourth in the Abbott World Marathon Majors women's Series XI standings .
Linden's victory looked far from likely in a race dominated by the freezing wind and rain that saw that majority of competitors run the whole way in jackets and hats to fend off the horrendous conditions.
The 34-year-old was part of a pack left behind by Ethiopia's Mamitu Daska after 13 miles, but Kenyan Sarah Chesir lead Linden in a chase of the leader who faded fast around the 21-mile point. Chesir passed Daska first but it was Linden who looked the stronger and quickly ran away from her accomplice and on to a historic win.
Linden's triumph tempered the hopes harboured by Shalane Flanagan and Edna Kiplagat of figuring in the fight for Series XI, which will now come down to a shoot-out in London between last year's Virgin Money London Marathon winner Mary Keitany, Ethiopia's Tirunesh Dibaba - who won the 2017 Bank of America Chicago Marathon, 2017 BMW Berlin Marathon winner Gladys Cherono and world champion Rose Chelimo. Each has 25 points and a win for any of them will secure the title.
In the men's race, it looked to be going Geoffrey Kirui's way as the 2017 Boston champion built a sizeable lead and looked uncatchable until the 23-mile mark.
That was when the wheels began to fall off for the current world champion. He was quickly hauled in by the gutsy Yuki Kawauchi, who steamed past the man from Keringet and on to victory on a soaking Boylston Street.
The Japanese 31-year-old is famed for his world record of 26 sub 2:12 marathons - just one of many he holds, and he has 30 wins to his name over the distance. But the amateur from Saitama set off from Hopkinton at breakneck speed, clocking a 4:37 first mile to the amazement of his rivals.
When he was brought back to the main group it looked as though his moment in the spotlight had come and gone, and as the runners passed halfway, Kirui's moved seemed a decisive one.
Refusing to shed his cap and jacket, Kirui quickly built a commanding lead, but just as it looked as though the race was in his grip, his legs had no more to give him, and Kawauchi, who shunned any protection from the elements all day, appeared behind him looking strong.
There was nothing Kirui could do as the Kawauchi splashed past him to finish in a time of 2:15:58 for the unlikeliest of victories.
Kirui's second place was enough to propel him into first place in the Abbott World Marathon Majors Series XI standings with 41 points, but the formidable-looking lineup in London next weekend could mean his tenure at the top will be short-lived.
Victory for two-time London winner Eliud Kipchoge or last year's champion Daniel Wanjiru will hand either man the Series XI title. If one of these two comes second, they will draw level with Kirui.
Also in the mix are Guye Adola and Kenenisa Bekele. Adola was runner-up to Kipchoge in Berlin in 2017 and Bekele came second to Wanjiru in London.
Again, either man can join Kirui on 41 if they can register a win in London.
It will be an intriguing battle on the road to The Mall next weekend.
Click here to see the AbbottWMM news page.
Wheelchair Race Recap: McFadden flourishes in foul weather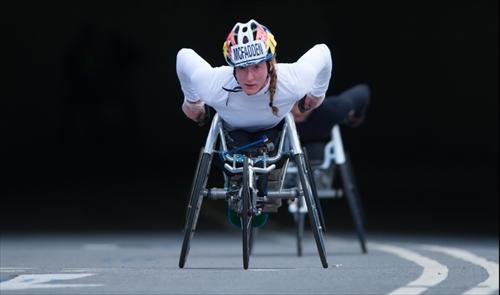 Tatyana McFadden registered Abbott World Marathon Majors win No.22 in Boston with a stunning comeback performance.
Having undergone surgery on blood clots before the same race in 2017, McFadden returned to avenge the defeat she suffered at the hands of Swiss rival Manuela Schär.
It was Series leader Schär who looked to be putting together another dominant race as she streaked clear and lead with no one else in sight through the six-mile marker.
But the conditions perhaps played to the strength McFadden is famed for, and by 11 miles, the American had caught and passed Schär, who appeared to have no answer.
McFadden barreled on through the torrential rain that had accounted for her fellow University of Illinois athlete Amanda McGrory before the start, and finished in 2:04:39, a time that says everything about the punishing conditions faced by the athletes in Boston.
McFadden's win closes the gap on Schär at the top of the standings, but the leader, who did not see the finish line on Boylston Street, cannot be caught with one race to go.
In the men's race, Marcel Hug rubber-stamped his lead at the top of the leaderboard as he powered away from 10-time Boston winner Ernst van Dyk in the final six miles.
The pair had gone blow for blow until that point and it looked as though a repeat of their sprint finish was on the cards. But the Silver Bullet's move at 20 miles proved too much for van Dyk to handle, and a fourth straight Boston was Hug's for the taking.
With Hug and Schär still heading for their respective titles, it will be all about bragging rights in London next weekend when the Series comes to an end.
Click here to see the AbbottWMM news page.
<Related NEWS>
2018 Boston Marathon Race Preview
2018 Boston Marathon Push Rim Wheelchair Division
2018 Boston Marathon International Elite Field
2018 Boston Marathon - U.S. Elite Field
2018 Boston Marathon - RETURN OF DEFENDING CHAMPIONS