John Hancock Announces 2018 Boston Marathon U.S. Elite Field 15 Member Team includes Olympic, World and Pan-American Medalists, Abbott World Marathon Majors Champions, and North American Record Holders
15 Member Team includes Olympic, World and Pan-American Medalists, Abbott World Marathon Majors Champions, and North American Record Holders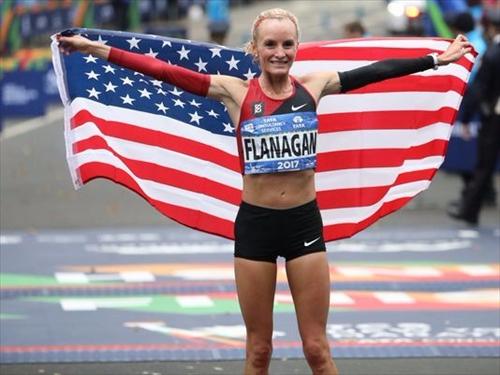 John Hancock today announced its strongest U.S. Elite Team since its principal sponsorship began in 1986. The team, recruited to compete against an accomplished international field, will challenge for the coveted olive wreath on Patriots' Day, April 16, 2018.
Four-time Olympian and 2017 TCS New York City Marathon champion Shalane Flanagan headlines the field along with two-time Olympic medalist and 2017 Bank of America Chicago Marathon champion Galen Rupp. Joining them are Olympians Desiree Linden, Dathan Ritzenhein, Abdi Abdirahman, Deena Kastor, and Molly Huddle, the latter of whom is the North American 10,000m record holder.
Also returning to Boston are Jordan Hasay and Shadrack Biwott. Hasay placed third at the 2017 Chicago Marathon, and set the American marathon debut record at Boston this year when she ran 2:23:00. Biwott finished as the second American and fourth overall in Boston this year. Serena Burla, Ryan Vail, Sara Hall, Scott Smith, Kellyn Taylor, and Andrew Bumbalough will also compete on the John Hancock U.S. Elite Team at the 122nd running of the Boston Marathon.
"The 2018 John Hancock U.S. Elite Team represents a dedicated group of athletes who have consistently challenged themselves to compete with great success on the world stage," said John Hancock Chief Marketing Officer Barbara Goose. "We are honored to invite this team to the Boston Marathon to lead 30,000 runners along the world's most historic marathon route."
"In the Boston Marathon's 122-year history, one will be hard pressed to find a more accomplished American field than the one John Hancock has established for 2018," said Tom Grilk, CEO of the B.A.A. "With Olympic medalists, Abbott World Marathon Majors winners, American record holders and more, this will be the most decorated U.S. fields in Boston Marathon history. Many familiar faces return to the roads leading to Boston, while others will be making their long-awaited debuts. And of course, it will be especially engaging for local fans to welcome Marblehead's own Shalane Flanagan back to follow up her magnificent triumph in New York."
For more details about all the U.S. Elite Team athletes, please visit the AbbottWMM news page.
<Related NEWS>
2018 Boston Marathon - RETURN OF DEFENDING CHAMPIONS