History beckons for Flanagan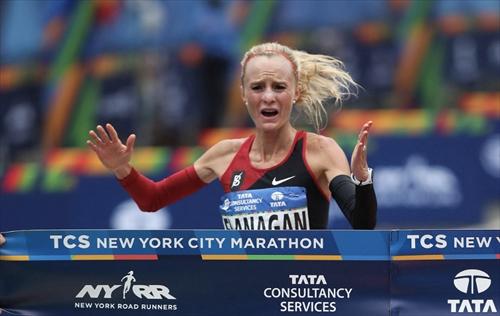 Shalane Flanagan can take a commanding position in the fight for the Women's Abbott World Marathon Majors Series XI title if she can claim victory in at the Boston Marathon on 16 April. The American scored 25 points with her win at the TCS New York City Marathon, and can move to 50 with a second triumph of the campaign.
A first place for Flanagan would deny a third title for women's world record-chasing Mary Keitany when she mounts the defence of her London crown just six days later.
The Kenyan smashed the Women's Only record at last year's race and is now hunting Paula Radcliffe's male pacemaker-assisted time of 02:15:25. But Keitany's defeat to Flanagan in Central Park last November means the Marblehead native has a better head-to-head record than the two-time Series champion.
With only the top two results counting for athletes, that win for Flanagan on the streets of New York City means if both women end up with two wins apiece, we will have the first American champion in the history of the women's open Series. But Flanagan, who missed last year's Boston Marathon with a stress fracture in her back, will have her work cut out if she is to make it to that Boylston Street Finish Line ahead of the pack.
Alongside a formidable-looking American field, defending champion Edna Kiplagat will be desperate to repeat her success of 2017. The veteran Kenyan can take a share of the lead on 41 points if she can claim the spoils on Patriots Day.
Kiplagat put on a powerful display last April, breaking clear of her opponents with 10km to go and mastering the taxing Heartbreak Hill section to cruise through the wide streets of downtown Boston to victory. She is joined in Boston by fellow Kenyan Geoffrey Kirui, who is also seeking to retain his status as Boston champion.
Kirui can move to 50 points in the men's Series standings with victory, after being crowned world champion last summer in London, but the same goes for American Galen Rupp who already has victory in Chicago under his belt in this series.The two were the last men battling it out during the latter stages of the 2017 edition of the race, until Kirui eased away with a 14:35 split between 35 and 40km to win by 21 seconds.
In the wheelchair divisions, it's all over bar the shouting with Swiss duo Manuela Schär and Marcel Hug enjoying unassailable leads. Schär is sitting pretty on 109 points, more than 50 ahead of second place Tatyana McFadden. For Schär, Boston represents the chance to bookend her 12 months with back-to-back wins on Boylston Street. She has only been beaten once this Series, when McFadden got the better of her in Chicago.
For Hug, even though he missed February's Tokyo Marathon, his 62-point lead means he is destined to win a second consecutive Series title. He is also the defending champion in Boston and aiming to become the third men's wheelchair competitor to make it four in a row in Boston Marathon history, joining Ernst van Dyk (who has accomplished the feat twice) and Swiss legend Franz Nietlispach. Schär will look to join Edith Hunkeler as the only Swiss woman to win a pair of Boston titles. Jean Driscoll has the record for most Boston Marathon Women's Wheelchair titles at eight.
In 2017, both Hug and Schär set new course records and world bests on the Boston course. Hug won a sprint to the line over ten-time Boston Marathon champion Van Dyk, where both crossed the stripe in 1:18:04. Van Dyk will also return to Boston with hopes of reclaiming the top spot for the first time since 2014. He is the most decorated champion in event history.
Schär shaved more than five minutes from the previous course record of 1:34:06, covering the course in 1:28:17 a year ago. After finishing second in 2016, she earned her first Boston victory and became the first woman to ever dip under 1:30:00 in the wheelchair marathon.
Can't catch the action on TV? We'll be tweeting race updates as they happen at @wmmajors .
Click here to see the AbbottWMM news page.
<Related NEWS>
2018 Boston Marathon Push Rim Wheelchair Division
2018 Boston Marathon International Elite Field
2018 Boston Marathon - U.S. Elite Field
2018 Boston Marathon - RETURN OF DEFENDING CHAMPIONS