ABBOTT WORLD MARATHON MAJORS EXPANDS PRIZE STRUCTURE
AND INTRODUCES NEW CHARITY PROGRAM

Top Three Men's, Women's Series Finishers to Be Honored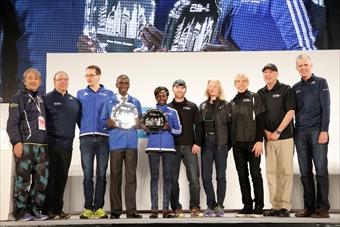 Abbott World Marathon Majors will expand its prize structure and introduce a new charity program. This will go into effect at AbbottWMM Series XI, which begins at the Virgin Money London Marathon on Sunday, April 23, 2017.
The prize money has been restructured to recognize and reward the top three men's and women's finishers in both the open and wheelchair Series. Previously, only the individual champions received prize money.
In addition, through the new charity program, a total donation of $280,000 will be made in the name of the race winners of the seven races that make up Series XI, which include the 2017 Virgin Money London, BMW BERLIN, Bank of America Chicago and TCS New York City Marathons, and the 2018 Tokyo, Boston, and Virgin Money London Marathons.
Each race winner in the open and wheelchair categories will be honored with an AbbottWMM $10,000 donation, in their name, to a charity of their choosing.
"The Race Directors of the Abbott World Marathon Majors want to acknowledge the top three athletes, rather than just the winners, and also to reflect the reason to run for so many of the hundreds of thousands who participate in our races," said Tim Hadzima, AbbottWMM general manager. "Many of the runners who cross our iconic finish lines every year fundraise an incredible amount of money for charity."
The current AbbottWMM cycle, Series X, concludes after the Boston Marathon on Monday, April 17, 2017. The leaderboard positions of athletes contending for the titles can be viewed at worldmarathonmajors.com.