Invited Wheelchair Athletes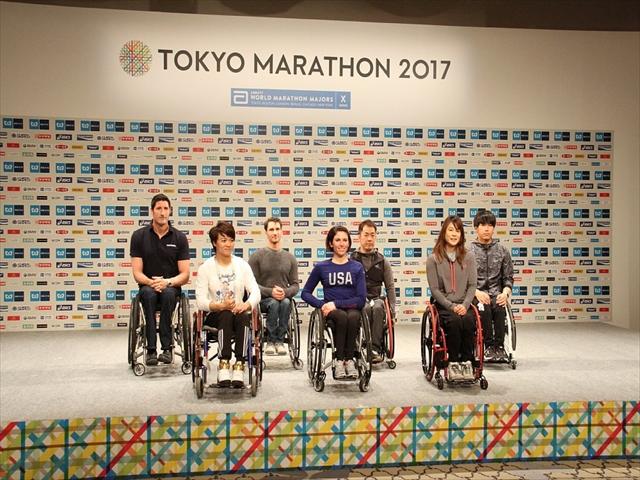 The pre-race press conference for the elite wheelchair athletes competing at the Tokyo Marathon 2017 was held on Friday February 24 at Keio Plaza Hotel. After the organizer`s press conference at 10:00A.M, wheelchair athletes` press conference started at 10:55A.M. First, three women answered the questions followed by four men.
Three women are Zhou Lihong (CHN), 2016 Paralympic wheelchair marathon gold medalist, Amanda McGrory (USA), 2016 Paralympic wheelchair marathon bronze medalist, and Kazumi Nakayama (JPN). Zou who is competing in Tokyo for the first time is aiming for 1:44:00. McGrory who has said, "Because of winter weather, I have been training indoor. I feel to be in shape, and thus I am interested in seeing if my indoor training will translate into outdoor performances. Originally, she wrote down her targeted time as 1:45:00, but after seeing Zhou`s targeted time, McGrory changed her targeted time to 1:44:00. Nakayama, who is concentrating on weight work recently said, "It will be nice if the competition is fun. I am happy to see the series of hills after 30km are gone from the course."
Four men appeared at the press conference are Ernst Van Dyk (RSA), who won the Boston Marathon multiple times, Joshua George (USA), who won the Chicago Marathon multiple time, and Kota Hokinoue and Tomoki Suzuki, who were first and second, respectively, at the Tokyo Marathon 2015.
Van Dyk, who was second last year, while admitting the benefit of the new course, have said, "number of corners and bends which may be utilized in the race tactics are gone in the new course. Thus the new course may not be so beneficial to experienced athletes like us," while Hokinoue have said "all the course`s subtleties I have learned in the last ten years are now meaningless." Apparently, unlike the elite runners, elite wheelchair athletes have some mixed feeling about the new course.
Last year, George was unable to compete at the Tokyo Marathon, for he had to turned around and return to his family upon learning the death of his grandfather. George said, "Since this is my first marathon of the year, I don`t know how good of a shape I am in. However, as long as I can survive the first 10km of the race ..." He has quite a modest goal of 1:26, while Van Dyk listed 1:25:30, time 30 seconds faster than the last year, as his targeted time. On the otherhand Japanese are quite ambitious. Suzuki, who claims that "I am mostly a track athlete," is targeting 1:24, while, Hokinoue is aiming even more ambitious time of 1:22:00.
Invited Athletes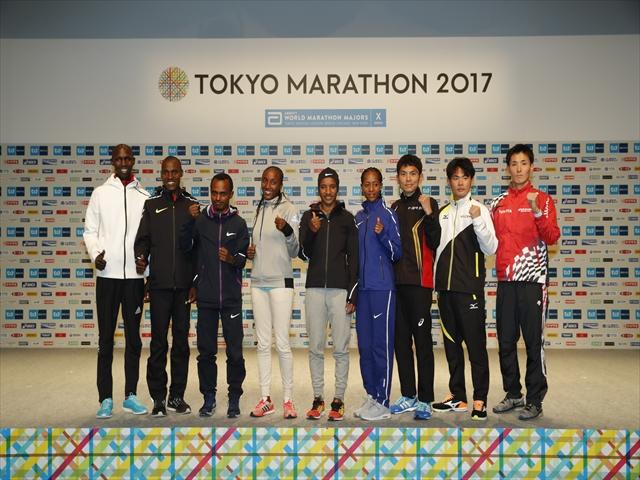 The Tokyo Marathon 2017 elite runners` pre-race press conference was held on Friday afternoon. First, at 13:00, three invited women took the stage. They are Amane Beriso (ETH), who recorded the fifth fastest marathon debut time in history at Dubai, Amane Gobena (ETH), who was second in the last year`s Tokyo Marathon and Birhane Dibaba (ETH), who won the Tokyo Marathon in 2015. On Sunday, Beriso is aiming at 2:20:20, while Gobena is aiming 2:20:00 and Dibaba 2:21:00, albeit their targeted times require a perfect race weather. If they are successful, best Tokyo Marathon time of 2:21:27 as well as the Japanese all-comers record of 2:21:18 will be improved on Sunday.
On the men`s side, the former world record holder Wilson Kipsang (KEN) is aiming 2:02:50, a time under the current world record. "In the September`s Berlin Marathon, I went thru the half marathon point too fast (61:11). On Sunday, I am planning to go thru the half marathon point in 61:30, and then speed up from there." Kipsang has another ambitious goal. "I would like to win all six Abbott World Marathon Majors races. Since I have already won London, Berlin and New York City Marathons, I have decided to run the Tokyo Marathon immediately after September`s Berlin Marathon," said Kipsang. The world record may be quite an ambitious goal, but the fastest time in the Tokyo Marathon, 2:05:42, as well as the Japanese all-comers record of 2:05:18, are reasonable targets.
Tsegaye Kebede (ETH), who claimed to be in great shape is aiming for a quite an ambitious time of 2:03:50, while the Tokyo Marathon record holder Dickson Chumba (KEN) is aiming at the quite modest time of 2:05:20.
The Japanese young hopeful Yuma Hattori said, "My training had gone better than last year before the Tokyo Marathon. This year, I have trained to run 3:02 to 3:03 per km even after I hit the wall." He is aiming for 2:08. "I am happy and grateful for the fans who have great expectation on me."
Cagey veteran Kazuhiro Maeda said, "Since my last three or four marathons were quite dismal, I want to gain confidence back by cracking 2:10 at the marathon again." Although his targeted time is 2:09, it is only a lowest possible goal."
Masato Imai, the fastest Japanese in the Tokyo Marathon, have said, "My career has been a roller coaster ride for the last two years. But I have cleared all my problems and now I feel like myself again when I run." Unfortunately, Imai is not rounding into shape yet.