Wilson Kipsang and Kenenisa Bekele face strong competition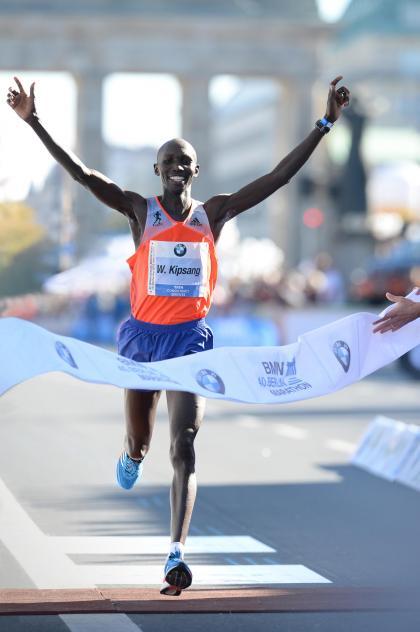 Wilson Kipsang: the 2013 world record holder renews his challenge
Expectations are high once again for a very fast race in the 43rd edition of the BMW BERLIN-MARATHON on September 25. All the omens are favourable with the recruitment of another high quality field which, given good weather conditions, points to another year of outstanding, world class times. The former world record holder Wilson Kipsang of Kenya and Ethiopia's Kenenisa Bekele have taken centre stage as the pre-race build-up has taken place, but alongside them are a clutch of athletes possessing the talent to be right up there with them. Seven runners in the field have best times under 2:06. At the head of the women's field is the double BMW BERLIN-MARATHON champion Aberu Kebede of Ethiopia. The BMW BERLIN-MARATHON is part of the Abbott World Marathon Majors Series and an IAAF Gold Label event, the highest category of road race awarded by the International Association of Athletics Federations.

The men's world record has been broken seven times in Berlin and the world's fastest time of the year was achieved here on five consecutive occasions. These performances combine to make the BMW BERLIN-MARATHON the fastest race for the classic distance of 42.195km in the world. The recruitment of Wilson Kipsang, who brought the world record down to 2:03:23 in Berlin in 2013 and Kenenisa Bekele, who will be looking to make a big improvement on his marathon debut time of 2:05:04 in Paris in 2014, was announced some time ago. But these two outstanding runners shouldn't think that the race will be simply a duel between themselves.

The fastest man on the start list is not Wilson Kipsang but his fellow Kenyan Emmanuel Mutai. He finished second in Berlin two years ago in 2:03:13, beaten only by the man who set the world record, Dennis Kimetto (2:02:57). Another to take into account is the Ethiopian Tsegaye Mekonnen who will be making his Berlin debut. In 2014 the teenager ran a world junior best of2:04:32 to make headlines in Dubai but failed to win a place on the national team for the Olympics.
*Click here to see the AbbottWMM Series X Men's Leaderboard
Click here to see the AbbottWMM Series X Women's Leaderboard