CHEBET SPOILS THE PARTY FOR KIPCHOGE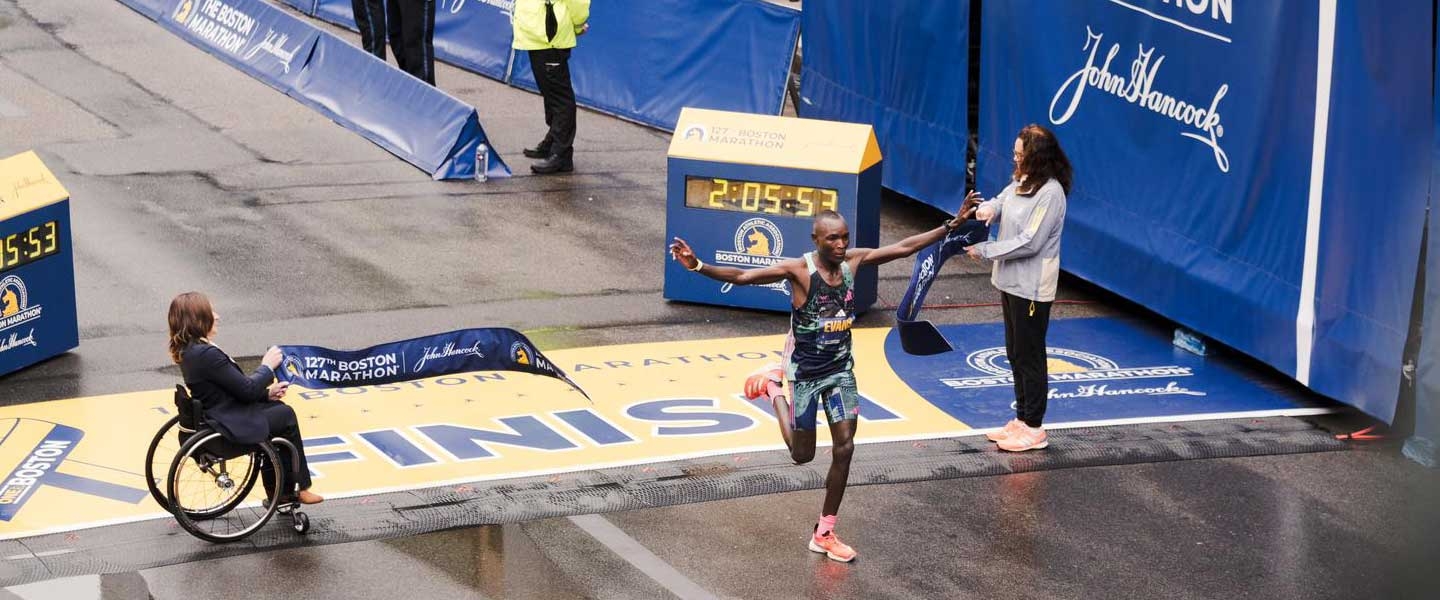 Evans Chebet claimed back-to-back Boston Marathon titles to wreck Eliud Kipchoge's ambitions of winning his fifth Abbott World Marathon Major.
Chebet stormed away in the final mile after fending off the challenges of his training partner Benson Kipruto and Tanzanian Gabriel Geay.
Geay's move at 19 miles was the decisive factor that finally broke up the established leading group and ended Kipchoge's challenge. The world record holder fell off the pack and was unable to recover, eventually finishing sixth.
Chebet, who has now strung three Majors victories together after winning Boston and New York City in 2022, stayed calm as Geay made his move, and eventually reeled the leader in.
The pair then exchanged blows as Kipruto began to fall away, but the 2021 champion rallied to re-join the contest until Chebet found his final killer blow to leave both challengers in his wake.
Geay edged Kipruto out by two seconds in a footrace for second and third, while Albert Korir, the 2021 AbbottWMM Series champion, was fourth and Moroccan Zouhair Tabir sealed fifth ahead of Kipchoge.
Scott Fauble was the first home-based finisher in seventh.
Chebet became the first man to defend his Boston title since Robert Cheruiyot in 2008, and did so by running the third-fastest winning time in the race's history.
The 34-year-old now takes a share of the lead in Series XV of the Abbott World Marathon Majors and may have ambitions of his own to take on the challenge of winning all six. He has run five different Majors in all but his other best places to date are third in Berlin and fourth in Tokyo and London.
Kipchoge will have to go back to the drawing board to assess his aims to win every Major. He still moves to five stars with New York City the only race he has yet to take part in.
OBIRI SPEEDS TO WIN IN SECOND MARATHON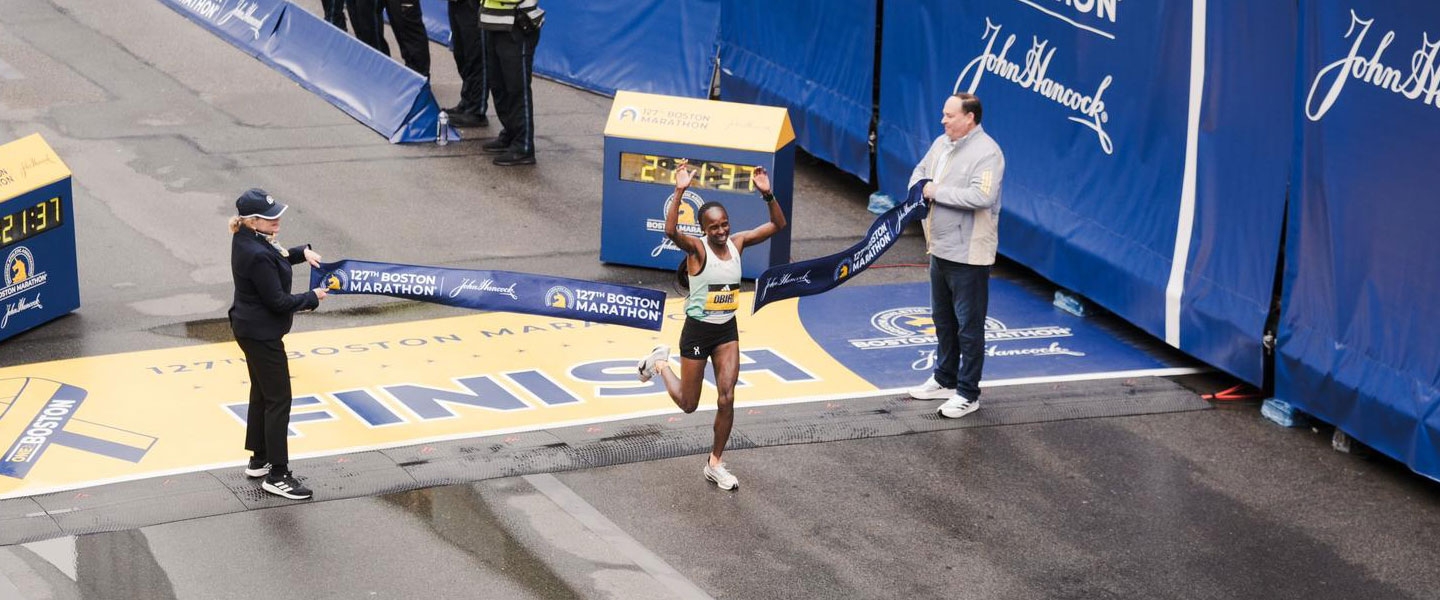 Hellen Obiri has arrived on the marathon scene.
In her second attempt at the distance, the two-time 5,000m world champion showed that she can apply her track talent to the toughest distance of them all and emerge victorious as she powered to the 2023 Boston Marathon title.
The women's race on a damp day in Massachusetts took a while to catch fire as a large group tapped out a steady pace in the early miles of a race that was loaded with ability.
Facing the likes of former London and New York champion Joyciline Jepkosgei and world champion and defending AbbottWMM Series champion Gotytom Gebreslase, Obiri kept herself tucked in as the miles ticked by, displaying her patience and trusting that her speed would count in the final reckoning.
She may not have anticipated a challenge from the American Emma Bates, who took up the front-running between 19 and 23 miles but could not sustain her bid to become the first American woman to win here since Des Linden in 2018.
It was left to Lonah Salpeter to lead them into the final mile. The Israeli, who had done much of the spade work earlier on, was no match for the charge of Obiri, however, who tore away with less than a mile to go to seal victory in 2:21:38.
As a late addition to the race following her course record at the NYC Half in March, Obiri said he had hesitated before deciding to throw her hat in the ring for Boston.
"I didn't want to come here," she said. "But my coach said I should try and go to Boston. I told him to give me some time to make up my mind. Then I said yes, I can do it.
"I know Boston is a tough course. But it is also an open field and maybe nobody wanted to go in front. I said 'maybe I'm just going to try to pull something off'."
Amane Beriso claimed second in 2:21:50 with Salpeter third in 2:21:57. Ababel Yeshaneh ran 2:22:00 for fourth with Bates fifth in 2:22:10.

<Related NEWS>
・BOSTON Marathon 2023 Wheelchair Race Recap
・BOSTON Marathon 2023 Elite Race Preview
・BOSTON Marathon 2023 Wheelchair Race Preview