SCHÄR AND SCARONI POISED FOR PATRIOTS' DAY BATTLE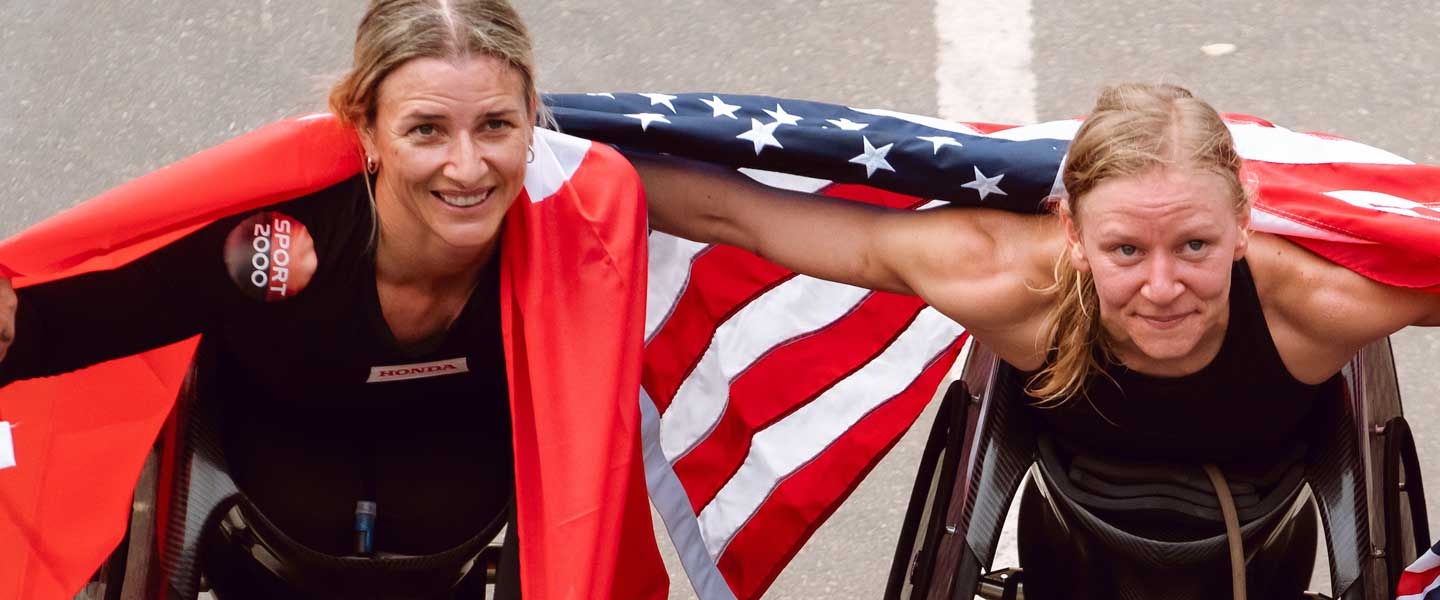 Manuela Schär and Susannah Scaroni will clash in Boston on Monday in a contest that could shape the destination of the AbbottWMM women's wheelchair series XV title this year.
Schär won the first race of the campaign in Tokyo, while Scaroni watched on from home suffering from a throat infection.
The American struck back a few weeks later in the United Airlines NYC Half which she won by 11 seconds over Schär. Despite making no impact on the series leaderboard, it was a victory that signalled Scaroni is in shape to threaten Schär's status as the queen of Boylston Street. She has won four of the last five editions of the race.
Schär's Tokyo performance was a welcome return to the top of the podium for the Swiss 38-year-old. Despite earning another olive wreath on Boylston Street 12 months ago, she largely had a 2022 to forget.
She did not travel to Tokyo last year and, after her Boston win, her summer was then interrupted by a broken leg that impacted on her training regime for the fall.
She still pitched up in Berlin as the red-hot favorite, but was upset by her fellow Swiss Catherine Debrunner. London followed a week later and a sickness bug struck her down on race morning, leaving Debrunner to win again.
VAN DYK BOWS OUT AS BOSTON'S GREATEST EVER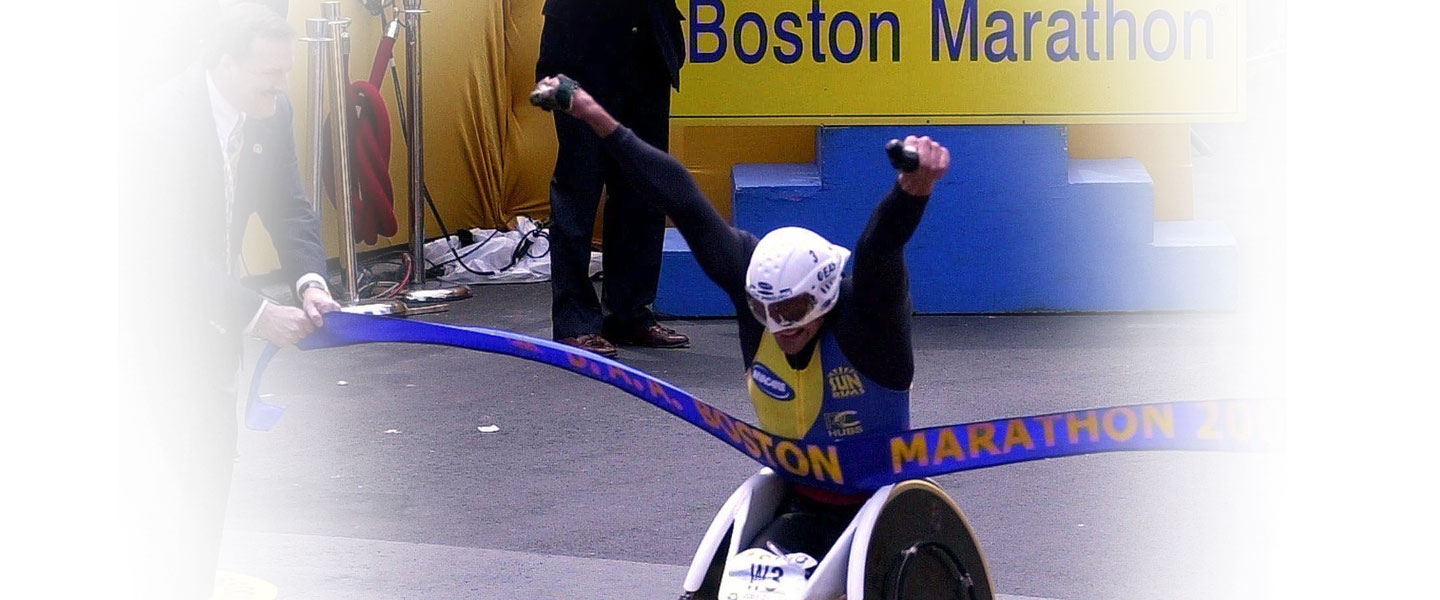 Certain athletes seem to forge an affinity for a particular event. Raphael Nadal has won 14 French Open titles. Ayrton Senna won six times in Monaco. Jack Nicklaus has six Masters green jackets. Miguel Indurain won five Tours de France.

In the sport of marathon racing, there is no one with more Boston Marathon titles to their name than South Africa's Ernst van Dyk.

The man from Ceres has racked up 10 wheelchair race victories on the famous old course.
If you could build a wheelchair racer in a lab to dominate on this route, you would come up with someone loaded with the same attributes as van Dyk.

He is huge, which means he can pick up a frighteningly high top speed on the downhills. He can then turn that to his advantage to fly up the gradients that come later in the race.

In the prime of his racing career, van Dyk and Boston were a match made in marathon heaven.

"I realised in my first year (in 2000) that this could be my type of course," says van Dyk, who began his elite career as a swimmer and track racer in the 1992 Barcelona Paralympics.

"I'm probably the heaviest guy in field, so I could use my explosive power to get the most out of the downhills and roll up the uphills and then press on at the top, but I also knew I needed to train and prepare specifically for Boston.

"I could see it working really well for me and decided that was where I would invest my pre-season time. I would finish New York in November and the rest of the world would be going into winter, whereas we were going into summer in South Africa, so I used those four months to work hard and arrive at my peak for the season in Boston in April.

"Training involved a lot of explosive plyometric weight training, then optimising my chair and monitoring my weight to make sure I didn't go in too light."

His first victory in 2001 ended a period of Swiss dominance featuring the great Heinz Frei and Franz Nietlispach. Not since 1993 had someone other than a Swiss athlete won the men's wheelchair division.

Van Dyk bested them by more than six minutes, and gobbled up the next five editions of the race until he lost his title to Japan's Masazumi Soejima.

He took it back again in 2008 and won the next two after that, adding his 10th and final title in 2014 at the age of 41.

He makes his last competitive appearance at the race tomorrow, having just turned 50, bowing out as the most decorated athlete in the history of the race.
"I always knew there were guys who, if I made one mistake, would get me. There were years where I had a flat tyre and came third, and one year where someone was gaining on me and hit a dog.
"So there were close calls that people don't know about where I wouldn't have won if something didn't happen to someone else, but there was a period where I was really dominant."

Van Dyk was also active behind the scenes to drag the sport into the limelight. When the Abbott World Marathon Majors added a professional wheelchair series to the able-bodied competition in 2016, van Dyk was in the vanguard.

"In the background through all those years (before 2016), a few of us were working hard with the race directors to improve the prize money, the level of professionalism, the integration of our athletes into the professional side of things. We would just get to know the race directors better, have a drink with them and push them on all of that.

"A lot of time went into that, so when the Majors happened, it was the culmination of all that work to make them see it as a professional, marketable sport.

"It was like, 'we've done it, we've finally arrived.' I was in the press conference in Boston when it started and I said 'now a young athlete can aspire to be a professional wheelchair racer and make a living out of it.' It really felt good."

Tomorrow, the likes of Marcel Hug and Daniel Romanchuk are likely to be battling for the win ahead of van Dyk, but they know that it's trailblazers like the man on his farewell tour of the Majors they have to thank for the careers the sport can now offer them.

"It's put it into the media space where I always felt it should be. That gives the sport a profile and a presence which is what we were looking for. It's what we needed."

Not only has he left his name indelibly inked into Boston folklore. Ernst van Dyk has left his mark on the entire sport.
<Related NEWS>
・BOSTON Marathon 2023 Elite Race Recap
・BOSTON Marathon 2023 Wheelchair Race Recap
・BOSTON Marathon 2023 Elite Race Preview