Elite Race Recap: Kipchoge shatters world record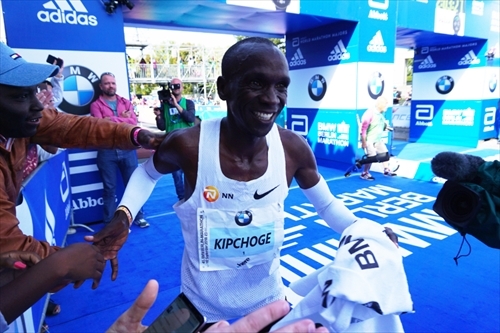 If he wasn't already the greatest, Eliud Kipchoge made it official at the 2018 BMW BERLIN-MARATHON as he smashed the world record with a time of 2:01:39.
The Kenyan, already a three-time AbbottWMM Series champion and defending Berlin champion, set out with three pacemakers at an unrelenting tempo, passing through halfway in 61:06, just a slither outside his planned target of 61:00.
The Olympic champion lost two of his assistants before the 25km mark and ran the last 17km alone, but the lack of support did nothing to slow him down as he surged onwards, staying well inside the times clocked for 25, 30 and 35km by compatriot Dennis Kimetto when he set his mark of 2:02:57 here in 2014. In fact, his 30km-35km split was his fastest 5km of the entire race.
As the Brandenburg Gate came into view, there was nothing that could stop the 33-year-old from making history. He passed under the famous landmark with the crowd roaring him home.
The elation he showed as he broke the tape was evident, after two previous failed attempts to lower Kimetto's record in Berlin.
Kipchoge admitted afterwards: "I am really grateful and happy to smash the world record. I missed the first time and the second time. You can't miss the third time! Thank you to everybody."
The margin by which Kipchoge has broken the record suggests it will take a superhuman effort to bring it down any further and, given that his nearest rival, Amos Kipruto, was almost five minutes behind him in second place, there seems no immediate challenger to the great man's position as the best marathoner on Planet Earth.
Wilson Kipsang, who set his own world record here in 2013, came in third in 2:06:48, explaining afterwards: "If we had tried to run his (Kipchoghe's) pace, we wouldn't have finished."
Kipchoge has won all but one of his AbbottWMM races. Not only did he extend his own record for the most men's AbbottWMM victories to eight, but he also equalled the all-time best for wins in races that now make up the Series. Bill Rodgers won four times each at both Boston and New York City between 1975 and 1980.
Gladys Cherono made it a Kenyan double in the women's race as she secured back-to-back Berlin wins and set a new course record into the bargain.
The 35-year-old hung back in the first half of the race as Ethiopia's Tirunesh Dibaba set the pace surrounded by a small battalion of male championship athletes.
But Dibaba faded after halfway, later attributing her struggles to cramp. Cherono seized her moment to take control and urged her pacemaker to turn up the heat on her competition, eventually pulling away to win in 2:18:11, 23 seconds ahead of Ruti Aga, with Dibaba coming in third.
Kenya's Edna Kiplagat was fourth in her sixth AbbottWMM event, and received her own Six Star Medal at the finish - another bauble to her impressive collection.
The top three women all came home under 2:19:00, underlining how fast the BMW BERLIN-MARATHON course is.
As if we needed any confirmation following Mr. Kipchoge's earlier exploits.
Click here to see the AbbottWMM news page.
Wheelchair Race Recap: Schär takes the world by storm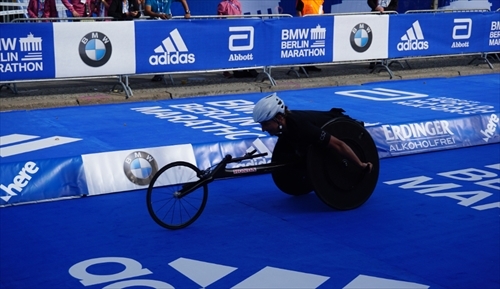 Manuela Schär wrote herself into the history books at the BMW BERLIN-MARATHON with a world record-setting performance.
The defending AbbottWMM Series champion stopped the clock at 1:36:53 to set her new mark, claiming a fourth Berlin title and beginning her new campaign in fine style.
Schär was also the first athlete across the line for the sprint bonus competition, a new innovation for the wheelchair series. The Swiss star plundered the eight points that came with that at the 38km mark of the course, by which time she was well clear of her rivals.
The first half of the contest was a duel between Schär and America's Susannah Scaroni. The University of Illinois athlete has spent part of the summer living and training with the champion at her Notwill base outside Zurich, and it seemed for the first 13.1 miles as though Schär could have let too many tricks of her trade slip.
But the 33-year-old upped the gas after halfway, and a gap was already evident by the 25km point. Schär, who never uses so much as a speedometer on her chair but prefers to race on her own instincts, was right to trust them.
The familiar sight of her chair flying through the Brandenburg Gate with no one else in view was confirmation that a summer spent smashing records on the track and putting herself through a punishing training schedule had paid off.
"It was really important to me to be able to start [Series XII] with a win," said Schär. "I was a little bit nervous and I put a little bit of pressure on myself. I wanted to do good here for the mental side of things, to be able to come into Chicago and New York, so I'm really happy."
Scaroni was second in 1:41:44, collecting 16 points and completing her tour of the six AbbottWMM races to earn her Six Star Medal. Schär's compatriot Sandra Graf rounded out the podium.
After a training mishap during the week, Scaroni's fellow American Tatyana McFadden had to make do with a racing chair supplied by Men's Series XI champion Marcel Hug, and could only manage ninth, but also collecting her Six Star Medal.
Hug's generosity was not rewarded with victory in a race he has won six times. He was beaten by relative newcomer to marathons, Canadian Brent Lakatos.
Lakatos, in only his third outing at the distance, showed his muscle with a hotly contested win at the 38km sprint bonus point, and had enough in the tank to edge the legendary Swiss into second place by just three seconds with a winning time of 1:29:41. The four-time Paralympian has broken records and won countless medals on the track, but admitted that this winning start to AbbottWMM Series XII has focused his mind on 26.2 miles for now.
"I will definitely be doing more marathons," he said, adding that the addition of the sprint competition had spiced things up for the men's race: "People know it's coming and it's worth points, so some people started making attacks and jostling for position. It was a mini-race within the race. It was fun!"
Johnboy Smith of Great Britain placed third on the same time as Hug of 1:29:44.
Click here to see the AbbottWMM news page.
<Related NEWS>
2018 BERLIN-MARATHON Race Preview
Edna Kiplagat to Race the 2018 BMW BERLIN-MARATHON
BMW Berlin Marathon, the first race of the Series XII, announced the star athletes