Women's Elite Race: Kosgei reigns in the London rain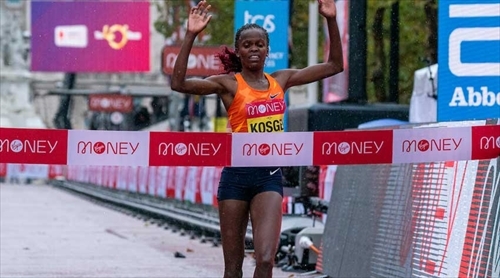 Brigid Kosgei retained her London Marathon title at a canter in the 40th running of this famous race.
The reigning AbbottWMM Series champion underlined her grip on women's marathon running with a dominant performance in the elite-only, looped course in the UK capital.
Kosgei was facing the unknown threat of world champion Ruth Chepngetich, and it quickly became a two-women battle for the title on the rain-soaked 1.3-mile circuit of St James' Park.
Once clear, the pair slowed after halfway and a game of cat and mouse ensued, with Chepngetich occasionally testing the resolve of the world record holder. But Kosgei had the answer whenever her rival attempted to open a gap.
The 20-mille marker was Kosgei's cue to make the decisive move, to which Chepngetich had no reply. The 25-year-old streaked clear to stop the clock at 2:18:58 for her second London crown and a win that hands her a maximum 50 points in AbbottWMM Series XIII.
Behind her, however, there were fireworks in the morning gloom. American Sara Hall - left to run large parts of the course alone - was carving her way through the field and found herself in third after muscling her way past Ethiopia's Ashete Bekere.
Chepngetich appeared too far ahead of the 37-year-old, but as they made their way for the last time down Birdcage Walk, Hall had more left in the tank, and began eating into the remainder of the Kenyan's advantage.
As they turned for home, Hall hit the afterburners and scorched her way to a hugely impressive second place.
Men's Elite Race: Kitata takes Kipchoge's crown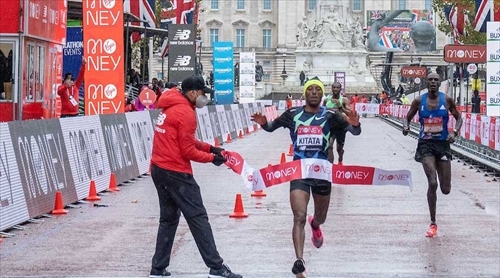 Shura Kitata dethroned Eliud Kipchoge to win the Virgin Money London Marathon in spectacular fashion.
The pre-race talk was all about the head to head between Kipchoge and Ethiopian great Kenenisa Bekele, but with the Berlin 2019 champion's withdrawal on Friday, the way seemed clear for Kipchoge to claim another AbbottWMM win.
Few shots were fired as the race processed at a modest pace into the deep waters, and it began to become clear that Kipchoge was not going to execute a customary acceleration that would leave his rivals behind.
Instead, a group of six men were still in the hunt with a few miles left of London's biosecure, looped course, and then the unthinkable happened.
Kipchoge began to slip backwards until he was quickly out of touch, leaving Kitata, Vincent Kipchumba and Sissay Lemma leading the way.
Mosinet Geremew's fabled finishing speed was thought to be a factor until he lost touch with the front three, and the final stretch became an eyeballs-out sprint between Kitata and Kipchumba.
The huge Kenyan appeared to be edging it as they fought their way down The Mall, only for Kitata to fight back and hit the tape just one second in front.
It was a thrilling, if unexpected end to a highly anticipated race, and perhaps signaled the changing of the guard at the top of men's marathon running.
Kipchoge's first defeat since Berlin in 2013 may well have been a singular bad day at the office. The reigning AbbottWMM champion tweeted: "After 25 kilometers my ear blocked and it couldn't open anymore. But this is how sport is, we should accept defeat and focus for the winning next time."
That will matter little to Kitata, who will go down in history as the winner of this unique London Marathon.
Elite Wheelchair Race: Lakatos lights up London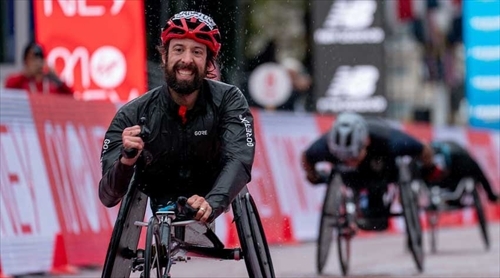 There were two upsets in the Virgin Money London Marathon wheelchair races today as Canada's Brent Lakatos and Nikita Den Boer from the Netherlands took their maiden London titles.
Lakatos outsmarted and outsprinted a pack of five other athletes to become the first Canadian winner of the men's wheelchair race in London for ten years, while Den Boer arguably pulled off a bigger surprise than the earlier defeat in the elite men's race for Eliud Kipchoge.
It had been 896 days since Manuela Schär had lost a marathon - also in London, in 2018 - and she was gunning for a 10th win in her last 10 appearances.
But the unheralded Den Boer showed no signs of being overawed by the fearsome reputation carried by the reigning AbbottWMM Series champion, and the pair traded turns on the front of a race they dominated from the gun.
It wasn't until the last of four sprint segments that the Dutchwoman made a break for it, and she quickly built a lead Schär was powerless to haul back in.
The Swiss, who is no fan of cold, wet conditions, fell further behind, leaving Den Boer to coast down an eerily empty Mall in this elite-only biosecure bubble to take her first career AbbottWMM victory.
Schär eventually finished over a minute behind her conqueror.
For Lakatos, this win after a tactical battle for the entire 26.2 miles sits nicely next to his 2018 triumph in Berlin and underscores the growing reputation he has as one of the sport's most dangerous sprinters.
It was that track-honed speed that served him so well as he rounded the final bend and sent his arms into overdrive to come home in front of David Weir, with Marcel Hug in third.
*In the men's race, Sho Watanabe and Kota Hokinoue from Japan finished 4th and 6th, respectively.
<Related NEWS>
・2020 Virgin Money London Marathon Elite Fields
・2020 Virgin Money London Marathon Elite Wheelchair Fields
・2020 Virgin Money London Marathon Elite Race Preview
・2020 Virgin Money London Marathon Elite Race Preview "London ready for 40th race"