Battle for the ages back on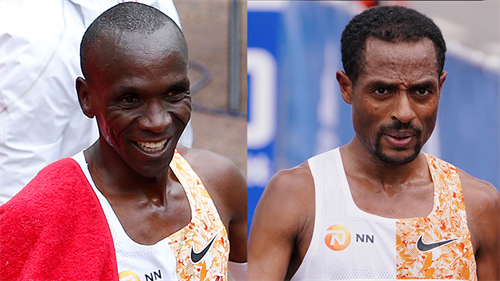 The duel everyone has been waiting for is on - on a course we could never have imagined.
The 2020 Virgin Money London Marathon will see AbbottWMM men's series champion Eliud Kipchoge go toe to toe with Kenenisa Bekele, the man who came just two seconds away from equaling Kipchoge's world record 2:01:39.
Rather than the storied 26.2 miles from Greenwich to The Mall, the elite-only affair will take place on a circuit around London's St James' Park. The men's, women's and wheelchair races will all set off at times that mean armchair fans can take each event in one by one.
And there is no doubt about the duel that will grab most of the attention, even with the presence of women's world record holder Brigid Kosgei heading the stellar female lineup and reigning AbbottWMM Series wheelchair champions Manuela Schär and Daniel Romanchuk topping the bills of their respective races.
Bekele, who last year clocked 2:01:41 on the same Berlin streets where Kipchoge shattered the world record in 2018, was making his return to form following a miserable run of injuries and patchy performances that had prevented the Ethiopian legend from reaching his full potential over 26.2 miles.
With his injury problems behind him, Bekele confirmed his status as the closest challenger to the dominant, four-time AbbottWMM series champion Kipchoge.
The Kenyan added another page to the history books in October 2019 when he broke the two-hour barrier in the INEOS 1:59 project in Vienna, clocking 1:59:40 in the specially arranged time trial.
This time there will be no car-mounted laser drawing a pace line on the road, and far fewer pacemakers on hand to help these two towards the finish. Neither will there be crowds roaring them on.
We can only speculate as to how the reimagined race might impact the pace - or an attempt on Kipchoge's course record of 2:02:37 - but should we get a race as tight as their respective Berlin splits suggest, we will be watching a battle that could take some topping before the end of a decade that has only just begun.
A comparison of the pair's Berlin performances shows just how little there was to choose between them, with Bekele ahead of his Kenyan rival by just a second at halfway, having clocked a 15km time some nine seconds faster than the Olympic champion.
In the second half, Kipchoge's pace put him ten seconds ahead of Bekele at 30km but in their final 10km split, it was the Ethiopian with a slender two-second advantage before Kipchoge's searing final 2.2km edged him back in front.
Races often fail to play out in the nail-biting fashion the statistics suggest, but if these two have been able to maintain training and conditioning during the most unusual of years, the evidence points to a titanic battle.
<Related NEWS>
・2020 Virgin Money London Marathon Elite Fields
・2020 Virgin Money London Marathon Elite Wheelchair Fields