Elite Race Recap: Queen Mary regains her New York throne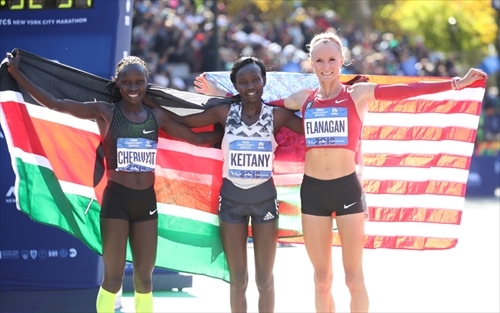 Mary Keitany stormed to a fourth TCS New York City Marathon crown on a sun-soaked day in the Big Apple with a devastating performance.
The 36-year-old Kenyan retuned to winning ways after defeat to Shalane Flanagan here in 2017 and a failed attempt at the world record in London last April.
Having attempted to blow the field away early in London six months ago, Keitany measured her efforts a little more here, waiting until the 20-25km portion of the race to unleash a kick that no one could handle.
London champion Vivian Cheruiyot eventually left the chasing pack behind her but stood little chance of hunting down Keitany in this sort of form. This was Keitany's tenth podium place in an AbbottWMM race and it puts her in among the early leaders in Series XII as the program takes a break until the Tokyo Marathon in March 2019.
In an astonishingly fast display, Keitany's 17th and 18th and 19th mile splits all dipped under five minutes, doing irreparable damage to the one athlete who had attempted to stay with her, Rahma Tusa.
The Ethiopian paid for her efforts, as Cheruiyot and then defending champion Shalane Flanagan powered past her to complete the podium.
Keitany's time of 2:22:48 makes her the second fastest woman to have won on New York's demanding streets.
In the men's race, Lelisa Desisa produced an impressive late show of strength to add New York City to his 2013 and 2015 Boston titles.
His best finish in New York before today was third last year, and in April he had been beaten by the arctic conditions in Boston, retiring after 35km. This was some return to form.
With all the early front running done by his compatriot Shure Kitata, it was eventually defending champion Geoffrey Kamworor who made a decisive move to whittle down a leading pack of five.
But Kamworor was covered by Desisa who defied the Kenyan's attempts to break free. The hat that had been shielding his top two inches from the early morning chill was soon cast off as Desisa set about his work.
As they approached Columbus Circle, he provided a test Kamworor could not pass. Before they had set foot in Central Park for the final run to the finish, the world half-marathon champion had faded. Kitata also motored past him, and made a gallant effort to chase down Desisa, but the 28-year-old had just enough to hang on up the hill and hit the tape first in a time of 2:05:59.
Click here to see the AbbottWMM news page.
Wheelchair Race Recap: Schär climbs highest in uphill battle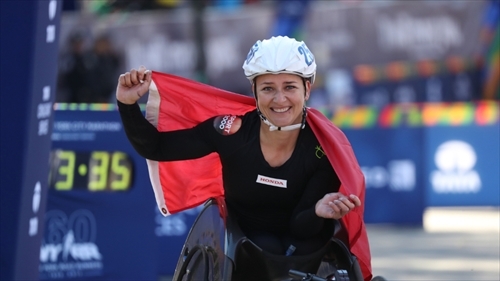 Manuela Schär continued her domination of the AbbottWMM women's wheelchair series XII with her third win in three races as she retained her TCS New York City Marathon title.
The Swiss star has now strung Berlin, Chicago and New York together to take a commanding lead in the standings, but she worked every inch of the way for this one.
The 33-year-old was locked in a wheel-to-wheel battle with arch rival Tatyana McFadden for the entire way. The American, hunting her sixth win in the Big Apple, edged Schär out for the eight bonus points on offer at the 20km sprint point and the pair continued to swap the lead as they tussled throughout the second half of the race.
Each time one or the other made an attempt to get away, the response came, and it wasn't until they were into the shade of the Central Park trees that Schär finally managed to snap the elastic.
The Series XI champion has rarely won an AbbottWMM race by anything other than a wide margin, leaving her competition way behind as early as she could.
But this was a first, not only coming out on top in a tit-for-tat street fight but also proving herself able to cope with McFadden's famed strength on New York's many uphills.
The duo were beyond the 35km mark before Schär's final effort proved the difference, and the emotion was etched on her face as she rolled through the finish line.
With Tokyo on the horizon - a race she won comfortably to virtually seal the Series XI title - Schär's competition already has it all to do to if she is to be denied a second consecutive silver salver.
In the men's race, Daniel Romanchuk proved that his victory at the Bank of America Chicago Marathon in October was no flash in the pan.
The 20-year-old American traded blows with Marcel Hug and David Weir for the full 26 miles before cranking those enormous arms into gear for a sprint that handed him a maiden TCS New York City title.
Romanchuk's devastating turn of speed left Hug and Weir with no answer, and perhaps signaled that the balance of power that has for so long rested in Europe as far as men's wheelchair racing is concerned, is tilting across the Atlantic.
Romanchuk had earlier taken the eight bonus points for the 20km sprint, just as he had done in Chicago. It means he has amassed 66 points in two races. Allied to the single point he claimed in Berlin, he looks to be the man to beat in this Series.
The only other race winner so far in Series XII is Canadian Brent Lakatos. The Berlin champion is heading for Tokyo when the season resumes, and he will find a Romanchuk with a whole new level of confidence waiting for him.
*In the men's wheelchair race, many Japanese athletes competed as well and Tomoki Suzuki finished as top Japanese in 6th place.
Click here to see the AbbottWMM news page.
<Related NEWS>
2018 TCS New York City Marathon Race Preview
2018 TCS New York City Marathon has announced the men's elite athletes
2018 TCS New York City Marathon has announced the women's elite athletes
2018 TCS New York City Marathon has announced the return of defending champions
Des Linden to Race 2018 TCS New York City Marathon