Defending Champions Shalane Flanagan, Geoffrey Kamworor, Manuela Schär, and Marcel Hug to Return to TCS New York City Marathon on Sunday, November 4
Flanagan looks to repeat after becoming the first U.S. woman in 40 years to win the open division at the world's largest marathon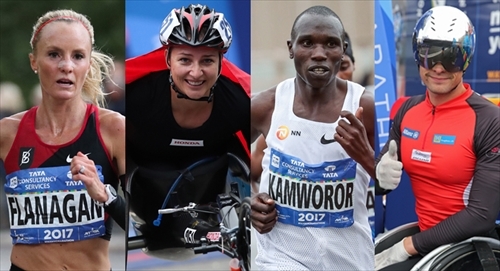 Reigning champions Shalane Flanagan of the United States, Geoffrey Kamworor of Kenya, and Manuela Schär, and Marcel Hug of Switzerland will return to defend their TCS New York City Marathon titles on Sunday, November 4.

At last year's race, Flanagan became the first U.S. woman to win the open division in New York since Miki Gorman did so in 1977, while Kamworor claimed his first major marathon victory in the men's open division, and Hug and Schär both won their fourth major marathon victories of the year with a Swiss sweep of the wheelchair division.

"Last year was one for the ages, with Shalane making history, Geoffrey having a breakthrough race, and Manuela and Marcel becoming the first winning pair from the same country to sweep the wheelchair division," said Peter Ciaccia, president of events for NYRR and race director of the TCS New York City Marathon. "We are excited to have all four of our TCS New York City Marathon champions - Shalane, Geoffrey, Manuela, and Marcel - returning to defend their titles at the world's largest marathon. Together, this group of all-time greats will headline our professional athlete races and lead the 50,000-plus runners behind them as they thrill the more than 1 million spectators that line the course. We can fully expect another electrifying race this year."
Flanagan, 37, ended a 40-year drought for American women in the open division at the 2017 TCS New York City Marathon by seizing the crown from Kenya's Mary Keitany with a time of 2:26:53. With her first victory in just her second appearance at the New York City Marathon - she was runner-up in her marathon debut in 2010 - Flanagan became the sixth U.S. women's champion in the event and recorded the second-fastest time by a U.S. woman at the event. The 16-time national champion and Olympic silver medalist will be racing again this year as an NYRR Team for Kids Ambassador. She is also an avid supporter of NYRR's Run for the Future program, which empowers young women entering their senior year of high school to learn about running while building self-esteem and confidence, developing leadership skills and training to complete a 5K run. In the women's open division, Flanagan will join previously announced Des Linden, the 2018 Boston Marathon champion, and Allie Kieffer, the fifth-place finisher at last year's TCS New York City Marathon.
Kamworor, 25, claimed his first major marathon victory last year when he held off compatriot Wilson Kipsang down the final turns in Central Park. The 2015 TCS New York City Marathon runner-up separated himself from the field with a 4:31 penultimate mile to finish in 2:10:53. The Kenyan has won the last three consecutive IAAF World Half-Marathon Championships and placed 11th in the 10,000 meters at the Rio 2016 Olympics. He recorded three consecutive sub-2:07 performances at the BMW Berlin Marathon from 2012-2014, with his 2012 race of 2:06:12 remaining his personal best.

Schär, 33, had finished as runner-up three years in New York before finally taking the tape last year in 1:51:02 to end American Tatyana McFadden's streak of four consecutive victories at the event. The win gave her a fourth major marathon victory of the year, adding to her wins in Boston, London, and Berlin. Schär is a three-time Paralympic medalist and four-time European champion who has already won the Tokyo Marathon and Abbott World Marathon Majors Series XI titles this year.

Hug, 32, won his second consecutive and third overall New York City Marathon title last year in a time of 1:37:21. The victory also marked his fourth major win of the year, having already won in Boston, Berlin, and Chicago. Hug has been the Abbott World Marathon Majors Wheelchair Series champion the last two years and already won the Boston Marathon earlier this year. He is an eight-time Paralympic medalist with 16 career major marathon titles to his name.

Quotes from defending champions on returning to the TCS New York City Marathon:

"When I think about returning to race in New York City, I'm flooded with magical memories. My heart skips a beat, I get butterflies in my stomach, and my palms get sweaty. New York City is incredibly special to me. It's where I ran my first marathon in 2010, placing second, and of course, my dream come true moment in 2017 when I won the TCS New York City Marathon.
I'm thrilled to have the opportunity, support, passion, and health to defend my title in 2018. I hope everyone preparing enjoys their journey to the start line and I look forward to celebrating with all the runners at the finish line on November 4th."
-Shalane Flanagan
"Racing once more in the TCS New York City Marathon means so much to me. It is my favorite race, and although thousands of miles separate my training base in Kaptagat, Kenya to New York, the event feels like home. I say that because of the friendly nature of the event, the terrific organization and also because of the warmth I feel from the many thousands of supporters lining the route."
-Geoffrey Kamworor

"Last November, a dream came true for me. Winning the TCS New York City Marathon was one of the biggest achievements of my career. I am very excited to return to the streets of this amazing city. I feel fully fit again and will try my best to defend my title."
- Manuela Schär

"It's always a great pleasure to come back and participate in the TCS New York City Marathon. It's a fantastic and very prestigious marathon with a special atmosphere and excellent organization. I will prepare my best to defend my title."
-Marcel Hug
For more information, visit the TCS New York City Marathon press release.
<Related NEWS>
Des Linden to Race 2018 TCS New York City Marathon