History beckons in Berlin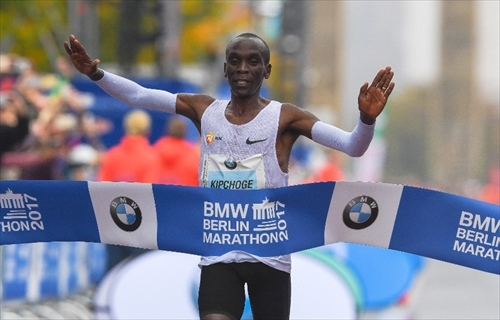 Series XII of the Abbott World Marathon Majors begins at the BMW BERLIN-MARATHON on Sunday, with star-studded elite fields ready to make history in the German capital.
Reigning series champion Eliud Kipchoge swept to his third AbbottWMM crown in London in April after securing victory in Berlin in 2017 to get his previous campaign off and running.
The Kenyan Olympic champion defied the rain and the challenge of marathon debutant Guye Adola to seal a second Berlin victory just a little less than 12 months ago. He is faced with the same man again, plus a motivated Wilson Kipsang, who dropped out of last year's race and did so again in Tokyo where he had been hot favourite.
For Kipchoge, there is more than victory on his mind, as he recently said: "Berlin...has the fastest course ever, and I think that's the place to run my personal best."
Kipchoge's female compatriot Gladys Cherono lines up looking to defend her title in the women's elite race, but Tirunesh Dibaba may be looking to steal it from her. The Ethiopian makes her Berlin bow after suffering in the London heat last spring, where she did not finish.
Dibaba, too, might have designs on the record books, as the organisers hinted this week: "The key factor in her choice of race venue is Berlin's well proven ability to offer a platform for super-fast performances.
"If conditions are favourable, the Ethiopian might well attack the world record, set by Britain's Paula Radcliffe in 2002 with 2:15:25 in London. Dibaba is Ethiopia's national record holder with 2:17:56 which is a big margin to make up, yet she has the pedigree of three Olympic golds in long distance track events to make any challenge credible."
SIX STAR PERFORMERS
Both face the formidable Edna Kiplagat, the Kenyan legend with two world titles to her name and three AbbottWMM Series crowns. The 38-year-old will also become a Six Star Finisher on Sunday, joining the 3,838 runners around the world who have that coveted Six Star medal for completing all six AbbottWMM races.
Kiplagat is not the only one joining that exclusive club.
In the wheelchair division, America's Tatayna McFadden makes her first Berlin appearance and will also complete her set, as will her University of Illinois compatriot Susannah Scaroni.
Scaroni has been training and staying with Series XI women's champion Manuela Schär of late, perhaps hoping some of the Swiss sensation's magic will rub off on her. Schär was in devastating form for much of 2017 and continued that into the early part of this year with victory in Tokyo that virtually sealed the title for her.
The summer has seen the 5,000m record fall to the 33-year-old, and she even emerged the winner of a mixed gender Diamond League battle on the track in recent weeks, where she got the better of compatriot and fellow Series XI wheelchair champion Marcel Hug.
Hug took victories in Berlin, Chicago, New York and Boston in the last Series to make it two AbbottWMM titles in two years. He may not have it all his own way this time, with British legend David Weir hitting the circuit and American youngster Daniel Romanchuk on a rapid curve of improvement.
AGE GROUPERS TAKE CENTRE STAGE
Following the elite athletes, the masses have plenty to play for as we embark on another 12-month global journey. For the first time in Series history, the AbbottWMM Wanda Age Group World Rankings now offer runners of not just the six Majors, but up to 50 other races, the chance to score points in their age categories and battle for a place at the 2020 AbbottWMM Wanda Age Group World Championships in London.
Alongside them, the thousands of runners either starting or continuing their journey to Six Star Finisher status.
Every runner of every AbbottWMM race can now register and claim their stars, joining an online community already in the many thousands.
From the battles for victory - and possible records - at the front of the race, to the sheer willpower of the masses to get to that line in the shadow of the Brandenburg Gate, the 2018 BMW BERLIN-MARATHON promises to be one for the record books.
For more information, visit the BMW Berlin Marathon press release.
Click here to see the AbbottWMM news page.
<Related NEWS>
Edna Kiplagat to Race the 2018 BMW BERLIN-MARATHON
BMW Berlin Marathon, the first race of the Series XII, announced the star athletes