Stars line up for Chicago showdown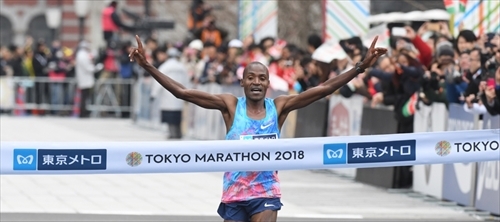 The full international fields for the Bank of America Chicago Marathon will contain three former champions on the men's side as Galen Rupp bids to defend his title.
Rupp and Mo Farah, announced earlier this summer, will be joined by 2016 champion Abel Kirui and 2015 winner Dickson Chumba.
2017 Boston champion Geoffrey Kirui will also compete in the Windy City, bringing the number of former AbbottWMM race winners to four.
None of these is the fastest man on paper however. That title goes to Ethiopia's Mosinet Geremew, who started 2018 with a bang, breaking the course record in Dubai and posting a fresh personal best of 2:04:00.
He has run south of the hour mark four times in the half marathon, and he is a four-time winner of the Yangzhou Jianzhen International Half Marathon. Chicago marks his second shot at competing in an AbbottWMM race (and just his fourth go at 42K). He lined up last fall in Berlin and ran away with an impressive third place finish.
Chumba set his personal best, 2:04:32, in Chicago in 2014 when he finished third on a historic day that witnessed three of the top five times ever run in Chicago (Chumba is the fifth fastest runner in Chicago's history).
He came back to win in 2015 and while he tried to defend his title in 2016, he came up three seconds short, finishing second to Abel Kirui. Since he embarked on his marathon career in 2010, he has finished 17 marathons and he boasts an impressive record: five wins, five runner-ups and four third place finishes. He lines up this fall after opening his 2018 season with his second win at the Tokyo Marathon. His time, 2:05:30, was the second fastest winning time in Tokyo's history. Chumba finished in fifth place on the AbbottWMM Series XI leaderboard.
Abel Kirui literally danced across the finish line when he won his first AbbottWMM in Chicago in 2016, defeating a strong field in a tactical race that saw erratic pace swings from 4:33 per mile to 5:24. He returned in 2017 to defend his title, but he failed to match Galen Rupp's kick at the end.
Kirui consistently performs well in both tactical and paced races; he finished fourth in London to commence his 2018 season, and he owns a personal best of 2:05:04. Kirui also stands out as one of the most decorated athletes in the field - he took home a silver medal in the marathon at the 2012 London Olympics and he won both the 2009 and 2011 IAAF World Marathon Championships.
For Geoffrey Kirui, the race represents a chance for revenge on Japanese sensation Yuki Kawauchi, who splashed past the world champion in the late stages of this year's Boston Marathon to spring a shock win in the torrential rain and freezing temperatures.
2017 runner-up Brigid Kosgei (KEN) and two-time podium finisher Birhane Dibaba (ETH) add depth to the women's field. Kosgei followed up on her second place behind Tirunesh Dibaba with another podium in the 2018 Virgin Money London Marathon.
Birhane Dibaba chalked up her second career win at the Tokyo Marathon earlier this year.
For more information, visit the Bank of America Chicago Marathon press release.
Click here to see the AbbottWMM news page.
<Related NEWS>
Yuki Kawauchi and Suguru Osako Joins the 2018 Chicago Marathon Elite Field
Mo Farah Joins the 2018 Chicago Marathon Elite Competition
2018 Chicago Marathon Announces the Return of Homegrown Stars