Former Champion Wilson Kipsang and Two-Time Runner-Up Bronx Resident Buzunesh Deba Added to Professional Athlete Field for 2017 TCS New York City Marathon
Professional athlete field to include 12 past champions, 22 Olympians, and 20 Paralympians from 29 different countries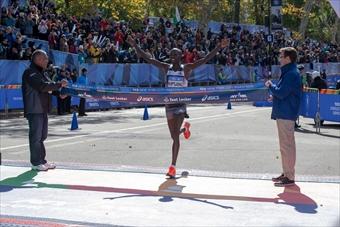 Former champion Wilson Kipsang of Kenya and two-time runner-up Buzunesh Deba of Ethiopia, who trains in the Bronx, have been added to the professional athlete field for the 2017 TCS New York City Marathon on Sunday, November 5.
Kipsang and Deba will join a previously announced professional athlete field that represents 29 different countries and now includes 12 past champions, 22 Olympians, and 20 Paralympians. They will toe the line with defending champions Ghirmay Ghebreslassie of Eritrea and Mary Keitany of Kenya, along with Americans and NYRR Team for Kids Ambassadors Meb Keflezighi, who will be running the 26th and final marathon of his career, and Shalane Flanagan, who will be returning to the race for the first time since her runner-up finish in 2010.
"We are thrilled to welcome back Wilson and Buzunesh to the TCS New York City Marathon, where they have both had great success before," said Peter Ciaccia, president of events for New York Road Runners and race director of the TCS New York City Marathon. "An already talented professional athlete field just became stronger, as both Wilson and Buzunesh will challenge for podium positions. It will be great for the millions of fans watching in New York City and around the world to see these two world-class runners take to the five-borough course, particularly Buzunesh, who trains here in the Bronx, the borough where New York Road Runners was founded."
Kispang, 35, of Kenya won the TCS New York City Marathon in 2014 in his debut on the five-borough course, taking the tape in 2:10:59, just seven seconds ahead of Ethiopia's Lelisa Desisa. He went on to claim the World Marathon Majors title that year. Already in 2017, Kipsang has set a new Tokyo Marathon course record of 2:03:58 with his first-place finish in February. Kipsang previously held the marathon world record of 2:03:23, which he ran at the 2013 BMW Berlin Marathon, until Dennis Kimetto broke it at the same event the following year. The 2012 London Olympic Marathon bronze medalist has run under 2:05 eight times, the most of any runner in history.
"My training was excellent before Berlin, but I had a bad day there," Kipsang said. "Now, I am very happy and thankful I was given a chance to use my training effort in New York City, and will try to win there as I did three years ago."
Deba, 30, of Ethiopia trains in the Bronx and was the New York City Marathon runner-up in 2011 and 2013. She won the Boston Marathon in 2014, setting the course record of 2:19:59, and is a nine-time marathon champion on U.S. soil, having recorded a career-high four wins in 2010. She also holds victories in the California International Marathon, Rock 'n' Roll San Diego Marathon, Los Angeles Marathon, Grandma's Marathon and Twin Cities Marathon.
"I love racing in New York because New York is my city," Deba said. "I will do my very best at the TCS New York City Marathon not just for myself, but also for the people of Bronx where I live. I know they will be cheering for me from everywhere. If I don't win this year, I believe in myself; I will win the TCS New York City Marathon one day."
Six professional athletes have scratched from the race since the original announcement of the field: Esther Atkins, Dailin Belmonte, Neely Gracey, Tara Welling, and Hiroyuki Yamamoto in the open division and Aaron Pike in the wheelchair division.
The full professional athlete field for the 2017 TCS New York City Marathon can be found HERE
visit the TCS New York City Marathon press release page
<Related NEWS>
2017 TCS New York City Marathon - American Field
2017 TCS New York City Marathon - International Professional Athlete Field