Shalane Flanagan to Lead Group of Six Past Podium Finishers in American Professional Athlete Field at 2017 TCS New York City Marathon on Sunday, November 5
Joining Flanagan at the world's largest marathon are Amanda McGrory, Abdi Abdirahman and Josh George in a group featuring four U.S. Olympians and seven Paralympians American field to also feature previously announced NYRR Team for Kids Ambassadors Meb Keflezighi, who will race his 26th and final career marathon, and Tatyana McFadden, who will go for a record sixth title in wheelchair division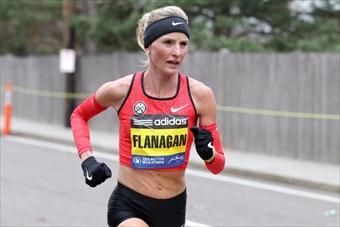 New York, August 28, 2017 -- Two-time wheelchair division champion Amanda McGrory and former open division runner-up Shalane Flanagan, along with last year's third-place men's finishers, Abdi Abdirahman and Josh George, will headline the American field racing the 2017 TCS New York City Marathon on Sunday, November 5.

The four will join previously announced NYRR Team for Kids Ambassadors Meb Keflezighi and Tatyana McFadden in the American professional athlete field, which includes four Olympians and eight Paralympians.

"We are excited to welcome an extremely accomplished American field for the 2017 TCS New York City Marathon, as Meb races his 26th and final career marathon, while Amanda and Tatyana battle for another five-borough title. Shalane, meanwhile, who owns the best New York City Marathon finish by an American woman in the last 27 years, returns in search of another podium finish," said Peter Ciaccia, president of events for New York Road Runners and race director of the TCS New York City Marathon. "This All-Star American lineup for 2017 will certainly raise the level of excitement around this year's race, further elevating the support of professional distance running in our country and inspiring the millions of people around the world tuning in to watch these great athletes compete."

Flanagan, 36, of Portland, OR, is the second-fastest U.S. female marathoner of all-time behind Deena Kastor and a four-time Olympian, having won a bronze medal over 10,000 meters at the 2008 Olympics that was recently upgraded to a silver. In 2010, she finished as the runner-up at the New York City Marathon, the best finish by an American woman in 27 years. Also a 16-time national champion across various distances, Flanagan will race this year's New York City Marathon as an NYRR Team for Kids Ambassador. Just last weekend, she took part the Percy Sutton Harlem 5K as a Race Buddy for NYRR's Run for the Future program. The Run for the Future is a summer program that empowers young women entering their senior year of high school to learn about running while building self-esteem and confidence, developing leadership skills, and training to complete a 5K run.

"Seven years ago, I started my marathon career on the streets of New York City," Flanagan said. "It was one of the most thrilling experiences in my career, so I'm beyond excited to be returning this fall to where it all began. New York has always had an abundance of top competition. and I look forward to testing myself against the best in the world once again."

McGrory, 30, of Savoy, IL, won her New York City Marathon debut in 2006 and finished third at last year's edition of the event. The seven-time Paralympic medalist won three medals at the Rio 2016 Games and three medals at this summer's World Para Athletics Championships in London. She opened her 2017 with a photo-finish win at the Tokyo Marathon, breaking the tape in 1:43:27 in February, before finishing as the runner-up at the United Airlines NYC Half in March.

"There's no other city in the world quite like New York, so it makes sense that there's no other race quite like the TCS New York City Marathon," said McGrory. "As my first big marathon win, NYC holds a special place in my heart. I look forward to coming back every year to test myself against not only against the toughest athletes in the world, but also on one of the most difficult and technical courses I've encountered in my career."

Keflezighi, 42, of San Diego, CA, is a four-time Olympian who will be racing the New York City Marathon for the 11th time. It will be the 26th and final professional career marathon for the NYRR Team for Kids Ambassador. In 2009, Keflezighi became the first American in 27 years to win the New York City Marathon, and five years later he was victorious at the Boston Marathon. Last November, he joined four other members of the U.S. Olympic Marathon Team as a Grand Marshal for the TCS New York City Marathon.

McFadden, 28, of Clarksville, Maryland, will race for a record-breaking sixth career title in the wheelchair division. The NYRR Team for Kids Ambassador is a 17-time Paralympic medalist, the first-ever winner of the Abbott World Marathon Majors wheelchair series, and won all four of her events as this summer's World Para Athletics Championships. She has won five career New York City Marathons, including the last four consecutively. With another victory on the five-borough course, McFadden would surpass Edith Hunkeler and Kurt Fearnley for the most career wins - by a male or female - in the wheelchair division.