Sifan Hassan, Kelvin Kiptum, Catherine Debrunner and Marcel Hug have been crowned Abbott World Marathon Majors Series XV champions.
The series concluded at the 2023 TCS New York City Marathon.
Kiptum and Hug already had their victories assured, with Kiptum winning the TCS London Marathon and then the Bank of America Chicago Marathon in a world record 2:00:35 to seal the men's open division title.
Wheelchair racer Hug had swept all five Majors before New York and promptly made it six from six with a dominant display in the final event. Hug was presented with a special gold Six Star medal to mark the accomplishment.
Hassan, with wins in London and Chicago, could only be caught by Kenyan Hellen Obiri, who needed to win in New York to add to her Boston victory and tie Hassan at the top of the leaderboard.
Obiri duly obliged, out-kicking Letesenbet Gidey in Central Park to claim the race victory.
That meant the six race directors of the Abbott World Marathon Majors had to each vote for their choice to be the 2023 women's series champion. The vote went the way of Hassan, who set the second fastest time in history of 2:13:44 when she won in Chicago.
Series XVI will begin at the Tokyo Marathon on March 3, 2024.‍
Final top 5 standings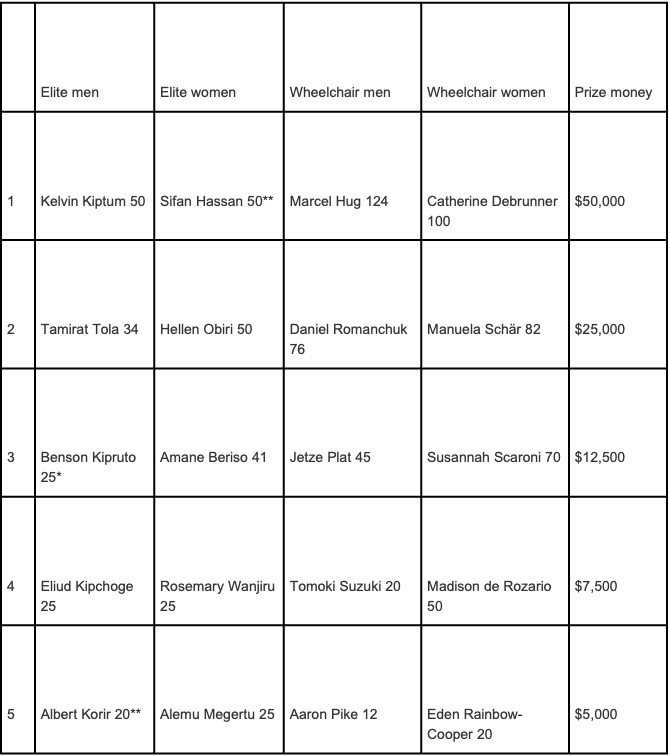 https://www.worldmarathonmajors.com/content-hub/hassan-kiptum-hug-and-debrunner-win-abbott-world-marathon-majors-series-xv-titles