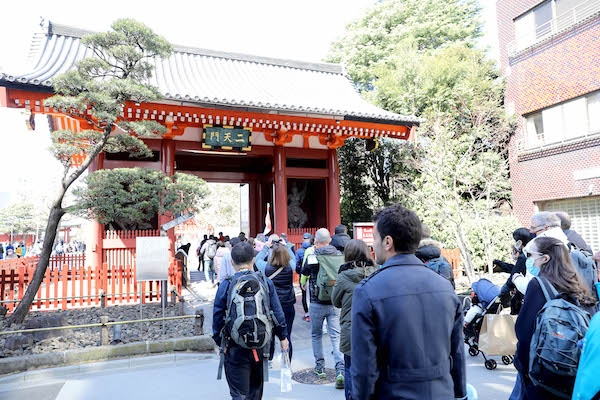 On the day before the Tokyo Marathon 2023, Saturday, March 4, the Tokyo Marathon Friendship Run 2023, a fun run event aimed at fostering hospitality and exchange for foreigners and runners from overseas was held in Asakusa, Tokyo. The event saw 517 participants from 34 countries and regions.
The Tokyo Marathon Friendship Run began in 2012 as a fun run event to foster relationships between Japanese runners and foreign runners. This year, runners from around the world joined a virtual fun run (5 km) using an app like in 2022 but also got to participate in an in-person social event as well for the first time in three years. On the day before the Tokyo Marathon 2023, runners were welcomed at a Real Finish Line event in Asakusa, Tokyo, to deepen international exchange.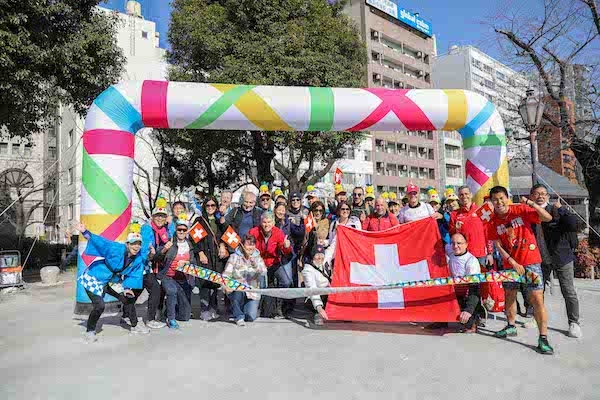 Many runners from both Japan and overseas gathered early in the morning at the finish line set up in Sumida Park. As the runners cut the finish line tape to bring the 5 km virtual run that they had run on the app to an end and mingled among one another, guest runner M Takashi, a Tokyo Marathon Foundation Sports Legacy Program Charity Ambassador, greeted them with a smile.
The participants were then divided into groups for Japanese cultural experiences. Runners could participate in the following four experiences: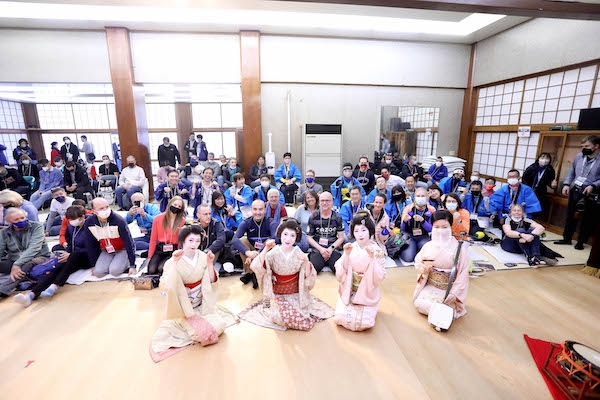 ■ Japanese cultural experience 1. Utage: Ozashiki-games
As a part of the "hanamachi" culture rooted in Tokyo's Oku-Asakusa area, participants were treated to a geisha dance performance and experienced traditional ozashiki games in the Asakusa Industry Building. In the game "Tora Tora (Tiger Tiger)," which combines body gestures and rock-paper-scissors, overseas runners went up on stage and tried the game first-hand. The audience learned dances and movements from the geisha and were thoroughly entertained by the game that saw them pose as "a Samurai (Watonai) with a spear," "a tiger crawling on all fours," and "an old woman with a walking stick," which is another version of rock, paper and scissors.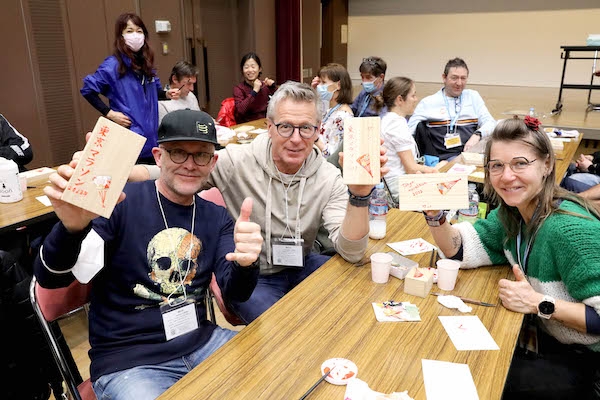 ■ Japanese cultural experience 2. Kiri: Wood carving and design
Visitors experienced traditional Japanese crafts through the "kimekomi" , a wood carving and designing technique that can only be available at Hakocho, a shop in Asakusa. Visitors got to experience a part of the kimekomi process. The paulownia wood bill holder, which perfectly fits one hundred 10,000 yen bills, is carved with a fan pattern. They painted the pattern and inserted kimono fabric inside. The international runners learned kanji and hiragana from the Japanese staff and wrote their phrases of their choice on their bill holders to create a one-of-a-kind design.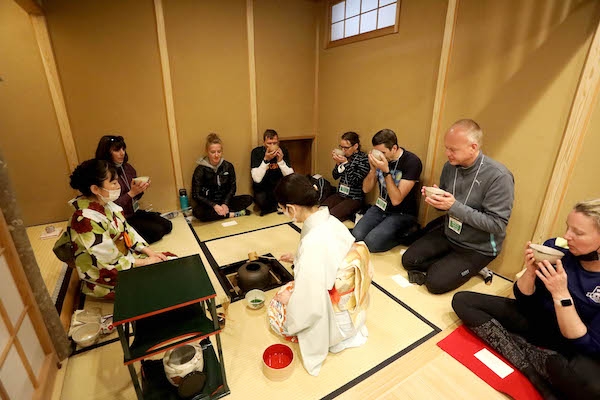 ■ Japanese cultural experience 3. Cha: Tea ceremony
After a talk by a trained tea ceremony master at Kakinuma in Asakusa, which sells authentic tools for tea and vases, participants enjoyed traditionally prepared matcha green tea. Those who wished could enter through the small entrance Nijiri-Guchi, and experience the traditional authentic tea ceremony in a tatami mat tea room. Participants listened intently to the tea master's explanation, carefully followed each of the steps, and savored the flavor of the powdered green tea, taking in both the beauty and soul of Japan in what is one of the most prominent embodiments of Japanese tradition and culture.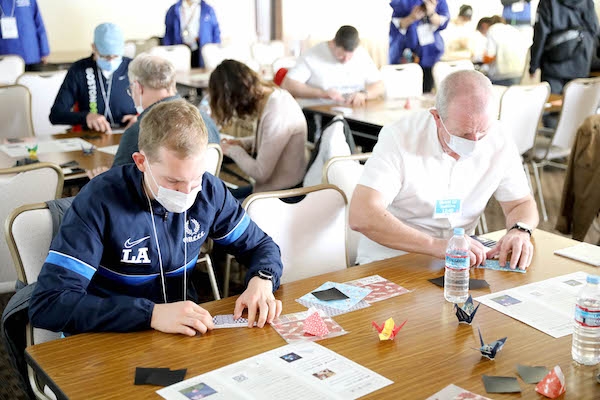 ■ Japanese cultural experience 4. Kami: Origami
Participants were guided by traditional origami instructor Terumasa Kutsuna to fold their very own "Ohinasama" dolls. The international runners, some of whom were trying origami for the first time, had quite the time trying to fold the dolls, which are quite a high-level design even for Japanese people. Nevertheless, Mr. Kutsuna guided each runner in English and the Japanese staff also joined in to help them fold the paper. In the end, the runners were able to successfully complete their creations. The runners had a blast showing each other their own original ohinasama dolls, each with their own shape, and taking pictures.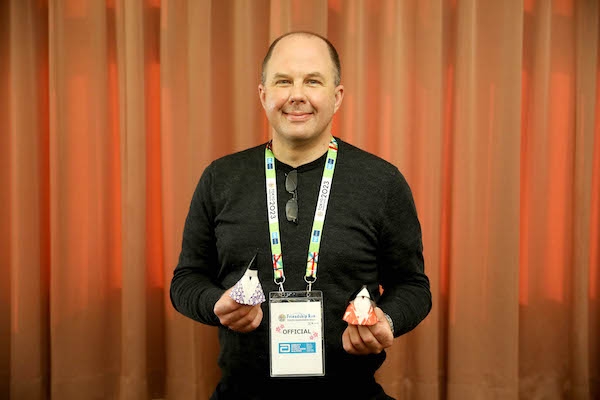 We spoke with Carsten Helterhof, the elite athlete coordinator for the Berlin Marathon, who took part in Tokyo Marathon Friendship Run 2023. He told us with a laugh, "I did the origami experience and luckily managed to make the ohinasama without breaking any fingers." Showing genuine interest in Japanese culture, he said, "It's incredible that you're able to make something like this out of paper." Speaking about the international exchange through running and Japanese cultural experiences, he said, "I think it is wonderful that the world is starting to return to normal and Japan is starting to open up to more visitors from overseas. Also, while the Berlin Marathon has a carb-loading dinner and breakfast before the race, as well as an expo, we have never held cultural exchange events. I thought it was a wonderful experiment to welcome and mingle with international runners like this."
Tokyo Marathon Friendship Run 2023 and the welcoming of international runners for the first time in four years would not have been possible without the help of the many who chipped in, including members of the Asakusa community, the university student staff, and hospitality ambassadors (junior high and high school students).
We hope that in 2024, we will be able to continue to offer hospitality and exchanges with international runners and foreigners in Japan and hold more fun and exciting events.
Thank you to all of the runners who came out and participated in this event.