It was sunny with temperatures at 8.7 degrees Celsius and 48% humidity at the start of the race. Although there was a slight wind, it wasn't too cold and weather conditions were fair overall.
All 25 athletes (19 men, 6 women) started together at 9:05 am. Both the men and women world record holders had an amazing race, setting new race records for their respective win. The Asian record holders placed second.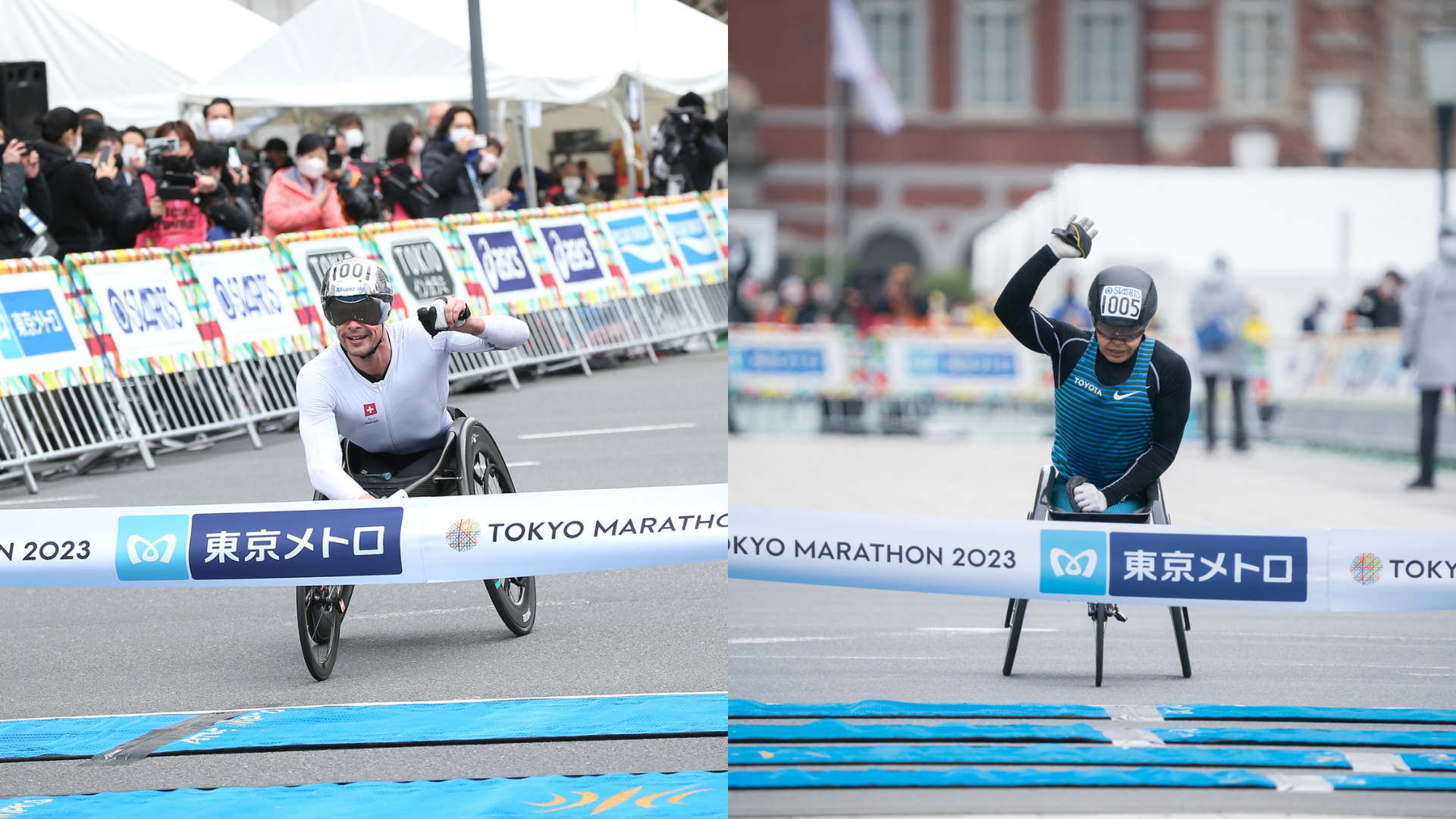 In the men's division, Marcel Hug (Switzerland) bettered the race record by 55 seconds with a time of 1:20:57 for his second consecutive win. At the uphill past the 25km mark, he took the lead from Tomoki Suzuki (Toyota Motors) who had been keeping pace with him. He raced solo and picked up speed, for a negative split win.
"I am very satisfied to have won, set a new race record and to have raced in a calm mental state to the end. The cheering from the volunteers and spectators was amazing, and gave me strength for a wonderful race experience. Thank you very much." He commented.
He talked about picking up the pace past the 25km mark which contributed to his win. "I was planning to pick up speed a little further into the race, but my rhythm was good, the wind was light, and as I came to the bridge, it hit me that 'this is the place'." He revealed that he had trusted his instincts and changed his strategy, showing his strength as the "absolute champion".
Suzuki was the runner up at 1:24:31 with Sho Watanabe (TOPPAN) placing third with a time of 1:30:32.
Suzuki showed some disappointment commenting, "It was good that I kept pace with Marcel to the 25km mark, but there was no way I could keep up with him (after he picked up speed). He shared his commitment to look ahead. "He's at a completely different level now, so my first goal is to reach his level. No Japanese athlete has been able to match him yet, so I want to lead the pack."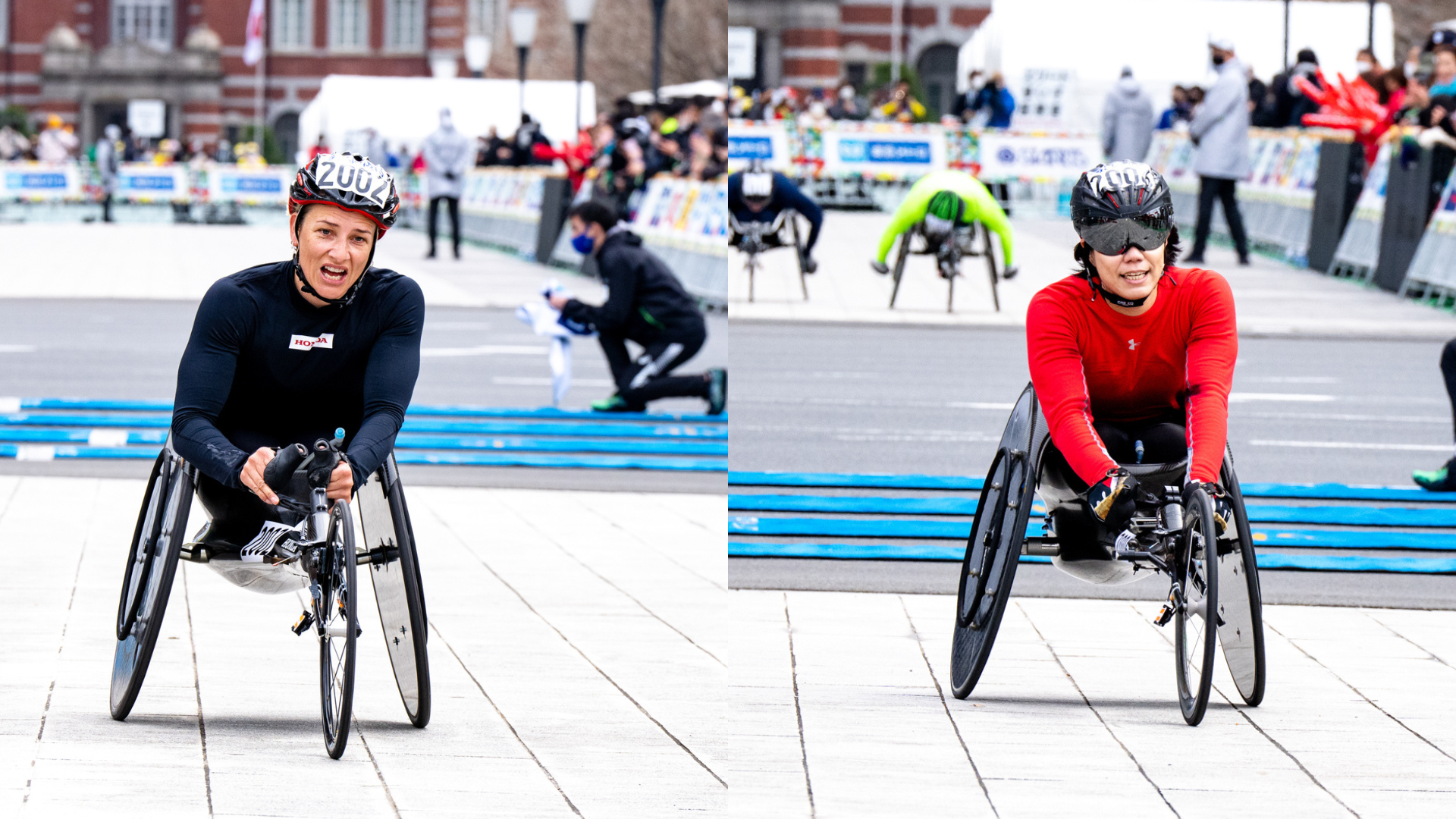 In the women's division, Manuela Schar (Switzerland) pulled ahead from the start and ran solo to set a race record of 1:36:43, bettering the previous record by 3:17 for her first win since 2019. She was also the only athlete in both the men and women's division to earn "Split Time Bonus" by passing the 10km mark within the designated split time (21:48 for women), a unique element of the wheelchair race.
She shared her joy with a smile. "It was such a great day, and I really enjoyed the race. It was my first race in Tokyo since the Tokyo Paralympic games, and Tokyo is a special place for me. I could tell that wheelchair marathons are valued highly in Japan."
Tsubasa Kina (Ryukyu Sports Support) was the runner up at 1:42:47, and Madison de Rozario (Australia) placed third with a time of 1:44:17.
Kina expressed her appreciation. "I want to practice my positioning at the start after seeing how well Manuela handled it. I was racing solo all throughout, so I paid attention to my racing form, and looked at the uphill sections, which is my weakness, as practice in action. The spectators were lively and fun along the course, and it gave me energy to be cheered from all around."

Wheelchair Race Director Masazumi Soejima raced as well placing fifth and gave an overview of the race. "The wind seemed a bit strong, but it was a good race with both the men and women setting new records and no major accidents. The cheers along the course from start to finish were very warm, and I heard many calling out names of athletes. I was very happy to see increased awareness for the wheelchair marathon."