It was cloudy with a temperature of 8.5 degrees Celsius and humidity at 48% when the race started. Weather conditions were favorable with temperatures remaining relatively low.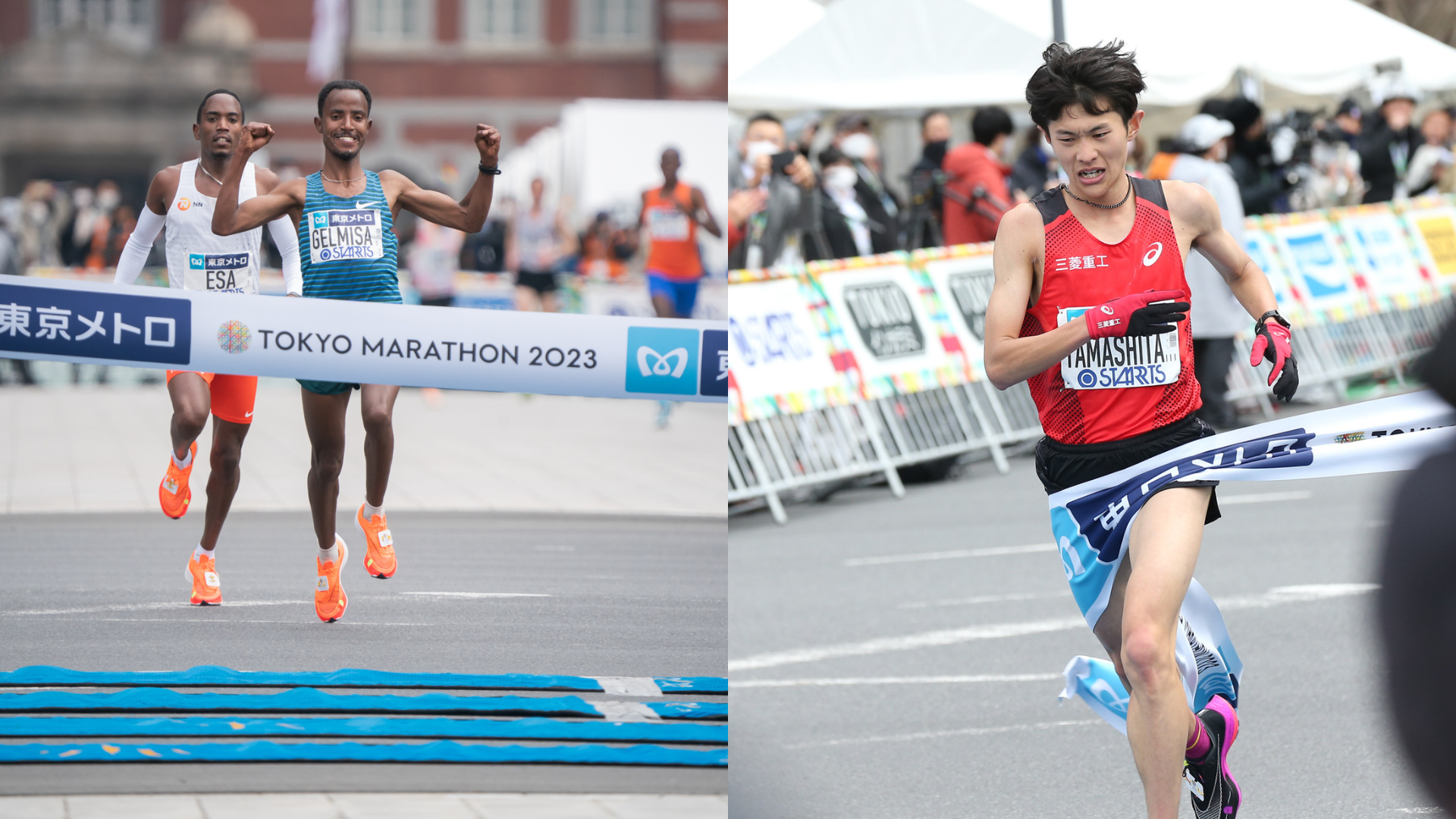 In the men's division, Deso Gelmisa (Ethiopia) won the dead heat against Mohamed Esa (Ethiopia) and secured his first win with a time of 2:05:22. Esa placed second with the same time (less than 1 second difference).
This is the first win for Gelmisa at an Abbott World Marathon Major, and he shared his joy. "I have always dreamed of running in Tokyo. I was able to win with God's blessing."
After the pacemaker veered off at the 30km mark, the leading pack immediately picked up the pace, and decreased from about 10 runners to six. There were still six athletes left, running head to head, with less than 1km left. Only 4 were left with 500m to go, and then it became a three way battle around the last corner. In the home stretch to the finish line, Gelmisa and Esa were in a dead heat, and Gelmisa took a slim lead to finish first. He looked back on the race. "It was an intense battle. I knew Esa had speed, so it was not easy." He added with a smile, "I want to return to Tokyo to run."
Tsegaye Getachew (Ethiopia) placed third with a time of 2:05:25. Sisay Lemma (Ethiopia), who has a personal best of 2:03:36, withdrew past the 25km mark.
For the Japanese athletes, it was a very high level race with 2 runners running sub 2:05. Ichitaka Yamashita (Mitsubishi Heavy Industries), who was running his third ever marathon, was the top Japanese finisher with a time of 2:05:51 placing seventh overall. He took the lead from Suguru Osako (Nike) past the 40km mark, and finished with the third fastest time for a Japanese athlete. He showed his trademark smile as he commented. "I gave it my all because I realized I had a chance for a sub 2:05 time when I saw (2:05) :30 on the clock as I turned (the last corner)."
Kenya Sonota (JR-EAST) placed 8th overall with the fourth fastest time for a Japanese at 2:05:59. Despite his great time, he shared his disappointment about placing second among the Japanese runners. "I'm not happy with my placement, but I guess I did what I could, since I set a personal best.
Osako, who was running his first marathon in Japan in about a year and 7 months after temporarily retiring following the Tokyo 2020 Olympic games, placed ninth with a time of 2:06:13. He secured a spot in the Marathon Grand Championship (MGC) which will be a qualifier for the Paris 2024 Olympic games for Japanese athletes.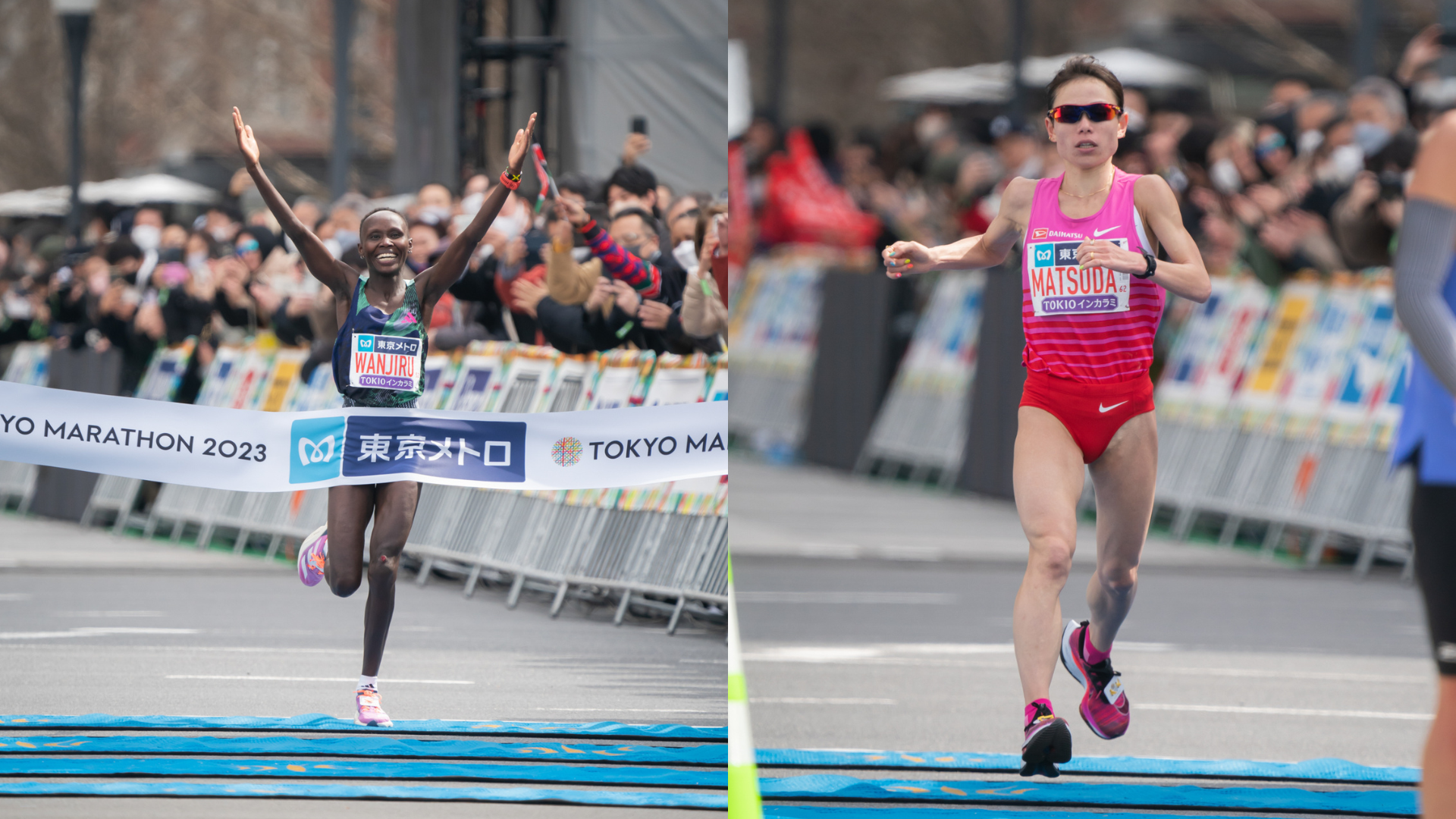 In the women's division, Rosemary Wanjiru (Kenya) won her first race with the sixth fastest time in the world at 2:16:28. She kept a fast pace from the start, recording 1:08:14 at the halfway mark. She kept her pace in the second half, running 1:32 faster than her personal best. She had a huge smile as she raised her arms at the finish, and expressed her immense joy with her entire body as she bowed repeatedly on her knees.
She has ties to Japan since she was affiliated with the Starts corporate team until last year, after graduating from Aomori Yamada High School. Having run an amazing race in her second hometown, she commented in Japanese at the press conference. She looked back on the race. "I didn't think I'd be able to run with such a time. My condition was good from the 30km mark as well." She shared her appreciation to all the Japanese fans who cheered her on. "There was a lot of cheering while I was running. Thank you very much."
Tsehay Gemechu (Ethiopia) placed second with a time of 2:16:56, the eighth fastest time in the world. Ashete Bekere (Ethiopia) placed third at 2:19:11.
Among the Japanese runners, Mizuki Matsuda (DAIHATSU), who was aiming to set a new Japan record, placed sixth with a time of 2:21:44. She showed tears after finishing and commented "I'm disappointed." At the press conference, she expressed her continued desire for a new Japan record. "I will keep working hard, so I can show everyone that I'm continuing to challenge myself." Ai Hosoda (Edion) placed seventh at 2:22:08 with Mao Ichiyama (Shiseido) placing 14th with a time of 2:31:52.