The Invited Athletes Press Conference for the Tokyo Marathon 2023 was held on Friday, March 3 at the Keio Plaza Hotel in Tokyo.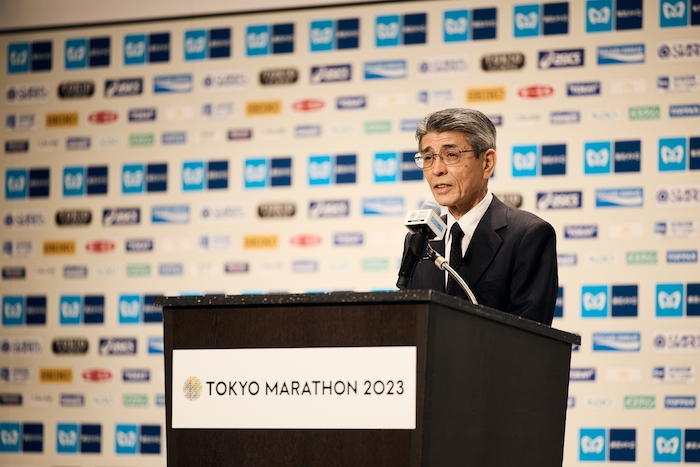 Shizuo Ito, CEO/President took the stage in advance of the athletes and shared his appreciation for the race. "This is the 16th event for the Tokyo Marathon, and Tokyo Marathon 2023 will be welcoming a full capacity of 38,000 Japan and overseas runners for the first time in 4 years. This includes about 12,000 overseas runners. The theme for this year's race is 'One Step Ahead' which is filled with our strong desire that we can move forward, one step at a time."
Invited Wheelchair Athlete Press Conference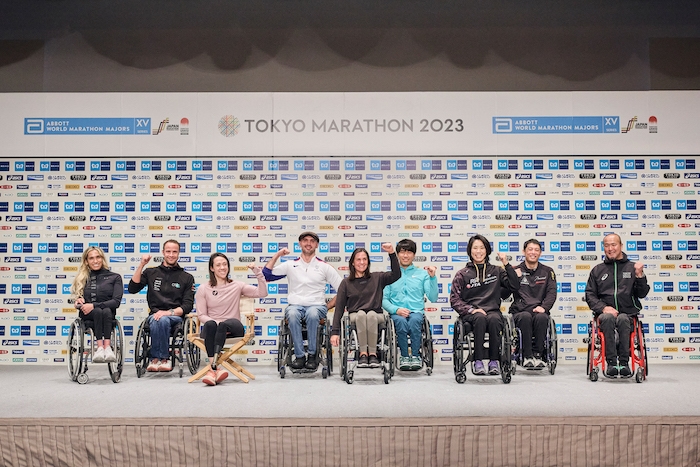 Top women competitors hope to set a new record as a group
Wheelchair Race Director Masazumi Soejima took the stage with 4 female wheelchair athletes who all shared their aspirations.
Madison De Rozario (Australia) who earned gold at the Tokyo Paralympic Games commented "This is my second Tokyo Marathon in four years. I was not able to finish in 2019 due to the cold, so I hope to finish the race this time." Jenna Fesemeyer (USA) commented with a smile. "This is my first Tokyo Marathon. I'm really excited because there are many strong athletes. I will give my best for each mile, based on how the race goes."
Christie Dawes (Australia) is competing for the first time since 2019 and shared her goal. "I'm looking forward to racing on the wonderful Tokyo course again. My goal is sub 1:45:00. For Tsubasa Kina (Ryukyu Sports Support), this will be her third consecutive win if she finishes first. "I'm really excited because this is the first time in a while with so many international athletes. I've been able to prepare sufficiently, so I hope to run a strong race to break the race record (1:40:00)."
A feature unique to the wheelchair race is the "Abbott World Marathon Majors' Sprint Bonus Point" where the first man and woman to cross the 10 kilometer mark each earn bonus points. The first three finishers in the men and women's division will also receive prize money if they finish within a designated time for their respective division.
De Rozario reacted "it will be a group race with something dramatic happening in the first 10 km." Kina shared her enthusiasm for race day "I hope we can all enjoy the speed."
For men, the key will be to keep up with Hug, the champion
Next, four athletes took the stage. Marcel Hug (Switzerland) won the last race and also holds the world record. He shared his enthusiasm for another win. "I'm happy to be back in Japan, a country I love. While the weather will be a factor, we have a group that is capable of the world's fastest race. I want to lead the pack because the bonus point is also important." Johnboy Smith (Great Britain) also commented "Tokyo is one of my favorite cities. I'm sure I'll get good results if I enjoy the race."
Tomoki Suzuki (Toyota), who was a runner up in the last race, shared his goal. "I'm certain the pace will be fast from the start. I will try to keep up with Hug in the first 10 km, in hopes of bettering my personal record by even 1 second." Hiroki Nishida (Baccarat Pacific), who placed third in the last race and is known for his skills on downhill sections, shared his plan for the race. "I hope to maintain a fast pace in the first 10 km since there are a lot of downhill slopes."
The wheelchair race will begin at 9:05 am on March 5 in front of the Metropolitan Government Building No. 1.
Invited Athletes Press Conference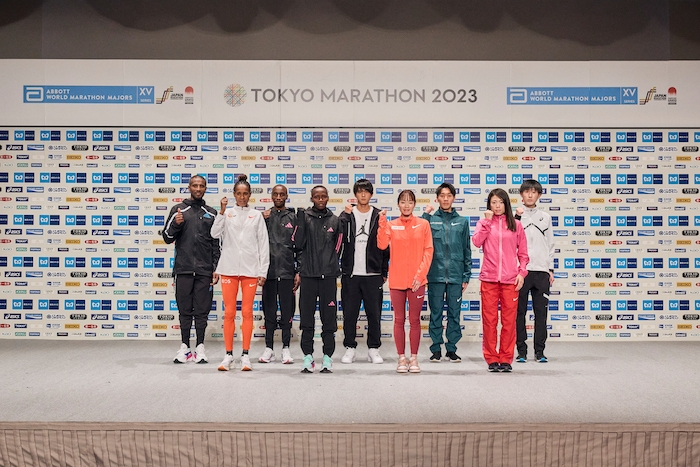 The Invited Athletes Press Conference was held and Ashete Bekere (Ethiopia), Rosemary Wanjiru (Kenya), and Japanese athletes Mao Ichiyama (Shiseido) and Mizuho Machida (Daihatsu) took the stage on the women's side.
Race Director Tadaaki Hayano emphasized that the pace of the women's race "will be determined at the technical meeting." He also revealed that he forecasts the pacemaker running between 3:16 and 3:17 per kilometer "for a finishing target time of 2:18:30 or somewhere around sub 2:18."
Bekere, who was a runner-up at the Tokyo Marathon 2021, commented about her condition with a smile indicating that she is in excellent form. "My condition is very good." She shared her goal to place and set a personal best by commenting "I want to win. I hope to run with a time of sub 2:16 or 2:17."
Wanjiru, who placed second at the Berlin Marathon in 2022, used to live in Japan and her comments in Japanese brought a round of applause. "This is my home. Yoroshiku onegai shimasu (thank you everyone)." She showed rivalry for Bekere who declared her victory, by commenting "I hope to record my personal best (2:18:00) and also win."
Ichiyama placed sixth at the Tokyo Marathon 2021 and revealed that "I have not been in the best condition, but it is gradually improving." It seems her condition is getting better and she shared her enthusiasm. "I will run as best as I can on event day."
Matsuda will be running Tokyo for the first time and is aiming for the Japan record of 2:19:12. She was very straightforward, commenting "My condition is good. It is not an easy time to achieve, but I've been training toward the Japan record." She hopes to set a new record for the first time in 17 years.
Next the men's Press Conference was held with Sisay Lemma (Ethiopia), Bernard Koech (Kenya) and Japanese athletes Suguru Osako (Nike), Hidekazu Hijikata (Asahi Kasei) and Kyohei Hosoya (Kurosaki Harima) taking the stage.
The pace for the men is predicted to be around 2:57 to 2:58 per kilometer, with a finishing target time between 2:04:00 and 2:04:30.
London Marathon 2021 winner Lemma, who has a personal best of 2:03:36, shared that his training is on track. "I have been preparing to break my personal record." He shared his vision for the race by commenting that he will be focusing on the race past the 30km mark after the pacemaker breaks away. "The pace will pick up from there, and I may hit sub (2 hours) 3 minutes."
Koech, who has a personal best of 2:04:09, shared that he is in good condition. "There are no issues or injuries, and all is good." He hopes to set his personal best by picking up the pace in the second half. "I think a pace of 2:56 or 2:57 (per kilometer) will be enough. The second half will be a fast race."
Osako finished the Tokyo Marathon 2020 in 2:05:29, setting the Japan record at the time. He has been training in Kenya since January. He retired from competition temporarily, but returned for the New York City Marathon 2022. This will be his first race in Japan in about a year and 7 months. He shared his anticipation by commenting "It's quite exciting, and I'm looking forward to it."
Hijikata has the fifth fastest time in Japan at 2:06:26 and shared his enthusiasm. "My condition has been improving since February. I think I'll be able to run in good condition. My goal is to set a personal best."
Hosoya, who has the sixth fastest time in Japan at 2:06:35, commented with confidence. "At the least, I want to be the top Japanese runner. If I have the chance, I want to be assertive and keep up with the international runners." He set his target time at 2:04:56, the Japan record, and commented "The Japan record is just a passing point, so I sincerely want to aim for it."
The forecast for race day is cloudy with temperatures around 8-9 degrees Celsius at start time.