At the start of the race, it was sunny with a temperature of 11.3 degrees Celsius and humidity at 29.7%. There was a slight breeze, but the race took place under fair conditions.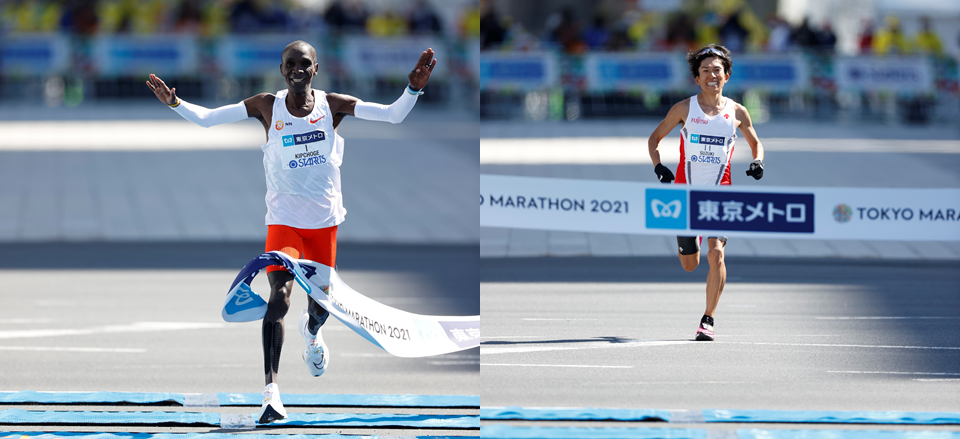 In the men's race, Eliud Kipchoge (KEN), who holds the world record of 22:1:39 placed first, setting a new course record of 2:2:40. He ran an impressive race. He commented very calmly about his smooth performance in Japan following his gold medal at the Tokyo 2020 last summer. "I am truly happy. I am glad to be able to come to Japan again. I am grateful to the people of Tokyo who cheered me on."
Kipchoge led the leading pack made up of African runners, with a very fast pace of 28 minutes 37 seconds for the first 10km. Even though he mistook the course just past the 10km mark, his speed was not affected. He maintained his pace of approximately 2 minutes 54 seconds per kilometer while others struggled with the wind which was strong enough to make their uniforms flutter. The leading pack became smaller, and it became a head on race with Amos Kipruto (KEN). The decisive moment happened just past the 36km mark when Kipchoge pulled in front of Kipruto and pulled away. He revealed the reason for his spurt "It was fun. I wanted to make everyone happy with my love for running."
He has now won at four of the six Abbott World Marathon Majors events.
At the press conference following the race, his comments about bringing peace through sport brought a large round of applause from the audience. "Let's bring peace to the world by uniting and running together. The world is facing a difficult situation. There is only sport. We can find a solution if we unite. Let's become one team."
Kipruto, who was the only one able to keep up with Kipchoge came in second with a time of 2:3:13, improving his personal best by 17 seconds. He shared his satisfaction of the race. "The race was good, but the wind was strong. I love this course, and I'm very happy to get my personal best." Tamirat Tola (ETH) placed third with a time of 2:4:14. He shared his joy and seemed to have fully enjoyed the Tokyo setting. "I have never run so well at a (Abbott World Marathon ) Majors. I have run many races around the world, but there is no place like Tokyo. I looked at the city as I ran."
Kengo Suzuki, the Japan record holder, placed fourth with a time of 2:5:28, leading the Japanese runners. He chose not to stay with the first group, leading the second group from the start. "My condition has not been very good." He ran at his own pace, picking it up past the 25km mark and pulling away from the second group. He seemed happy with his result having given his best. "It was tough at times, but it was rewarding to be able to pull through it and triumph." Kenya Sonota was the second fastest Japanese placing seventh overall with a time of 2:7:23, followed by Shun Yuzawa who improved his personal best with a time of 2:7:31.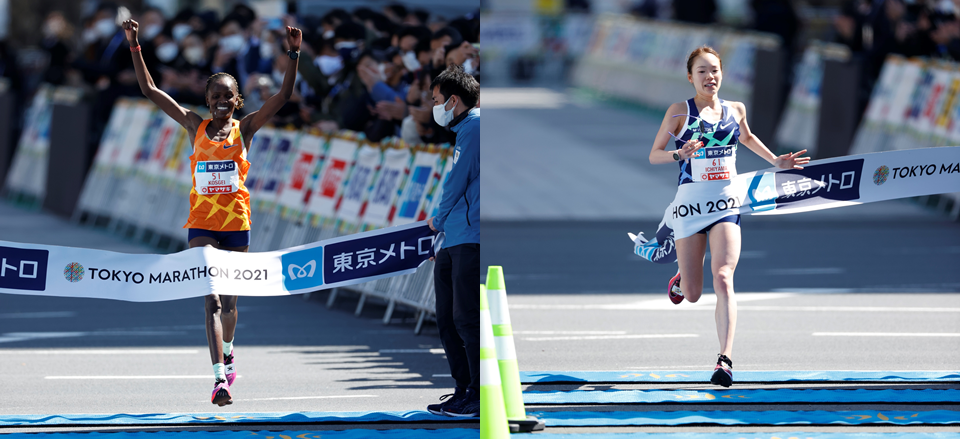 In the women's race, the world record holder also gave a "global standard" performance, with Brigid Kosgei winning for the first time setting a new course record of 2:16:02, the third fastest time in the world. She reflected on the race commenting "It was very exciting. I am happy to have set a new course record." She ran at a pace of 16 minutes 10 seconds per 5km for the first 35km, accelerating to 15 minutes 48 seconds between 35km and 40 km and pulling away from Gotytom Gebreslase (ETH) who was vying for the lead.
Kosgei was hoping to set a faster time and commented "There was a head wind (in the last part), and it was like being pushed back. I think I could have run under 2 hours 15 minutes without the wind."
As for the Japanese women, Mao Ichiyama and Hitomi Niiya ran side by side from the start, with Ichiyama pulling ahead around the 40km mark. "I really didn't feel like I was leading when I was running. I just kept looking ahead." She commented, completely focused on running, and placing sixth with a time of 2:21:02, the fastest among the Japanese runners. Niiya, who was running her first full marathon in 13 years, placed sixth marking a time of 2:21:17. After the race, the two hugged and congratulated each other. Ichiyama expressed her gratitude. "It was comforting to have her run with me. I thanked her for running with me."