Tokyo Marathon 2021 Press Conference was held on Friday, March 4, 2 days before the race.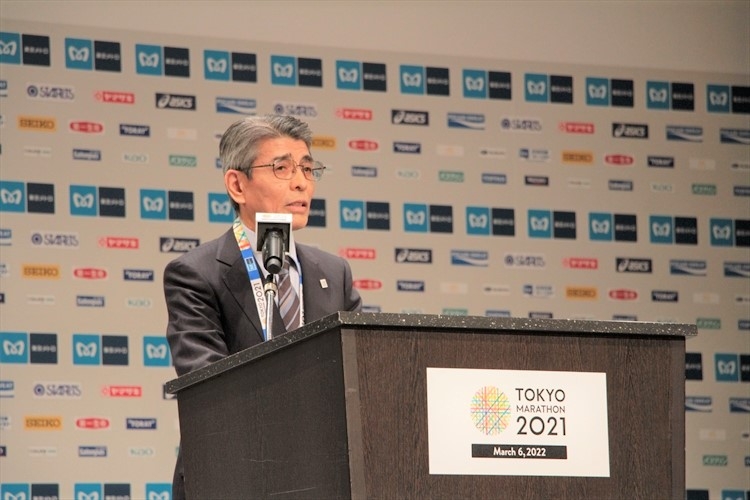 The organizers took the stage in advance of the athletes at 12:00 noon with a greeting by Mr. Shizuo Ito, President/CEO. Mr. Ito commented about the race which has been delayed twice due to the Covid-19 as follows:
"We have been preparing in various ways for a safe and secure operation to again realize 'The Day We Unite'."
He went on to explain measures such as a health monitoring app, PCR tests, and a staggered wave start that have been integrated as a way to avoid the "Three Cs".
Invited Wheelchair Athletes Press Conference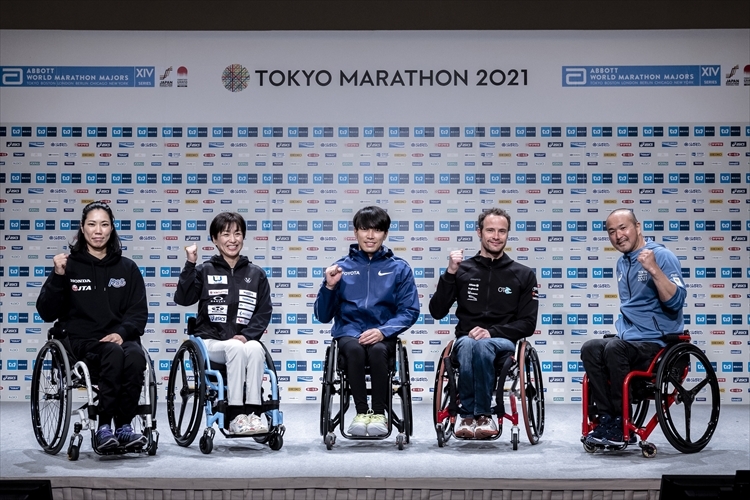 First, from the women's field, Tsubasa Kina and Wakako Tsuchida, the Japanese invited athletes, took the stage and shared their enthusiasm for the race.
KINA, who set a new race record at the previous event with a time of 1 hour 40 minutes commented "The weather promises to be good, and I'm looking forward to it. I've continued to train after the Tokyo Paralympics, and I'm in good shape." Tsuchida, who had nine consecutive wins since 2008 and will be participating for the first time since 2016 commented with a smile. "Kina will most likely be my biggest rival. I hope to enjoy myself during the race."
When asked about their target times, Kina set her goal at 1 hour 39 minutes 50 seconds, while Tsuchida set her target at 1 hour 39 seconds flat.
Wheelchair Race Director Masazumi Soejima expressed his enthusiasm for a high level competition. "We welcome you back Tsuchida. Kina is showing a lot of growth, and I'm keen to see how she competes with Wakako. I'm really looking forward to it."
Next, from the men's field, Marcel Hug (Switzerland) who holds the men's world record, and Tomoki Suzuki who holds the men's Japan record took the stage. Both participated in the Oita International Wheelchair Marathon in November last year and performed well, with Hug setting a new world record at 1 hour 17 minutes 47 seconds and Suzuki setting a new Asian record with 1 hour 18 minutes 37 seconds.
Hug, who secured several wins at the Tokyo Paralympics and has returned to Japan commented "I'm very happy to have this opportunity and to be able to race again in Tokyo." He also commented about Suzuki saying "He is a strong athlete. We've competed many times, but I think he was my biggest competition last year, especially in the marathon. I'm really looking forward to Sunday's race."

On the other hand, Suzuki shared his anticipation for the race. "I started a new training regimen after the Tokyo Paralympics. My condition is improving, and I'm really excited about competing against Marcel in my current condition."

Invited Athletes Press Conference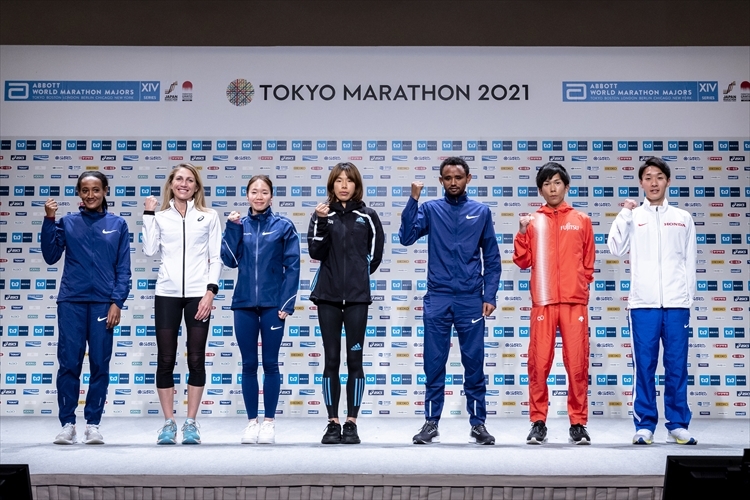 The Press Conference for Invited Athletes begun at 12:55 PM with the women's field, as Gotytom Gebreslase (Ethiopia), Sara Hall (USA), Mao Ichiyama (Japan) and Hitomi Niiya (Japan) took the stage with the world record holder (2 hours 14 minutes 4 seconds) Brigid Kosgei (Kenya) participating remotely.
Kosgei, who participated from the athlete's village spoke about being in better condition than last summer. "I'm in better condition than I was at the Tokyo Olympics (when I won the silver). The Olympics was tough because it was so hot and humid." She declined to share her target time by commenting "it's a secret", but also showed her confidence by adding "I hope to break the event record (2 hours 17 minutes 45 seconds). I'm in good shape and I've been training."
2021 BMW Berlin Marathon winner Gebreslase commented "My condition is good, and I've been training well." Setting her target at 2 hours 18 minutes, she added "I ran my first marathon in 2 hours 20 minutes (9 seconds). I've been training toward 2 hours 18 seconds (flat) in hopes of bettering my record."
Hall who is participating from the USA was very cheerful as she commented "I've been dreaming about the Tokyo Marathon. I hope to enjoy a fast course, competing with strong athletes." She shared her target time of 2 hours 19 minutes flat. The US record is the same as Japan at 2 hours 19 minutes 12 seconds. She hopes to break the US record commenting "It happens to be the same, so I'll aim to break it."
Ichiyama also set her target at the 2 hours 19 minutes mark as she shared her prospects for race day. "Everyone will be aiming for a similar time, so I want to stay in the same group. It's encouraging to be able to run together."
Niiya, who is the winner of the first Tokyo Marathon, will be participating for the first time in 13 years. She looked back on the tough training she's endured. "I've been training for the marathon for three months, but it was hard to understand the appeal of a marathon during those three months. I don't think any other sport is harder both mentally and technically."
At the men's field's press conference, Mosinet Geremew (Ethiopia), Kengo Suzuki (Japan) and Hidekazu Hijikata (Japan) took the stage with Eliud Kipchoge (Kenya) participating remotely.
Kipchoge, who is the world record holder at 2 hours 1 minute 39 seconds, wrote "STRONG" in place of his target time. He smiled as he commented "I want to show everyone in Japan and all my fans (my strength). I will be happy if I can do that." When asked why he chose the Tokyo Marathon, he answered calmly "I love Japanese culture. I especially wanted to come back to Japan because I was able to win a gold medal at two consecutive Olympics. (The race which was supposed to be in) Tokyo ended up being held in Sapporo. I want to run the streets of Tokyo. I want to show that running is my life."
Geremew, who has the fourth fastest record in the world at 2 hours 2 minutes 55 seconds, will aim for 2 hours 3 minutes 30 seconds. He commented strongly "I am fully prepared. I hope to run within the (2 hour) 3 minutes (mark)." When asked about Kipchoge, he expressed his respect and also promised to give his best. "He is a strong athlete. I am proud as a fellow African. With sports, you never know what will happen. I hope to run at the best time possible."

Suzuki, who holds the Japan record of 2 hours 4 minutes 56 seconds shared that he is on track in his preparation. "My condition is okay. I've been preparing basically the same way I did for last year's Biwako Mainichi (when I set the new Japan record). It's not too bad." He seemed very energized for the race which promises to get off to a very fast start with some strong international athletes. "I will be aggressive," he added.

Hijikata, who has the fifth fastest record in Japan at 2 hours 6 minutes 26 seconds expressed his confidence. "My condition has been improving this week. I'm looking forward to it." His set his target time at 2 hours 6 minutes 10 seconds, 1 second faster than Yuta Shitara who also ran for Honda, but added "I want to compete without regard to the time."
It was also announced before the Press Conference that Birhanu Legese, two-time winner of the Tokyo Marathon, would not be competing.
The forecast for race day is sunny with temperatures around 8 to 9 degrees Celsius at start time.