HUG AND ROMANCHUK READY TO RUMBLE IN NEW YORK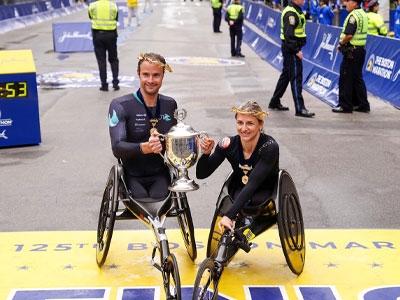 The Abbott World Marathon Majors men's wheelchair series will come down to a dust up in the Big Apple following Marcel Hug's crushing victory today in Boston.
The Swiss athlete now takes a one-point lead over the USA's Daniel Romanchuk into the final race of this elongated campaign after coming close to setting a course record - and only missing out on bettering his own mark after failing to take the final right turn at the first time of asking.
Hug said afterwards that his error cost him at least 20 seconds which would have seen him come home well inside the time he set in 2017 of 1:18:04. Instead, he clocked 1:18:11, still seven minutes and 34 seconds ahead of Romanchuk.
"I just followed the lead car, and in the last two to three kilometers, I realized I was very close to the record so I just went as fast as possible, head down and put everything into it that I had left," said Hug.
"And then I went straight behind the lead car instead of turning right. It should not have happened. Yeah, it was my fault. I was focusing on my performance and didn't think about it, and it happened."
Despite the mishap, Hug collected 25 points for the win and eight for being first past the bonus point mark at halfway which means he creeps ahead of Romanchuk on the leaderboard, erasing the advantage the American was holding on to overnight after victory in Chicago yesterday.
"Right from the beginning, in the downhill, I felt comfortable. I had a gap then I tried to push as hard as I could," said the 35-year-old.
"It was totally different tactically from yesterday. I went all in from the beginning. I knew with the downhill, I'd be a bit faster than him (at the start), so I tried to build this gap and went from there."
Romanchuk has taken out the TCS New York City Marathon on the last two occasions, so the younger man certainly has the knowhow to beat Hug through the five boroughs, but Hug's form since winning the Paralympics has been astonishing as he settles into his new racing chair, and it will be hard to call the winner in just under a month's time.
"We'll have a big showdown in New York," said Hug.
"It's a totally different course, a different marathon. We have time now to recover. So again it makes it interesting for us to have this battle. I hope also for people who watch that it makes it even more exciting."
There is no such nail-biting going on in the women's wheelchair division, where Hug's compatriot Manuela Schär has wrapped up her third consecutive AbbottWMM series crown.
The 36-year-old cannot be caught on the leaderboard where Tatyana McFadden is her closest rival, over 50 points behind.
Schär made her intentions clear from the gun in Boston, using her superior downhill ability to get out in front early and stay there.
"I always have to use that first downhill because it's one of my strengths. So I did that and was able to break away from the pack," said Schär.
"I was pretty much racing against the clock. It's too bad we didn't have a tailwind this year, because I was ready to go for that course record."
Her finish of 1:35:21 was, in the end, some way off her 2017 time of 1:28:17
With the series wrapped up after a fifth win in seven events, Schär will head to New York looking for a fourth straight win there, but refused to be drawn on how long her dominance might last.
"I've been doing pretty well in the marathon these last few years, but there are so many competitors right there," she said. "It's a shame Susanna (Scaroni) and Madison (de Rozario) couldn't be there. Madison won the Paraylmpic marathon.
"There are a lot of reasons to stay focused and motivated with the competition. There's no time to take a break and relax."
View the latest leaderboards here.
<Related NEWS>
・2021 Boston Marathon Men's & Women's Race Recap
・2021 Boston Marathon Race Preview