Global Run Club is launched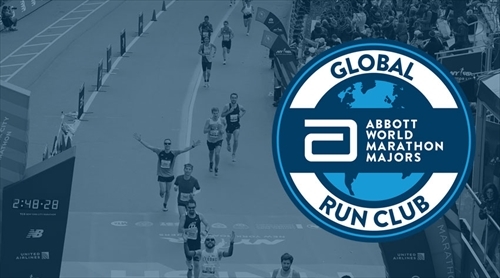 The Abbott World Marathon Majors Global Run Club launched today, providing a virtual platform for the global community of marathon runners to connect, compete and celebrate.
The club wants to provide runners around the world with a community where they unite, inspire and cheer on each other. The platform allows runners to sign up for a variety of free-to-run challenges, delve into a library of running related tips and advice, and grab their exclusive AbbottWMM Global Run Club medals for their efforts.
The AbbottWMM Global Run Club is kicking off with a variety of running challenges, for all ages and abilities, that will be staged in tandem with the offerings of the five AbbottWMM races which will be taking place in a virtual landscape from September to November.
Those who are taking part in one of the virtual Majors can use the autumn challenges as final training miles, fun recovery sessions or count their marathon miles as the challenge and scoop two medals for one race.
With our global community at its core, runners compare their performances with their peers (age, gender and nationality) on challenge leaderboards; run with friends and family in a variety of distance options; and use this series of events to provide some extra motivation and focus while normal race routines are interrupted.
Tim Hadzima, Executive Director of the Abbott World Marathon Majors said, "We are delighted to launch the AbbottWMM Global Run Club today and provide another innovative way to connect our global community of runners. Whether it's a support tool for your marathon training, challenging yourself to get back into running, or aiming to set a new personal best, the Global Run Club is the perfect complement to the ongoing work of the Abbott World Marathon Majors. We will have a lot to offer every level of runner, wherever in the world they may be."
The challenges available include:
• Challenge 26.2: Complete a total of 26.2 miles during the specific challenge week in any intervals that you desire.
• Challenge 2.62: Run 2.62 miles on any day of the specific challenge week.
• Autumn Challenge 26.2: Complete a total of 26.2 miles between 07 Sept. and 01 Nov. in any intervals that you desire.
• Autumn Marathon: Run a full marathon (26.2 miles) in one go, on a course of your choice during the final challenge week.
For further information and to sign up to the Club visit abbottwmmglobalrunclub.com.