Tokyo Marathon 2020 Press Conference was held on Friday, February 28, two days before the race.
The organizers took the stage in advance of the athletes at 10:35 am with a greeting by Mr. Shizuo ITO, President/CEO followed by an explanation of this year's race by Mr. Fumiaki OMORI, Director General/COO, Tokyo Marathon Foundation. Mr. Ito explained the reason for the cancellation of the mass participation in response to the situation with the Coronavirus as follows:
"Since the first race in 2007, the Tokyo Marathon has been "The Day We Unite." for more than 30,000 runners and 10,000 plus volunteers where runners experience the joy of running, volunteers experience the pride in supporting, and those rooting for the runners experience the delight of cheering. Along, one of our very important goals is to operate a safe and secure event."
"Amid news of the effects of the Coronavirus, we spent a lot of time considering measures which would allow us to carry out the race safely. In the end, we came to a very difficult decision to hold the event only for the elite athletes and elite wheelchair athletes for the Tokyo Marathon 2020 in response to reported cases within Japan. We would like to request to our elite athletes to run at the fullest, and we hope all of you will bring inspiration and positive energy to Japan.
Invited Wheelchair Athletes Press Conference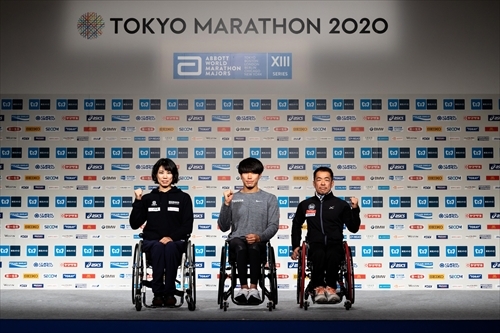 Next, Wheelchair Race Director Masazumi Soejima took the stage. He quotes, "Part of this course overlaps with the Tokyo 2020 Paralympics marathon course. It will be a prelude for the Paralympic games. And I hope to see a new record time for its been a while." The course record is 1 hour 26 minutes for men, and 1 hour 41 minutes 04 seconds for women. The winner will take away 2,000,000 JPY, double from 2019.
Invited Japanese athletes Tomoki Suzuki, Kota Hokinoue and Tsubasa Kina expressed their enthusiasm. Suzuki who placed third at the World Championships last year expressed his confidence, "I definitely want to stand on the podium. I know I can get the results I want if I pay attention to the conditions and race aggressively." Hokinoue is the Japanese record holder with the time of 1 hour 20 minutes 52 seconds. "The first 4 to 5 kilometers of the downhill is my weakness. I need to hold my ground there and keep up with the leading group." It was clear that he has a vision of how his race would play out. Kina, who holds the national record with a time of 1 hour 35 minutes 50 seconds, commented smilingly, "I'm going to give it my all from the start. I hope to race to my limit without being affected by the pace of others."
When asked about their target times, Suzuki stated 1 hour 24 minutes even, which prompted Hokinoue to set his mark at 1 hour 23 minutes 59 seconds, 1 second faster than Suzuki. Kina' s target is 1 hours 40 minutes event. All three hoped to set a course record by running a fast race.
Note, 3 men and 7 women have withdrawn from the event.
Invited Athletes Press Conference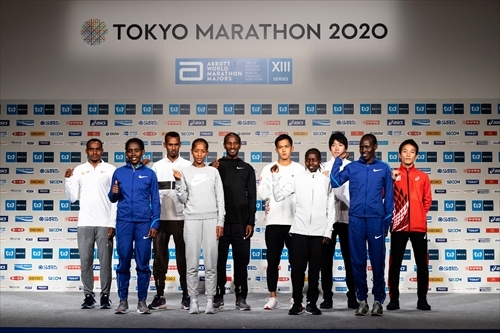 The press conference for the Invited Athletes was held at 12:30, and Ruti Aga (Ethiopia), Birhane Debaba (Ethiopia), Valary Aiyabei(Kenya)and Lonah Chemtai Salpeter(Israel)took the stage.
Last year's winner, Aga finished the 2019 Berlin Marathon in 2 hours 18 minutes 34 seconds, showing improvement for her return to Tokyo. Aiming for consecutive win she commented, "I am in good condition and well prepared. I injured myself 21 days ago, but I've recovered. I think I can win." Debaba who has won Tokyo twice knows the course well and emphasized her affinity for the course stating, "I've been to Japan many times, winning twice and placing second twice as well. I really like this course." Debaba who won the Frankfurt Marathon last year is running Tokyo for the first time. "My training is on schedule. I am confident." Salpeter is originally from Kenya but has Israeli citizenship expressed her eagerness to run Tokyo commenting, "This is my first major marathon and I'm really excited. I want to improve my personal record of 2 hour 19 minutes 46 seconds."
Next, the men's press conference was held featuring Birhanu Legese, Getaneh Molla and Sisay Lemma from Kenya. The Japanese athletes were Suguru Osako, Yuta Shitara and Hiroto Inoue.
Last year, Birhanu Legese won the men's race in the rain with a time of 2 hours 4 minutes 48 seconds. He finished 2019 Berlin Marathon with the all-time third fastest time of 2 hours 2 minutes 48 seconds. The 25-year-old commented, "I am in better shape than last year. I am well prepared. I am confident I'll be able to run well." Molla is a newcomer who marked 2 hours 3 minutes 34 seconds, fastest marathon debut at the Dubai Marathon in January 2019, seemed prepared commenting, "I am in good condition just like Dubai, but I had a leg injury recently that is healed now but I would say my condition was somewhat better in Dubai." Lemma set his personal best at Berlin in 2 hours 3minutes 36 seconds made a comment, "Berlin was good, but I feel I will perform well here too. I came to Japan with friends, but they will become my rivals on Sunday." He will compete with the chance to participate in the Tokyo 2020 with his teammates.
When asked about their predicted times, Legese announced 2 hours 3 minutes 30 seconds, Molla announced 2 hours 3 minutes 55 seconds and Lemma announced 2 hours 2 minutes even. Lemma, who set his goal high expressed his aspiration to run a good race. "The weather conditions will be better than last year. The other runners have great track records. I came prepared to secure a place for the Tokyo 2020 and also to set a new record for Tokyo."
The Japanese record holder Osako expressed his plans to determine his pace based on the weather and his own condition for the day, making it clear that he will not be influenced by pace of the other athletes. Osako commented, "I just want to run at my own pace and run well." Shitara, the former Japanese record holder, seemed quite calm commenting, "My condition isn't bad. I just want to run my own race. I hope to keep pace with the foreign runners." Inoue, the winner of the 2018 Asia Games in Jakarta, announced 2 hours 4 minutes 30 seconds as his target time which is 1 minute 20 seconds faster than the Japanese record. "I've trained toward this time. I don't intend to focus too much on the record, but it's a time I keep in my mind as the global standard."
All three Japanese athletes did not express to focus on the race as it is the trial for the Tokyo 2020 Olympics, but more interested to simply run at their fullest.
The forecast for the race on Sunday is sunny with some clouds, and the temperature is predicted to be around 6-7 degrees Celsius at the start of the race.