To be held the day before the Tokyo Marathon 2020 (Feb. 29(sat.)), the entry for "Tokyo Marathon Friendship Run 2020" is now open!
We would like to welcome runners from all around the world to experience the Japanese culture with the warm hospitality of our volunteers through the fun run event.
This year, we will be hosting the event in the warm-up track of the National Stadium, located in the Meiji Jingu Gaien Rubber-ball Baseball Ground!
We look forward to your entry!
Tokyo Marathon Friendship Run 2020
Entry Period: December 5, 2019 10:00 a.m. - January 17, 2020 5:00 p.m.
*On a first-come, first-served basis. Date & Time: Saturday, February 29, 2020 (Fun run starts at 9:30 a.m.)
Event Venue: Near the Meiji Memorial Picture Gallery (Shinjuku City, Tokyo)
Event: Fun Run (About 4.0km)
All the participants will receive an originally designed Japanese hand towel shown below!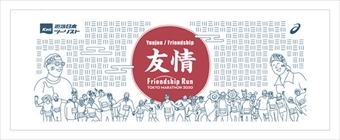 *Image
To apply for Tokyo Marathon Friendship Run, click here.