London says Thanks a Billion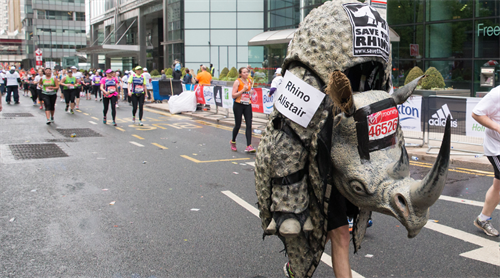 Sunday 28 April marks a landmark moment in the history of the London Marathon as the total raised for charity will reach £1 billion - yes, that's an incredible £1,000,000,000 - since the first event back in 1981.
The "Thanks a Billion" campaign for the 2019 Virgin Money London Marathon has been created to celebrate this phenomenal world record total and to enable the organisers and thousands of charities to thank the runners and acknowledge everyone else who has contributed and the social impact of the fundraising.
Watch the "Thanks a Billion" video here.

Since the very early years, fundraising for charity has been a central theme in London and now more than 75 per cent of the participants each year are raising funds for their chosen cause, many taking on the 26.2 mile challenge in a huge range of costumes - from the famous rhinos to Big Ben, superheroes to giant emojis.
"London is unique in the way our runners fundraise for charity," says Hugh Brasher, Event Director for the Virgin Money London Marathon. "Only here do you see so many thousands of runners taking on a marathon in fancy dress, wearing anything from a pink tutu and waving a wand to carrying an 80lb pack or running as a Rhino. Raising one billion pounds is an extraordinary achievement and we would like to say "Thanks a Billion" to every single person who has helped, in any way, over the past 39 years."
The running world is also eagerly anticipating Race Day as the world's greatest marathoners assemble in London. The men's field is headed by world record holder Eliud Kipchoge (Kenya), the greatest marathon runner of all time, who lines up against British hero and four-time Olympic track champion Sir Mo Farah, third last year in his first serious marathon and winner of the 2018 Bank of America Chicago Marathon.
The women's field sees last year's champion Vivian Cheruiyot (Kenya) go head-to-head with three-time London Marathon winner and the current TCS New York City Marathon champion Mary Keitany (Kenya), while two other Kenyans, Gladys Cherono and Brigid Kosgei, will also have high hopes of victory. Cherono won last year's BMW Berlin Marathon and Kosgei is the 2018 Bank of America Chicago Marathon champion.
In the wheelchair races, eight-time champion David Weir will be celebrating an incredible 20th successive London Marathon - a record unrivalled. He will face the Silver Bullet Marcel Hug (Switzerland) and rising star Daniel Romanchuk (USA) who won the Bank of America Chicago Marathon and the TCS New York City Marathon last year.
In the women's wheelchair race, defending champion Maddison de Rozario (Australia) will come up against 2017 champion and course record holder Manual Schar (Switzerland).
This year's race will also host the 2019 World Para Athletics Marathon Championships with an identical programme to the one scheduled for the Tokyo 2020 Paralympic Games.
The race will be broadcast in more than 190 countries worldwide.

.