Tokyo runners step up for local charities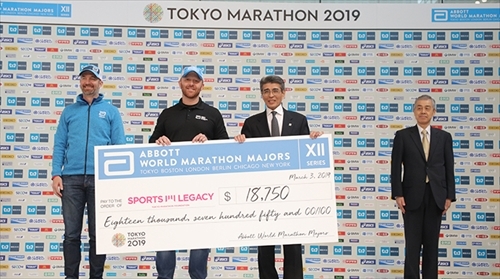 Abbott World Marathon Majors presented checks to the two chosen charities for the 2019 Tokyo Marathon at the official post-race prize presentation on Sunday.
This year the Sports Legacy Program and the Tokyo Disaster Prevention & Emergency Medical Service Association were the chosen recipients, each receiving USD$18,750 which represents a dollar for every finisher.
*The donation amount was updated according to the actual number of finishers, which is now USD 17,730.
Abbott World Marathon Majors aim to give back to the local community at each race and support initiatives that the marathon races work with throughout the year.
Both charities were actively involved in pre-race activities with the Disaster Prevention Organization running two first aid seminars for more than 600 people. It helps to provides first aid skills to participants (runners and volunteers) so that everyone can help each other during emergencies on the race day.
Sports Legacy Program led a group of kids in the Family Run on Saturday as part of their wheelchair-related project. These activities are led by Tokyo Marathon Wheelchair Race Director Masazumi Soejima who took part with the children and helps teach them important skills for wheelchair racing.
Additionally, both charities had a group of runners who battled through the wet conditions of the marathon on Sunday and they were delighted to receive their check from Tim Hadzima, Executive Director Abbott World Marathon Majors, and Chris Miller, Divisional Vice President Global Brand Strategy for Abbott.
Click here to see the AbbottWMM news page.