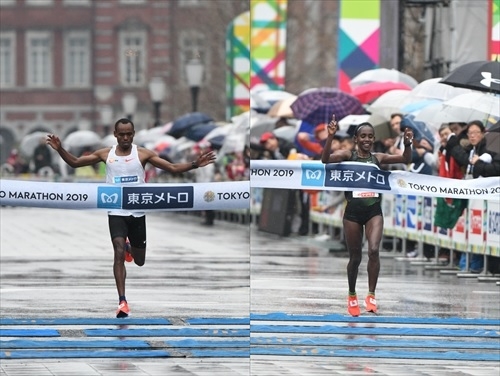 It was raining and 5.7℃ at the start of the race. The rain got stronger, and the temperature even hit 4.7℃ at one point. Hopes for great records on the flat course were shattered as a result of the tough weather conditions.
In the men's division, Birhanu Legese (Ethiopia) who was running his third marathon, broke away around the 30km mark, finishing in 2:4:48. This was his first victory, and he shared his excitement with a very pleased expression. "I'm so happy. The rain and wind were so strong, things didn't go as I wanted, but I'm so glad to have won."
Despite the terrible conditions, his pace was fast from the beginning. While planning to run the first 5km between 14 minutes 45 to 50 seconds, he recorded 14 minutes 37 seconds. He maintained his pace, and the leading pack had 9 runners at the 15km mark, 6 at the 20km mark, and by 25km, only Legese, previous winner Dickson Chumba (Kenya), and Bedan Karoki (Kenya) remained. Chumba fell behind around 29km, leaving Legese and Karoki to run together. At the 30km when the pacemakers left the course, Legese picked up his pace. "I was planning to run fast at that point." he explained, running the 30-35km leg in 14 minutes 41 seconds, leaving Karoki behind. Showing great energy until the very end, he was able to finish under 2:05 despite the unfavorable conditions. His true strength shined through. "With the right conditions, I'm confident I can run this course in the 2 hour 3 minute range." he commented, setting his sights for the next big stage at 2020 Tokyo Olympics. "I'm happy to have been able to run here. It would make me even happier to be able to run again in Tokyo."
Japanese record holder Suguru Osako who was the center of attention, fell behind the pack past the halfway point, and withdrew just before 29km. "It got cold just after the race started. I couldn't move my body, and I had no choice but to withdraw", he reflected. Other Japanese athletes who were in the spotlight included Shogo Nakamura who placed 4th in Berlin, and Yuki Sato who had set a target time in the 2 hour 6 minute range, but both fell behind the leading pack. The cold made it difficult to keep up with the fast pace. College student Kensuke Horio who was running his first marathon, was able to keep pace to the end, placing 5th with a time of 2:10:21. He was followed by Masato Imai, Takuya Fujikawa and Daichi Kamino who came in 6th, 7th and 8th respectively.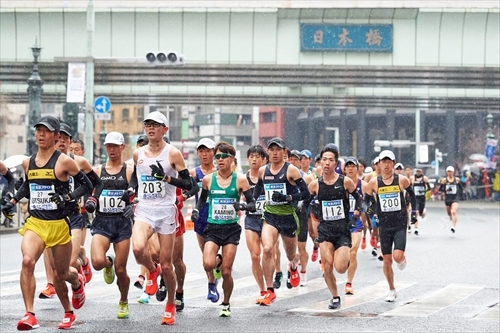 On the women's side, last year's runner-up Ruti Aga (Ethiopia) won for the first time, finishing in 2:20:40. She shared her excitement commenting, "I had set a target time, but the conditions were difficult. It was a very good race because I was able to win."
There were 6 runners in the leading group until the 35km mark. "I knew I had to make a move in order to win." She slowly picked up her pace, and left behind her rivals from Ethiopia Helen Tola and Shure Demise.
Mao Ichiyama was the fastest Japanese runner. While hoping to run under 2:24, she placed 7th with a time of 2:24:33. "I'm disappointed. The international athletes are really powerful. This is the true nature of a marathon", she commented, shrugging her shoulders in disappointment. Honami Maeda came in 12th with Hiroko Yoshitomi placing 13th and Mao Kiyota coming in 14th.
Tokyo Marathon Foundation, Race Director, Mr. Tadaaki Hayano summarized the event. "It was the coldest in Tokyo Marathon history. I'm sure the runners were chilled to the bone. But the international athletes had the strength to make a mark despite these conditions."