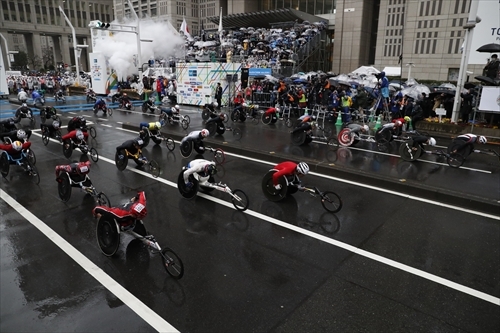 There's usually a sprint at the end of the men's race, but this year, the race unfolded quite differently. Early in the race, Marcel Hug (Switzerland), Daniel Romanchuck (United States), Ernst Van Dyk (South Africa) and Hiroki Nishida (Japan) made up the leading pack. Van Dyk and Nishida lost pace in the heavy rain, leaving Hug and Romanchuck to vie for the top position. Passing the halfway mark with just a 2 second difference, Hug picked up speed. He kept his lead, extending the time difference to 33 seconds at the 25 km mark. Keeping his pace, he finished at 1:30:44. With two wins in Tokyo, Hug has won all 6 of the Abbott World Marathon Majors during his racing career. "I do well in the rain. I'm very happy to be able to fulfill my wish to win in Tokyo", he said, relishing his joy.
Kota Hokinoue was the fastest Japanese, placing 4th. Tomoki Suzuki who placed 2nd last year, came in 6th, while last year's winner, Hiroyuki Yamamoto gave a lackluster performance and placed 9th. 11 out of 26 entrants withdrew, evidence of the tough weather conditions.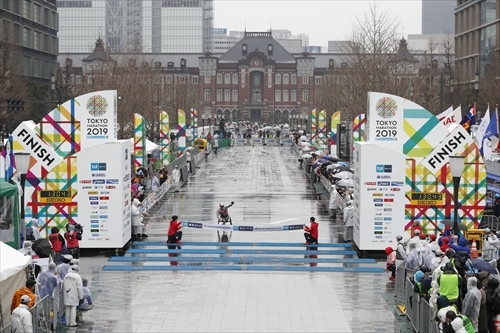 On the women's side, it was a close race for Manuela Schar (Switzerland) and Susannah Scaroni (United States), until Schar picked up speed past the halfway mark. She won her second Tokyo Marathon, almost 2 minutes ahead of everyone else. She reflected on the race and commented, "The cold made it a tough race. It was especially tough past the 10 km mark. I'm glad I was prefaced with long clothing and gloves. This win will give me the motivation and confidence to move on to London and Boston".
Kazumi Nakayama led the Japanese pack, while Tsubasa Kina pulled out of the race midway.