Tokyo Marathon 2019 Press Conference was held at the Keio Plaza Hotel Tokyo on Friday, March 1, 2 days before the race.
Invited Wheelchair Athletes Press Conference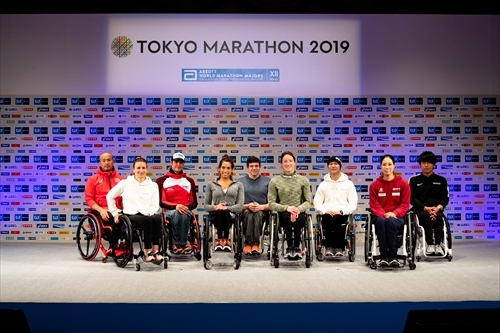 In advance of the athlete press conference, the Organizer's Press Conference was held at 10:40 am. Mr. Shizuo ITO, President/CEO and Mr. Fumiaki OMORI, Director General/COO, Tokyo Marathon Foundation gave a short speech. Mr. ITO commented "This is the 13th Tokyo Marathon. 38,000 elite and general runners will run the course. It has certainly developed as a sports culture."
On the women's side, four invited wheelchair athletes took the stage: Manuela Schar (Switzerland), Tatyana McFadden (United States), Madison de Rozario (Australia) and Tsubasa Kina (Japan).
Schar, who won the race last year commented about being prepared. "I trained diligently this winter. I think my condition is a little bit better than last year at the same time." McFadden gave a wry smile commenting, "(Schar) is very competitive. I'm in good condition, so I'll try not to make any mistakes. I'm looking forward to Sunday.", she continued, barely hiding her excitement. Rozario, who is competing in Tokyo for the first time, shared her enthusiasm commenting, "I trained in Australia where it's warm. I hope to keep up with the leading pack until the very end." Kina, who placed 3rd last year seemed geared up and commented "Competing with the top athletes of the world is such a great opportunity. I will give it my best." All four predicted that the top athletes would remain in a pack until the very end. When asked about their target times, Schar wrote "1 hour 43 minutes", prompting both McFadden and de Rozario to also declare "1 hour 43 minutes". The mind games have begun already!
Next, a press conference was held for the men's invited wheelchair athletes, where Marcel Hug (Switzerland), Daniel Romanchuk (United States), Hiroyuki Yamamoto (Japan) and Tomoki Suzuki (Japan) were interviewed.
Looking for his first victory at his second Tokyo race, Hug commented with a pleased expression. "I trained in Dubai, aiming for Tokyo. I've built myself up emotionally." Twenty-year-old Romanchuk is on a streak. "I'm in good condition, but I'm racing Tokyo for the first time. I'm not familiar with the course, so I'll have to see how things go, but I'll give it my best." Yamamoto, who won last year at age 52 shared his enthusiasm. "There are two, young, strong athletes (Hug and Romanchuk). I'll see how far I can take it. This year will be challenging." Suzuki, who placed 2nd last year trained with Hug in Dubai. "I'm building up my condition toward the race. It'll be an interesting race if I work with the two athletes.", predicting that he will be in the leading pack with Hug and Romanchuk. The male athletes were also asked to predict their times and Hug, Romanchuk and Yamamoto predicted finishing with times between 1 hour 25 minutes to 27 minutes. Suzuki predicted "1 hour 20 minutes" but stressed the importance of the competition by adding, "But winning is most important."
Invited Athletes Press Conference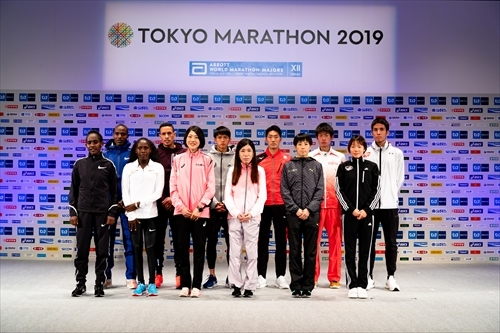 The Invited Athletes Press Conference was held from 13:00 and on the women's side,
Ruti Aga (Ethiopia), Florence Kiplagat (Kenya), Honami Maeda (Japan), Yuka Takashima (Japan), Keiko Nogami (Japan) and Mao Ichiyama (Japan) took the stage.
Aga who placed 2nd last year ran the 2018 Berlin Marathon in 2 hours 18 minutes 34 seconds. "I have prepared diligently for Tokyo. I want to set a personal best this time. I will target 2 hours 18 minutes 30 seconds." It's not just about her race time. "Of course, I want to win", she added. Kiplagat who has multiple victories at Berlin and Chicago, is running Tokyo for the first time. "My condition is good. My advantage is my experience of more than 10 years." The 32 year-old veteran is looking to win.
Japanese athletes Maeda, Takashima and Ichiyama, who is running her first marathon, have all been training on schedule. "I'm aiming to run in 2 hours 21 minutes" they all stated in unison. Nogami, who placed 2nd at last summer's Asia Games shared her enthusiasm. "The key is the 30km mark when it can get tough. I hope to hang on until the hand."
The press conference for the male athletes followed, and Dickson Chumba (Kenya), El Hassan El Abassi (Bahrain) and Japanese athletes Suguru Osako, Ryo Kiname, Shogo Nakamura, Yuki Sato all shared their enthusiasm.
Chumba, who is the only male runner with multiple wins (2014, 2018), set his target time at 2 hours 3 minutes 57 seconds. "I'm very familiar with the Tokyo course. I can try for my personal best", he commented confidently. Wilson Kipsang (Kenya) hopes to improve the course record he set at Tokyo Marathon 2017 of 2 hours 3 minutes 58 seconds. El Abassi recorded a great time of 2 hours 4 minutes 43 at the Valencia Marathon last year and commented "I had a small injury in the final stages of training. I couldn't train for about 10 days." He added "I'll aim for 2 hours 4 minutes", showing that it was not a problem.
Attention was focused on Osako from Japan who marked 2 hours 5 minutes 50 seconds, setting a Japanese record at Chicago Marathon in October. "I'll become too tense if I worry too much about my record", he commented, declining to share his target time. However, he added with quiet determination. "Training has been going well. I've done all that needs to be done. I'll listen to my body as I run."
Nakamura, who placed 4th at last year's Berlin race, shared that his condition is improving. "I've been training for this race for the past 4 months." Nakamura and Sato are both aiming for 2 hours 6 minutes 30 seconds. Kiname wants to run under 2 hours 8 minutes.
When the Japanese athletes were asked about the key determining factor for the race, Osako replied with reserve, "I will go with the flow and not make a decision now."
The forecast calls for rain in the afternoon on race day. Many athletes have come to Tokyo hoping to set good times since it has a fast course. They all shared the same thought. "Time is relative to the weather and other conditions. Hopefully it won't rain."