107 exhibitors will attract runners from within and outside of Japan!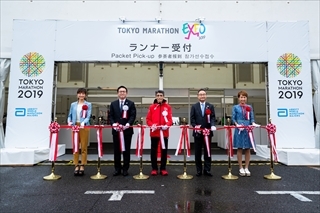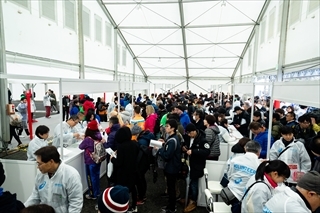 In advance of Tokyo Marathon 2019 to be held on Sunday March 3, 2019, the Tokyo Marathon Foundation is holding Japan's largest running trade-show "Tokyo Marathon EXPO 2019" at Odaiba-Aomi Event Area (N,O,P) (1-1-17, Aomi, Koto-ku, Tokyo) starting today, February 28. An opening ceremony was held in front of the runner registration gate.

As part of the opening ceremonies, representatives from Zojoji Temple gave a prayer for the safety of the runners. Shizuo ITO, the president / CEO of the Tokyo Marathon Foundation commented as follows. "The appeal of Tokyo Marathon is that it is a collaborative effort of the runners, spectators and the volunteers who work together as one team. We hope that participants and visitors will experience this firsthand as `Tokyo comes together as one`.", expressing his enthusiasm for the 13th annual Tokyo Marathon and the concept of the event. Following the tape cutting ceremony, volunteers and staff welcomed the many runners who had gathered, as they passed through the gates to register for the event.
This year, Tokyo Marathon EXPO 2019 will be held in a special outdoor venue in Odaiba. It is anticipated that the 107 exhibitors participating in the 13th EXPO will draw a crowd of more than 100,000 visitors including 38,000 runners from around Japan and abroad, who will be coming to the venue for Bib Pick-Up. The EXPO features Official Partner booths from organizations such as Premier Partner, Tokyo Metro, as well as Tokyo Marathon Charity Booth (22 organizations) and Tokyo Community (roadside zone), offering a wide variety of content. The popular Tokyo Marathon Foundation Youfuku Post are also set up at the venue, and many visitors were seen donating clothes.
Tokyo Marathon 2019 runner Ms. Sekiguchi from Chiba (60's, female) smiled brightly in anticipation of the marathon commenting, "I ran the Tokyo Marathon three years ago, but I'm really looking forward to running the new course for the first time. I'm running in celebration of my 60th birthday!" Mr. Suzuki from Saitama (40's, male) will be running for the first time, after successfully making the cut after 5 attempts. He shared his enthusiasm saying, "This is the first time I won a spot to run, and it's my first Tokyo Marathon, so I want to prepare myself and run in the best condition possible. It's like being able to take part in a much-anticipated celebration." Ms. Gail Audhali (50's, female) is a Six Star Finisher(※1) from Great Britain. She shared comments with us about Tokyo Marathon based on her experience of other races. "I'm really excited about my first Tokyo Marathon. The Boston Marathon course was straight, but Tokyo Marathon has a winding, round course, so I'm looking forward to enjoying the sights as I run."
(※1)Runners who have officially completed the Boston, London, Berlin, Chicago, New York City and Tokyo Marathons within the designated time limit
Tokyo Marathon EXPO 2019 offers content that will appeal to a wide range of visitors from running enthusiasts to health-conscious individuals, and will be held through Saturday, March 2.