Global tour of qualifying events begins with the 2018 BMW BERLIN-MARATHON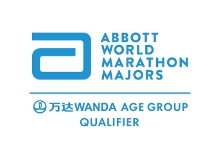 • More than 50 age group qualifying events around the world
• One year for participants to earn two qualifying times and a place at the AbbottWMM Wanda Age Group World Championships in London, 2020
• Qualifying period runs from Sept. 16, 2018 - Sept. 29, 2019 (AbbottWMM Series XII)
The Abbott World Marathon Majors Wanda Age Group World Rankings will officially launch on September 16 when the 45th BMW BERLIN-MARATHON marks the start of the one-year qualification period for the inaugural AbbottWMM Wanda Age Group World Championships which will take place in spring 2020.
Participants in an AbbottWMM Wanda Age Group World Ranking qualifying race will earn points according to their age, time and gender, aligned with the following age groups for men and women: 40-44, 45-49, 50-54, 55-59, 60-64, 65-69, 70-74, 75-79, 80+.
From Mexico to Mumbai, Tel Aviv to Toronto and Houston to Helsinki, there will be more than 50 AbbottWMM Wanda Age Group World Qualifying events. The spread of the selected marathon events creates a truly global series throughout the year, giving runners across the world the chance to be part of a new era of age group marathon running.
Tim Hadzima, Executive Director of Abbott World Marathon Majors said, "We are very excited to be launching the AbbottWMM Wanda Age Group World Rankings at the BMW Berlin Marathon. More than 125,000 runners aged 40+ participate in AbbottWMM races each year and this new system will allow even more runners to become a part of the AbbottWMM family. Our new system will give runners a chance to run all over the world and all across the calendar on a truly global stage. It will give them a chance to gain recognition like never before.
"We are proud to be working with all our partners to take age group marathon running to the next level and showcase the achievements of these everyday champions."
The premier AbbottWMM Wanda Age Group World Championships will be held as part of the Virgin Money London Marathon in 2020. Welcoming more than 40,000 runners to the start line each year, London is one of the most popular marathons on the planet with more than 414,000 ballot entries for the 2019 edition. Runners can earn a place at the start line of the 2020 Virgin Money London Marathon through the the AbbottWMM Wanda Age Group World Rankings, and represent their countries with pride and passion.
Abbott, who renewed their title sponsorship of the AbbottWMM in April 2018, extending their partnership to 2023, is proud to be a part of the expansion of mass participation marathon running globally.
"Around the world, Abbott delivers life-changing technologies that help people live fully," said Chris Miller, divisional vice president, global brand strategy and Innovation, Abbott. "We're thrilled to help recognize the efforts of marathon runners as they strive to lead their age groups and achieve their personal health goals."
The partnership between Abbott World Marathon Majors and Wanda was announced in April 2017 and since then the calendar of events that make up the AbbottWMM Wanda Age Group World Rankings for the inaugural World Championships has been created, with plans for many more events to be added in the coming years.
Twenty-three Wanda/Ironman-produced marathon events will be part of the AbbottWMM Wanda Age Group World Rankings for the 2018/2019 season. This includes the Rock 'n Roll marathons in Madrid, Liverpool and multiple cities across the United States, the Standard Chartered Singapore Marathon and the Chengdu Panda Marathon. Other marathons in the series include geographical representation from around the world, such as Helsinki, Moscow, Amsterdam, Mumbai, Los Angeles, Toronto, Mexico City and many more!
[For the full list of qualifying events, please see below]
Hengming Yang, CEO of Wanda Sports Group said, "As a strategic partner, we are very pleased to be part of the inaugural AbbottWMM Wanda Age Group World Championships, and we are very proud that we can help develop the running experience of age group runners across the globe."
For more information on the scoring system and world rankings, visit here.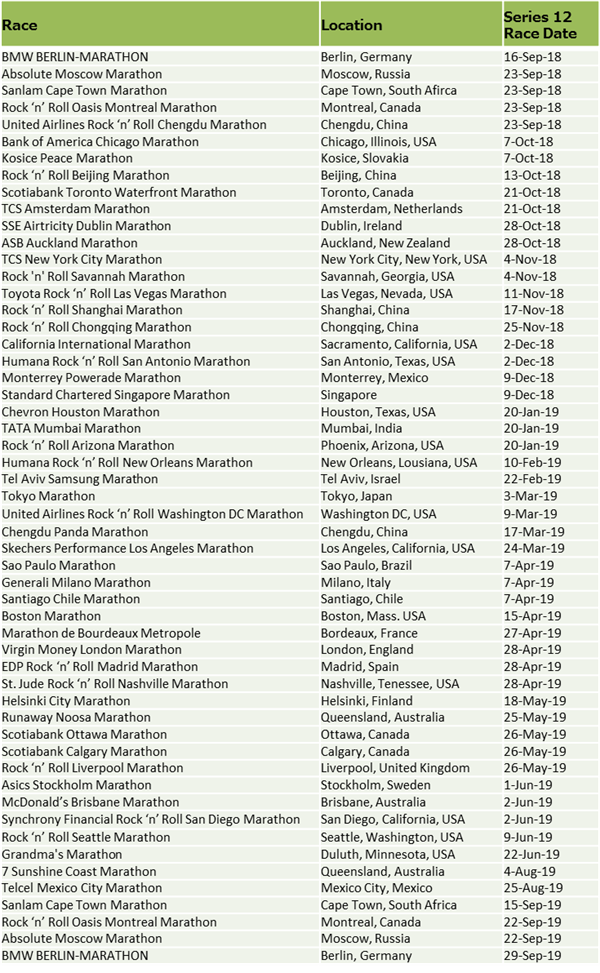 For media enquiries, please contact:
Lorna Campbell
Head of Communications, Abbott World Marathon Majors
Lorna.Campbell@wmmajors.com
Notes to editors:
ABOUT ABBOTT WORLD MARATHON MAJORS
The Abbott World Marathon Majors (AbbottWMM) is a series of six of the largest and most renowned marathons in the world - Tokyo Marathon, B.A.A. Boston Marathon, Virgin Money London Marathon, BMW BERLIN-MARATHON, Bank of America Chicago Marathon and TCS New York City Marathon.
Encompassing an annual series for elite runners and elite wheelchair athletes, AbbottWMM also applauds the achievements and passion of everyday champions from around the world. The new AbbottWMM Six Star System is an online results hub that celebrates every runner who has completed from one to six of the races in the series and encourages them to 'Reach For The Stars'.
The AbbottWMM has also launched AbbottWMM Wanda Age Group World Rankings - our first ever global age group marathon ranking system. Qualifying begins in Berlin in September 2018 and will include more than 50 races across the world. The rankings will culminate at the first AbbottWMM Wanda Age Group World Championship race taking place in spring 2020.
For more information,visit here.

ABOUT ABBOTT
At Abbott, we're committed to helping you live your best possible life through the power of health. For more than 125 years, we've brought new products and technologies to the world - in nutrition, diagnostics, medical devices and branded generic pharmaceuticals - that create more possibilities for more people at all stages of life. Today, 99,000 of us are working to help people live not just longer, but better, in the more than 150 countries we serve.
ABOUT WANDA SPORTS HOLDINGS
Wanda Sports Holdings is the world's leading sports business entity. Founded to capture the opportunities in the global sports industry and to contribute to the prosperous international sports landscape - in three key areas: 1) Spectator Sports (media and marketing business), 2) Participation Sports (active lifestyle business), 3) Services (digital, production and service business). Wanda Sports Holding incorporates the international sports marketing company Infront Sports & Media, the iconic endurance brand IRONMAN®, and Wanda Sports China. The headquarters are in Guangzhou, China.
Click here to see the AbbottWMM news page.