ABBOTT WORLD MARATHON MAJORS INVITES RUNNERS TO 'REACH FOR THE STARS'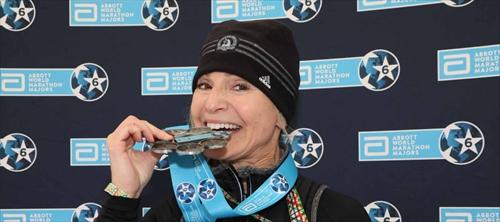 • All runners who have completed any Abbott World Marathon Majors race to be celebrated in new digital initiative
• 'Reach For The Stars' creates new global community of marathon runners
• New campaign centralizes more than two million marathon achievements and results in one directory, the Six Star System
Abbott World Marathon Majors (AbbottWMM) today announced a new "Reach For The Stars" campaign which celebrates every runner who has completed one of the world's six greatest marathons.
More than two million results dating back to 2006 from the BMW Berlin, Bank of America Chicago, TCS New York City, Tokyo, BAA Boston and Virgin Money London Marathons have been compiled into one central directory that connects the global community of marathon runners - the Six Star System.
All runners are now invited to claim their star for each AbbottWMM race completed on the new website at abbottwmm.com and chart their journey from one to the prized AbbottWMM Six Star Finisher status.
With a results hub stretching back to 2006, the system allows runners to create a profile, search for their 'stars' and add them to their page, bringing together the global community of marathoners who have crossed the finish lines of the world's six greatest 26.2-mile races.
For those who completed races prior to 2006, the system also includes a built-in facility for runners to submit their finish information which will be verified and added to their profile. In the case of Tokyo, who joined the World Marathon Majors in 2013, the directory begins then and earlier results can also be claimed manually.
Since 2014, AbbottWMM has honored the achievements of runners who have completed all six marathons through the Six Star Finisher program. Following the conclusion of AbbottWMM Series XI in London in April 2018, the verified total of Six Star Finishers stands at just 3,786 which means that incredibly, more people have summited Mount Everest than have earned the coveted AbbottWMM Six Star Medal by finishing all six marathons.
"This system is the first of its kind and a wonderful opportunity for us to celebrate the worldwide family of Abbott World Marathon Majors runners," said Abbott WMM Executive Director Tim Hadzima.
"Whether you have run one, two, three, four, five or all six of our races, we want abbottwmm.com to be the place you can 'Reach For The Stars', celebrate your achievements and discover more about the runners from all over the world who are also part of this incredible family.
"The very definition of reaching for the stars is to strive for a difficult, or even impossible achievement. By inviting the entire Abbott World Marathon Majors community to reach for their stars by claiming their results on our site, we are now able to celebrate not just our Six Star Finishers, but each and every one of those runner who have taken part in one of the world's greatest marathons.
"We encourage all our finishers to sign up and #ReachForTheStars."
"Marathoners truly embody the idea that at their healthiest, people can accomplish incredible things," said Chris Miller, divisional vice president, global brand strategy and innovation at Abbott.
"Abbott is proud of all those who are running their first or completing their sixth Abbott World Marathon Majors race. The Reach for the Stars campaign is especially exciting as it unites the community of global marathon runners and further celebrates the health and achievement of people all over the world."
For more information, visit here.