Local Tokyo causes benefit from charity donation program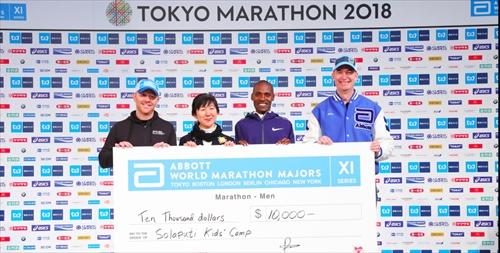 Abbott World Marathon Majors continued its charity donation program on behalf of each race's champions following the Tokyo Marathon 2018.
The program, launched at the start of Series XI in 2017 at the Virgin Money London Marathon, sees the men's and women's open and wheelchair champions work with race organizers to choose a charity to receive $10,000 in their name, on behalf of the Abbott World Marathon Majors, bringing a total awarded to charities throughout the Series to $280,000.
The $10,000 each won by Manuela Schar and Hiroyuki Yamamoto in the wheelchair races were donated to the Tokyo Marathon Foundation's Sports Legacy Program , which aims to create a society in which people can enjoy a new lifestyle through sports.
The $10,000 donation awarded on behalf of women's winner Birhane Dibaba went to Family House . The charity offers accommodation for families of children with chronic life-threatening and life-shortening illnesses who have come from rural areas to large hospitals in Tokyo for their treatments.
And on behalf of men's winner Dickson Chumba, $10,000 was handed to Solaputi Kids' Camp, a camp for children with serious or life-threatening illnesses such as cancer, diabetes and cardiac illness, as well as children who have undergone a surgical operation, or wear respiratory apparatus to assist them in breathing.
The camp's mission is to provide specialized programs for these children to help enrich their lives and empower them and their families to deal with their illnesses.
Abbott World Marathon Majors General Manager Tim Hadzima said: "Our champions put on some incredible displays at the 2018 Tokyo Marathon, and it's all the more pleasing to see their successes translated into important funds for these deserving causes.
"We hope this money can help their programs continue to make a difference to the lives of the people they work so hard to support."
Chris Miller, Divisional Vice President Global Brand Strategy and Innovation for Abbott added, "The Tokyo Marathon energizes the entire city. It's great that the champions and Abbott World Marathon Majors can make a community contribution that remains after the participants have crossed the finish line. Through these donations, we're working to help people live fuller lives."
Click here to see the AbbottWMM news page.
(More details about the AbbottWMM charity program can be found here.)