The press conference for the Tokyo Marathon 2018 was held on February 23 on the fifth floor of the Keio Plaza Hotel.
The press conference began at 10:30 am with a short speech from Mr. Koji Sakurai, President and CEO of the Tokyo Marathon Foundation and Kazuya Tanada, Director General of the Tokyo Marathon Foundation.
Invited Wheelchair Athletes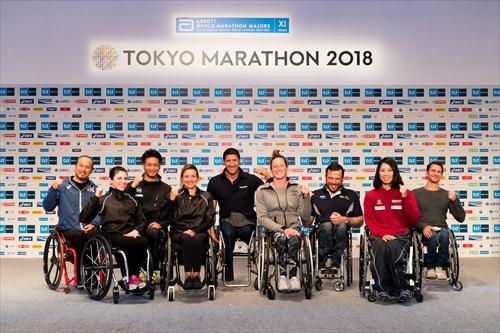 After the speeches at 10:55 am elite wheelchair athletes took a stand.
The women's press conference was held first. Amanda McGrory (USA), Manuela Schar (SUI), Tatyana McFadden (USA), and Tsubasa Kina.were the four wheelchair athletes selected to attend the press conference. Kina, who just arrived from warm Okinawa said, "I am really feeling the cold. I need to acclimatize in the next two days." However, McFadden, who is from a winter-land said, "This is nothing compared to Chicago." All the athletes agreed that cold weather will affect the tactics of the race, however. McGrory, who won the last year's race said, "With the introduction of the new flat course, there is not a many opportunities to break away." On the other-hand, Schar, who was second last year said, "The course could be quite fast, but if the weather turns cold, the race is more likely to turn tactical and the winner will be determined in the final straight-way."
Next, men's took their turn at the stands, and four athletes, Masaru Watanabe, Ernst van Dyk (RSA), Kurt Fearnley (AUS) and Joshua George (USA) were selected to attend the press conference. Watanabe who won last year, said, "I am going after repeat. I have only one goal in my mind and that is to win." He was quite determined. On the other-hand, van Dyk, who was second two years ago, have struggled in the Dubai Marathon four week ago, but he set a course record on last Sunday. "The race most likely will be a tactical one. In that case, 1:25 will be a good time," van Dyk predicts. On the other-hand, Fearnley who won the Tokyo Marathon 2016 had different opinion. "The race will be fast and at the end six or seven runners will fight it out in the final straight-way." Fearnley's last marathon was back in last October, but for George his last marathon was back in June. That is because an injury and surgery prevented him from competing in both Chicago and New York Marathons.
Finally, athletes were asked about their goal time for Sunday. The women mostly quoted the time around 1:42 to 1:43, while the men were aiming for the time between 1:26 to 1:28.
Invited Athletes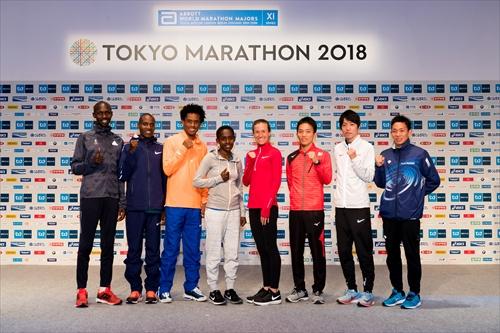 After the wheelchair athletes' press conference, from 1:00 pm marathon runners' press conference was held.
Ruti Aga (ETH) and Amy Cragg (USA) took the stand first. Aga, who arrived in Tokyo on Thursday night the 22nd, said, "I am in good shape. My training went well." Aga recorded a huge half marathon best of 1:06:39 little over a month ago. She stated 2:18 as her marathon goal for Sunday. "Since my training went very well, I set high goal for Sunday. I am happy to compete against the World Championships medalist," said Aga at the press conference.
The medalist Aga was referring to is Amy Cragg, who won a bronze medal at the World Championships in London last August. Although her marathon personal best is quite modest 2:27:03, Amy said, "I want to run fast time. I have always thought that I can run much faster than my personal best indicated." She is aiming for 2:22:59.
Next Wilson Kipsang (KEN), Dickson Chumba (KEN), Feyisa Lilesa (ETH), Hiroto Inoue, Yuta Shitara and Takashi Ichida have took the stand.
Kipsang, a former world record holder and the current Tokyo Marathon course record holder said "Tokyo Marathon course is great. My goal this year is to set a new world record. If the weather is good, I want to pick up the pace in the second half." The 2014 champion Chumba could be the prime candidate to stop Kipsang from repeating. Chumba set his goal time as 2:04:58 and explained, "I want to run 2:04. I don't need any more 2:05." Feyisa Lilesa, who won in 2016 set his goal as 2:04:40. "I am in great shape. I hope that this year's Tokyo Marathon will be a turning point of my career, just like 2016 edition was."
Turning attention to Japanese, Inoue surprised the room with his goal time of 2:06:00. He also said, "I want to be a world class runner someday." The best Japanese is Shitara, who is on a roll recently. Shitara won Kosa 10 miler, New Year Ekiden, Inter-Prefectural Men's Ekiden and Karatsu 10 miler. He said, "Tokyo Marathon is the only domestic race where I can experience a super-fast race." Although he states his goal as 2:09:00, since Shitara said, "If I stay with the leaders, the fast time will follow," he may be aiming for a faster time. Finally, Takashi Ichida, who was dismal 45th with 2:19 last year said, "Immediately after finishing (the last year's Tokyo Marathon), I thought I was to run in Tokyo again. So I set the same goal as the last year - top Japanese with 2:07:59." The Sunday's race will be the race of redemption for Ichida.