Defending champion to take on Radcliffe's historic time of 2:15:25
Kenyan will have male pacemakers in bid to set new mark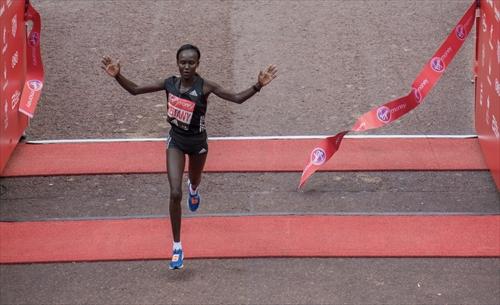 Kenya's Mary Keitany will make an attempt to break Paula Radcliffe's world record at the 2018 Virgin Money London Marathon on Sunday 22 April.
Just as Radcliffe did when she set the world record at the 2003 London Marathon, Keitany will be running with male pacemakers in her bid to run inside the Briton's iconic mark of 2 hours 15 minutes and 25 seconds.
The 36-year-old Kenyan is already the holder of the women-only marathon world record which she set by winning last year's Virgin Money London Marathon in 2:17:01. In doing so, Keitany beat Radcliffe's women-only world best of 2:17:42 and now the Kenyan wants to rewrite the record book again.
During her win last year, Keitany went through the halfway point more than a minute faster than Radcliffe did on the way to her record in 2003. However, her pacemaker fell away soon after and Keitany found herself alone and falling off that searing pace.
Keitany, the three-time London Marathon champion, said: "The marathon world record is something that I have been working towards for several years and I feel I am now in the position where I can really attack the time of 2:15:25.
"At last year's Virgin Money London Marathon, I was feeling good but it was hard to run nearly half the race on my own. By having male pacemakers, I will be able to have the support throughout the race.
"Obviously, any world record is contingent on everything being right on the day. London has shown it has the course for world records to be broken and I hope my form and health stay strong and that the weather is kind on the day.
"I know the record was set by Paula Radcliffe on this course in 2003 and that she is a very popular person in Great Britain but I really hope the London crowds get behind my challenge and can help drive me on to achieve something incredible."
Hugh Brasher, Event Director of the Virgin Money London Marathon, said: "Paula Radcliffe's world record at the 2003 London Marathon was one of the greatest sporting achievements ever seen, and we are hugely excited to learn that Mary feels in a position to challenge that run.
"No one has got near Paula's mark for 15 years and for Mary to commit to attacking it shows her courage and the belief in her athletic ability. It is fitting that the bid to break the record will take place in London where Paula's record was set and this is yet another example of the incredible stature of the Virgin Money London Marathon. The world's greatest athletes want to come here to create history."
As well as a battle against the clock, Keitany will also be in a duel with her great Ethiopian rival Tirunesh Dibaba who confirmed her participation on Tuesday [23 January]. The 2017 marathon world champion Rose Chelimo will also be part of the elite women's field, it was announced yesterday.
The Abbott World Marathon Majors (AbbottWMM) Series XI concludes in London. Keitany and Dibaba, who finished runner up to Keitany at last year's Virgin Money London Marathon, are currently joint top of the AbbottWMM Series XI leaderboard after Dibaba won the Chicago Marathon last October. Also in contention for the title are Shalane Flanagan (USA), who won the TCS New York City Marathon last November and who is set to run the Boston Marathon in April, together with Chelimo, who won the World Championships marathon and Gladys Cherono, winner of the BMW Berlin Marathon in September, both of whom run in London. See the AbbottWMM Series XI women's leaderboard here
This is the final announcement of the 2018 Virgin Money London Marathon Elite Week. A full list of all the elite fields can be found below.
ELITE MEN
For full start list, click here.
ELITE WOMEN
For full start list, click here.
ELITE WHEELCHAIR AND IPC
For full start list, click here.
<Related NEWS>
Kipchoge to be added to the men's elite field