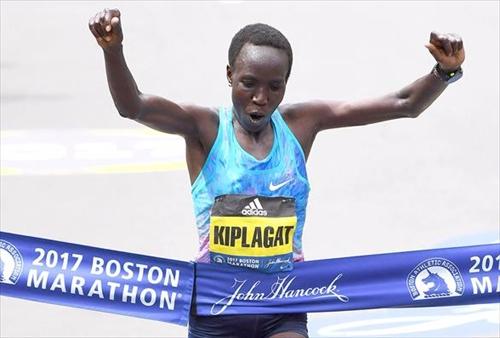 Abbott World Marathon Majors (AbbottWMM) today awarded the Series X women's title to Edna Kiplagat (KEN). She joins Eliud Kipchoge (KEN), Tatyana McFadden (USA) and Marcel Hug (SUI) who have been previously announced as winners of Series X.
"Edna's outstanding victory in Boston in 2017 and her second place in Chicago in 2016 make her the winner of Series X, and she is an inspiration to all Abbott World Marathon Majors runners," said Tim Hadzima, AbbottWMM general manager. "We are delighted that we can now honor her outstanding achievements."
Kiplagat will receive a prize purse of $500,000 (USD) for topping the leaderboard with 41 points in AbbottWMM Series X, which concluded at the 2017 Boston Marathon. AbbottWMM redistributed its series prize money structure to recognize and reward the top three leaderboard athletes for Series XI, which is now underway.
The 38-year-old Kiplagat is now, along with Irina Mikitenko of Germany, a three-time AbbottWMM champion as she also won the title at the end of Series V and Series VIII.
"I am very happy and proud to have won the Abbott World Marathon Majors Series X title," Kiplagat said. "They say that good things come in threes, and that has been true for me this year. At Boston this spring, I was able to win in my third different AbbottWMM city. Then in the summer I was able to win my third World Championship Marathon medal. And now I have won the AbbottWMM championship for the third time. I have always wanted to challenge myself at the highest levels of our sport, and these marathons have provided me with that opportunity. I look forward to again racing against the world's best women at the AbbottWMM events in 2018."
Kiplagat is receiving the AbbottWMM Series X title following the completion of the doping investigation process for Jemima Sumgong (KEN), who has been banned for four years by the Anti Doping Agency of Kenya (ADAK) for her use of EPO. Any athlete who has been found guilty of an anti-doping violation is not eligible to win an AbbottWMM Series title and is banned for life from all AbbottWMM events.
At the 2017 Boston Marathon, Kiplagat beat Rose Chelimo (BHR) and Jordan Hasay (USA) as she clocked 2:21:52 to win the women's race. She opened up an unassailable lead just after the 30K mark, powering up the famous Heartbreak Hill before taking on the broad downtown roads alone towards the finish line. She was embraced by her son Carlos and her daughter Wendy at the finish line. In October 2016, Kiplagat edged ahead of Valentine Kipketer (KEN) in the final few kilometers to take second behind her compatriot Florence Kiplagat in the 2016 Bank of America Chicago Marathon, finishing in 2:23:28.
The Abbott World Marathon Majors is a collective of the world's top six marathons: the Tokyo, Boston, Virgin Money London, BMW BERLIN, Bank of America Chicago and TCS New York City Marathons. AbbottWMM awards its annual title to the men's and women's runners and wheelchair athletes who earn the most points within a one-year cycle of performances at its six races as well as the Olympic Games, Paralympic Games and IAAF World Championships when they occur.
AbbottWMM Series XI continues at the Feb. 25, 2018 Tokyo Marathon. Kiplagat will return to defend her title at the Boston Marathon on April 16, 2018, before Series XI concludes at the April 22, 2018 Virgin Money London Marathon.
Visit the AbbottWMM website for more information.