Defending Champions and Abbott World Marathon Majors Series X Winners Tatyana McFadden and Marcel Hug Lead Professional Wheelchair Field Featuring 24 Paralympians From 12 Countries
Top Athletes in the Global Chase for the Abbott World Marathon Majors Series XI Title to Race in Chicago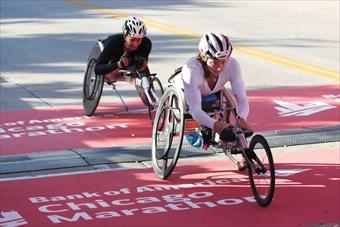 The Bank of America Chicago Marathon announced that 15-time world champion, four-time Paralympian and seven-time Chicago Marathon champion Tatyana McFadden (USA) and 20-time world champion medalist and four-time Paralympian Marcel Hug (SUI) will return to compete for the top spot on the podium at the 40th annual event.
McFadden and Hug stand out among one of the most internationally diverse and talented professional wheelchair fields in Chicago Marathon history. Twenty-four Paralympians from 12 countries will descend upon the windy city on October 8 to vie for the Chicago Marathon crown, and to score points in the global chase for the AbbottWMM Series XI title.
"Tatyana became the most decorated champion in Chicago Marathon history last fall. When she comes to Chicago to race, people understand that they are watching one of the greatest champions in sport perform," said Bank of America Chicago Marathon Executive Race Director Carey Pinkowski. "And Marcel won an unprecedented six consecutive major marathons last year. We are excited to have him competing again in Chicago for the third time. The entire field is truly outstanding, and we expect to see photo finishes on both sides."
Women's field
McFadden, a 17-time Paralympic medalist (including seven gold medals) and the Chicago Marathon course record-holder (1:41:10), made history in 2013, 2014, 2015 and 2016 as the only athlete to win four AbbottWMM races in one year: London, Boston, Chicago and New York City. She closed out her 2016 season as the 201617 AbbottWMM Series X champion, and she returns to the windy city to capture her seventh consecutive Chicago Marathon title and her eighth in the last nine years. McFadden's 2017 season got off to a rocky start. She suffered from blood clots before the Boston Marathon and competed just a few weeks after having surgery. .
Although she set a new personal best (1:35:05), she finished in fourth place after being undefeated in Boston since 2013. She skipped the World Para Athletics Marathon World Cup in London, but she made a valiant comeback on the track, winning four gold medals in the 200m, 400m, 800m and 1,500m. Her performance on the oval sends a strong message that she is back and ready to win.
McFadden's run through 29 dynamic Chicago neighborhoods will be strongly contested by Manuela Schär (SUI) and Amanda McGrory (USA). Schär and McGrory are first and second, respectively, on the AbbottWMM Series XI leaderboard, with Schär leading McGrory by nine points. Also in the mix - and ranked third on the AbbottWMM leaderboard - is University of Illinois Urbana-Champaign alum Susannah Scaroni (USA).
Schär, a four-time Paralympian, made her Bank of America Chicago Marathon debut in 2013 in convincing fashion, finishing second by two seconds behind McFadden. The pattern between McFadden and Schär continued in Chicago, with Schär finishing as the runner-up again in 2014, 2015 and 2016,; but this could be the year she finally tastes victory, given her 2017 season. After finishing second in Tokyo, she rose to the top, finishing first in Boston (in a new personal and world best, 1:28:17) and first at the 2017 World Para Athletics Marathon World Cup in London. She also competed well on the track at the world championships, finishing with a silver medal in the 800m, fifth in the 400m and 5,000m, and seventh in the 1,500m. Schär's 1:38:07 in Oita is recognized as the current world record (run on a record-eligible course; she and Wakako Tsuchida share the record - they finished first together in Oita).
McGrory, a three-time Chicago Marathon champion (2007, 2008, 2010), a three-time Paralympian and a seven-time Paralympic medalist, started her 2017 season on a positive note, picking up wins at the Tokyo Marathon, the Bank of America Shamrock Shuffle 8K and Grandma's Marathon (her eighth time winning in Duluth). She finished second in Boston in a new personal best, 1:33:13, and she was second at the 2017 World Para Athletics Marathon World Cup in London. At the 2017 world championships on the track, she scored two bronze medals in the 800m and 1,500m and a silver in the 5,000m. Combined, McFadden and McGrory have won every Chicago Marathon since 2007, a testament to the strength, influence and impact of the University of Illinois at Urbana-Champaign Wheelchair Track and Road Racing Program.
Scaroni, a two-time Paralympian, has come a long way since her debut marathon at the 2011 Chicago Marathon. Since then, she has raced internationally in London, Rio and Tokyo and nationally in Boston, New York, Los Angeles, Minneapolis and Duluth. After finishing second to McFadden at the 2012 Chicago Marathon, she turned around and won the 2013 Los Angeles Marathon and then broke the course record at the Twin Cities Marathon. She started 2017 with podium finishes all around: she was third in Tokyo, third in Boston (in a personal best, 1:33:17) and third at the 2017 World Para Athletics Marathon World Cup in London. She continued her success on the track - finishing with a pair of sixth-place finishes at the world championships in the 800m and 5,000m. Scaroni should be in the hunt for the win in Chicago.
Madison de Rozario (AUS), Jenna Fesemyer (USA), Katrina Gerhard (USA), Sandra Graf (SUI), Sammi Kinghorn (GBR), Chelsea McClammer (USA) and Arielle Rausin (USA) are also taking a run at a podium finish.