JOHN HANCOCK ANNOUNCES TOP AMERICANS FOR 2017 BOSTON MARATHON

Collectively, the 12-member John Hancock Elite U.S. Team has competed and won medals in Olympic, World and Pan American Championships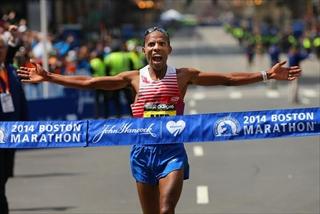 John Hancock Financial today announced the U.S. Elite Team for the Boston Marathon on April 17, 2017. The exceptional team, recruited to compete with a deep international field, includes the men's 2014 champion Meb Keflezighi, four-time Olympian Shalane Flanagan, two-time Olympic medalist Galen Rupp, and two-time Olympian Desiree Linden. Olympians Jared Ward and Abdi Abdirahman are also in the field, as are Lindsay Flanagan, Clara Santucci (née Grandt), Shadrack Biwott, Esther Atkins, and Sean Quigley. Additionally, track standout Jordan Hasay will make her marathon debut at Boston. Collectively, the 12-member John Hancock Elite U.S. Team has competed and won medals in Olympic, World and Pan American Championships, and all bring strong credentials to compete for the win at the 121st running of the Boston Marathon.
"Our audiences have come to enjoy an American resurgence at the Boston Marathon in recent years, punctuated by Meb Keflezighi's 2014 victory," said Tom Grilk, Chief Executive Officer of the Boston Athletic Association. "We were very impressed with the American team's performance at the Olympic Games in August. Our long time partners at John Hancock Financial have done a magnificent job in assembling these top Americans, all of whom we look forward to welcoming in April."
"We are thrilled to have such a deep and talented American field this year," said Rob Friedman, head of Sponsorship and Event Marketing at John Hancock. "In our 32 years of sponsorship of the Boston Marathon, we've always invited strong international fields and the elite American team is always ready to challenge for the prestigious Boston title. The American team has found success at the highest levels of the sport and they will certainly add excitement for spectators and fans on the course and around the globe on Patriots' Day."
*Click here to view the AbbottWMM Series X leaderboards