ATSEDE BAYSA AND LEMI BERHANU HAYLE SET TO DEFEND TITLES ON APRIL 17
Past Champions Caroline Rotich, Buzunesh Deba, Meb Keflezighi and Wesley Korir Seek to Repeat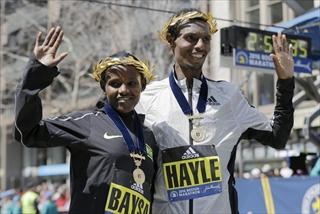 John Hancock Financial, the principal sponsor of the Boston Marathon since 1986, today announced the return of 2016 Boston Marathon champions Atsede Baysa and Lemi Berhanu Hayle of Ethiopia to defend their titles at the 121st running of the race on April 17, 2017.
Additional champions returning to seek another win include Caroline Rotich of Kenya, Buzunesh Deba of Ethiopia, Meb Keflezighi of the United States, and Wesley Korir of Kenya.
This year Ethiopia swept the top podium spots for the first time in race history. In the women's race, Atsede Baysa, who has run more than 25 global marathons and is a two-time Chicago and Paris Marathon winner, relied on experience to overcome a 37-second deficit just before mile 22 to win in commanding style. The win itself was historic, but Baysa's gracious act of gifting her Champions' Trophy to Bobbi Gibb, the first woman to unofficially complete the Boston Marathon 50 years ago, after the race was a highlight for the City of Boston.
"I've run many marathons around the world and winning Boston was a memorable experience," said Baysa. "I was inspired by the many talented women who have run this legendary race and I look forward to returning to the City of Boston again."
In the men's race, Lemi Berhanu Hayle closely cued off two-time champion Lelisa Desisa with the intention of running strategically, rather than showcasing his 2:04 marathon speed. The two men broke from a large lead pack at 16 miles and then led the race side by side for the next nine miles until Hayle put in a surge that Desisa couldn't cover. The past champion held on for the runner-up spot, but the olive wreath belonged to the 21-year-old newcomer.
"Winning Boston has been the highlight of my career," said Hayle. "Crossing the finish line first, after running so far with some of the best runners in the world, is a wonderful feeling. The fans along the way were incredible and I can't wait to return to defend my title in April."
*Click here to view the AbbottWMM Series X leaderboards